Diabetes and Telehealth: What You Need to Know
Was this helpful?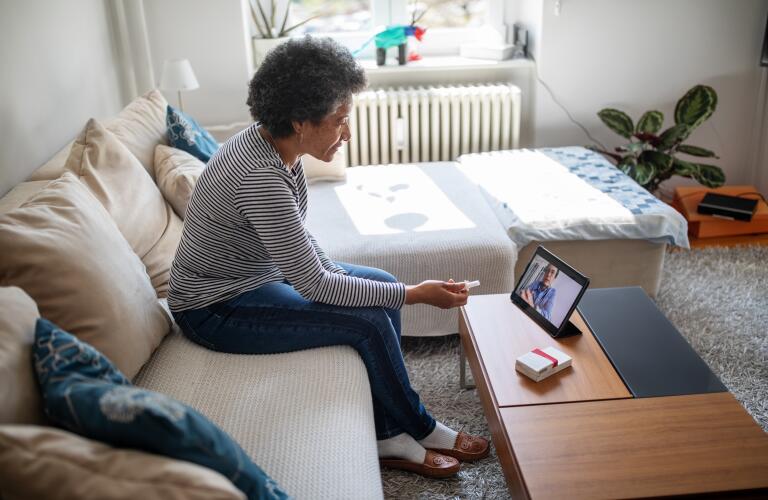 Talk to your doctor or your diabetes educator if you have concerns about managing your diabetes and want to discuss the best way to plan your future care.
Has your doctor suggested scheduling your next diabetes appointment over telehealth? You may have some questions or even some reservations, especially if telemedicine is new to you. Learn more about how diabetes telemedicine can help you maintain control of your diabetes while minimizing disruptions to your regular life.
You can stay home and still connect with your doctor.
If you've ever wished you could just chat with your doctor from the comfort of your living room sofa or even a chair pulled up to your kitchen table, then you'll probably love telemedicine. Telemedicine actually encompasses a number of different ways to communicate without being together in person: you could text your doctor, communicate through an online portal messaging center, or have live virtual video or phone visits with your doctor.
In addition to convenience, telehealth appointments offer another benefit. High-risk people, which includes people with diabetes, are encouraged to stay home as much as possible during the current coronavirus pandemic. Since you don't have to leave home to check in with your doctor, you're not putting yourself at risk of exposure to the novel coronavirus or any other infectious agent floating around out there. With telehealth, you don't have to cancel or reschedule those important health appointments either. And you don't have to travel anywhere.
Telehealth can help you maintain better control over your diabetes.
In case you're worried about the possible impact of telehealth appointments on your diabetes, you can rest assured. Studies show people with type 2 and gestational diabetes are able to improve their control of their blood glucose levels when receiving care via telehealth. Plus, research also suggests that good patient outcomes aren't tied to any one particular type of technology, either. So, whether you're checking in with your doctor through a video call from your laptop or receiving text reminders on your smartphone, those have been shown to be helpful to people managing their diabetes.
Telehealth may also improve other aspects of your health. Research suggests people who participate in telemedicine programs for diabetes care even notice improvements in their cholesterol levels and blood pressure.
You'll need to prepare in advance for a telehealth consultation.
You don't have to leave the house, pay for parking, or flip through outdated magazines in a waiting room in preparation for a virtual visit with your doctor. But it's a good idea to prepare in advance. The first step is making sure you can use the technology required to make a connection. You may have to download an app or register online to use a certain telecommunications platform. You'll also need to make sure you have the right equipment. For example, if you plan to have a live video chat with your doctor, you'll need to make sure you have a web camera with a microphone and a high-speed internet connection. And finally, your doctor may want you to electronically submit some data in advance so they can review it prior to the consultation. This can include blood glucose numbers, blood pressure, weight, and heart rate, depending on the digital monitoring devices you own. It's a good idea to get all of these details in order before your telehealth appointment, just to make sure you're ready to go on time. Then, when your visit starts, you and your doctor will be all ready to discuss your latest A1C reading, your blood glucose levels, your medications and any other concerns you may have.
Telehealth appointments won't replace your in-person visits.
Telemedicine won't be your only venue for connecting with your doctor. Telehealth visits aren't designed to completely replace in-person visits with your doctor. For example, you'll still need to appear in person for some types of visits, such as screenings for complications like diabetic retinopathy. But telemedicine definitely can play an important role in your diabetes care.

Was this helpful?