A Weight-Loss Plan for Diabetes That Really Works
Was this helpful?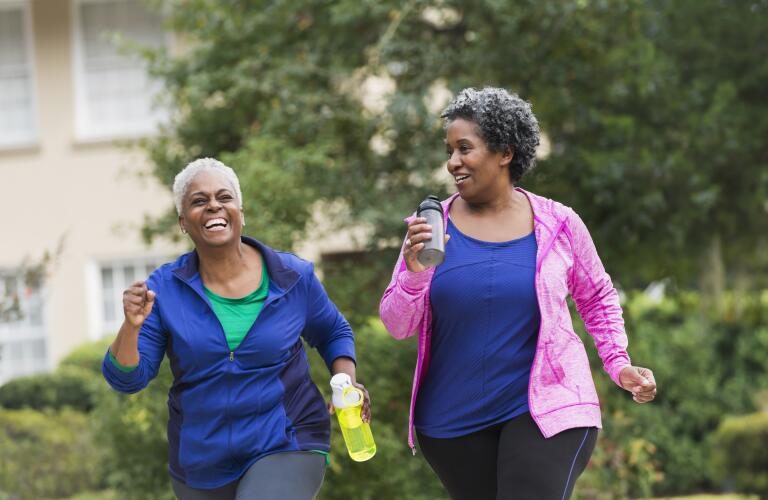 It sounds so simple: Decrease calories in, increase calories burned, and drop those unwanted pounds.
In reality, as anyone who has ever struggled to lose weight knows, finding the right balance of food and exercise may take a few tries. If you have diabetes, you face the added challenge of keeping your blood sugar under control at the same time.
Yet losing weight is well worth the effort when you have type 2 diabetes. "People who lose just 5 to 10 percent of their initial weight often see big improvements in their diabetes control and risk of complications," says Amanda Kirpitch, RD, CDE, a nutrition educator at Joslin Diabetes Center in Boston. If you're 200 pounds, that's a loss of only 10 to 20 pounds. And it may be enough to lower your blood sugar, blood pressure, and cholesterol levels.
Slimming down with diabetes takes some planning, but it's doable—and it doesn't require impractical changes. Here's a basic weight-loss plan that actually works in the real world. It's the kind of no-nonsense plan you can stick to for life.
One key to losing weight and keeping it off is regular physical activity. We're not talking a huge amount of time every day. American Heart Association guidelines for people with type 2 diabetes recommend:
Cardio activities
How often: 3 to 7 days a week
How much: 150 minutes per week of moderate-intensity exercise, or 90 minutes per week of vigorous-intensity exercise

Strength training
How often: 3 days a week
How much: 2 to 4 sets of 8 to 10 reps, using moderate to heavy weights

At this rate, you'll probably burn at least 1,000 calories a week. That means you won't have to restrict your food intake as severely to shed pounds. Plus, "exercise can improve blood sugar control even before you start losing weight," Kirpitch says.
"A realistic goal for most people is to cut 500 to 1,000 calories a day," says Kirpitch.
To track your daily calorie intake, try the free, easy-to-use calculator at http://www.supertracker.usda.gov/. Let's say you pare down your diet by 500 calories daily and add exercise that burns 1,000 calories weekly. You'll lose a little more than a pound a week—a good rate of weight loss that's easier to maintain than a sudden drop in pounds.
Many people with diabetes use the "plate method" to choose a balanced diet that's not too carb-heavy. "As a rule of thumb, make half your plate a nonstarchy vegetable, one-quarter a starch, and one-quarter a lean protein," says Constance Brown-Riggs, RD, CDE, a spokesperson for the American Dietetic Association. If you're also trying to lose weight, there's an easy way to cut calories: Switch to a smaller plate.
Smaller portions are good. But if you get too hungry, you could end up going on a binge that undoes the progress you've made. To prevent that, Kirpitch recommends eating every four to five hours. Also, choose high-fiber foods, such as veggies, fruits, whole grains, and beans. Fiber slows down the rate at which food moves through your digestive system, which helps you feel fuller for longer.
Insulin and certain diabetes pills can make your blood sugar dip too low if you exercise more or eat less. These pills include:
Glimepiride (Amaryl)

Glipizide (Glucotrol, Glucotrol XL)

Glyburide (Diabeta, Glynase, Micronase)

Nateglinide (Starlix)

Repaglinide (Prandin)
To head off this problem, work with your health care team to update your treatment plan, taking your new eating and exercise habits into account. "You might need to adjust your medication and monitor your blood sugar more often," says Brown-Riggs.

If you're at risk for low blood sugar, snacking before or during exercise also helps keep your blood sugar level. But that can be frustrating: You may feel as if the calories you burn off through exercise are canceled out by ones you take in through snacks. "The solution is to plan your snacks so that you're not adding more food to your day, but just changing when you eat it," Kirpitch says.
Losing weight takes some effort—but it doesn't have to become a full-time job. By working these changes into your everyday life, you'll see the pounds start coming off, slowly but surely.

Was this helpful?