When Depression Starts Affecting Your Job
Was this helpful?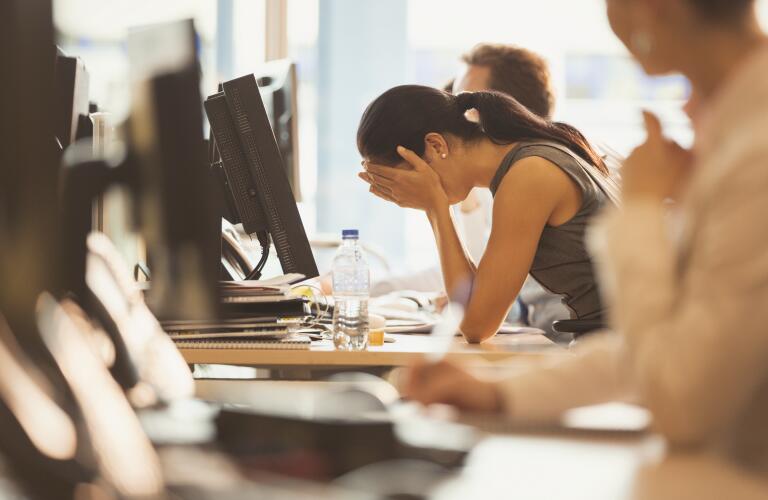 Your job is where you spend eight or more hours of each day (assuming that you work full-time). You want it to be a place where you feel comfortable and happy. That isn't always easy when you're living with depression.
Your emotional state can affect how well you perform at work, and whether you keep your job. People who are depressed are more likely to miss days of work and to lose their jobs than those who aren't depressed. They also have a harder time handling their job responsibilities, research finds. When depression affects your job, it's time to do something about it. Partnering with your doctor and your employer to find solutions can make working with depression much easier.
If your depression is so severe it's affecting your job, you might not be on the right treatment. Don't just settle; take action to get your depression better controlled. Have a conversation with your primary care doctor or a mental health care provider. Managing depression often involves a combination of antidepressant medication and talk therapy. If you haven't started treatment, discuss your options with your doctor. And if you have been on treatment but it's not controlling your symptoms, it may be time to discuss bumping-up the dose, switching to a different medication, or adding another drug. The trial and error process of finding the right depression treatment can be challenging, but it's worth it once you find something that works.
Maybe you've gotten good at hiding your feelings and other tricks to working with depression. Remember: you don't need to suffer in silence. Everyone's work situation is different, but if you feel comfortable being honest with your manager or human resources representative, discussing your depression with them can offer significant benefits to you. The best time to talk to your supervisor is not when depression affects your job already, but before it does. However, it's never too late. It can be scary to open up about depression at work. You might be afraid you'll lose your job. But under the law, you can't be fired just because you have a mental health condition.
Working with depression will be much easier if you're honest about it. Though there is still some stigma surrounding mental illness, today people are much more aware of depression and its effects. Talk to HR and your manager about how depression makes you feel, and how it affects you from day to day. Explain that you want to do your job to the best of your ability, but sometimes you need extra help. They might be able to offer some helpful solutions.
If your symptoms are having a big impact on your ability to work, you might qualify for job accommodations under the Americans with Disabilities Act (ADA). Asking for adjustments like these could make it easier to do your job:
A flexible schedule
A support animal
More rest breaks during the day
Changes to your job responsibilities
Apps or other tools to help you concentrate
Many companies offer workplace wellness programs, which include mental health assessments and treatments. Ask if your company has one of these programs. If not, human resources can probably point you to helpful services in your community.
Depression and work don't make a good pair. On days when you're struggling, don't try to do things that you know will be difficult for you. If you can, take the day off so you can focus on getting better. And if you do go into the office, only take on as much work as you can comfortably handle. Becoming overwhelmed could make you feel even worse. Delegate as much as you can and break down big projects into smaller, less intimidating chunks.
And be gentle with yourself. Recognize you'll have good days and bad days. Forgive yourself during the times when you can't perform at 100%. Explore strategies to help yourself feel better, and give yourself credit when you do make positive progress.
Was this helpful?