What to Know Before a Virtual Doctor Visit for Depression
Was this helpful?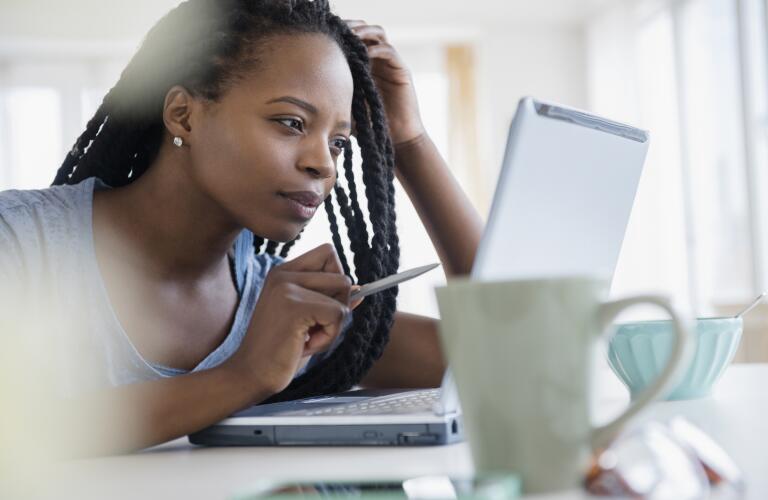 Regular visits with a psychologist and psychiatrist can help you get your depression symptoms under control. Research shows regular talk therapy combined with medications is the most effective way to manage depression, but this can add up to a lot of appointments on your calendar. Fortunately, telehealth can make it easier to receive the support you need on a regular basis. Telehealth, also referred to as telemedicine, involves the use of your phone, tablet, or computer to participate in real-time video or audio calls with your provider. Using telehealth can be a more convenient way to see your mental health provider, because you can have sessions without leaving your home.
Studies show telehealth for depression is just as effective as in-person visits. But you'll get more of a benefit from your depression telehealth appointment if you know what to expect beforehand.
Your telehealth appointment won't be much different than an in-person visit.
If you're used to seeing a mental health provider in person, interacting through a screen might seem a little strange the first time. But an online psychiatrist or psychologist appointment is very similar to an in-person one. If this is your first visit, your provider will ask you a series of questions to get to know you and determine what kind of therapy you need. After a few minutes, you'll get used to the virtual environment. You might even feel more comfortable describing depression symptoms from the familiar setting of home.
After that first visit, or if you've already been seeing the provider for a while, your online visits will focus on giving you the support you need, whether that means a type of talk therapy, medication, or a combination of these. Your psychiatrist will ask for a recap of how you're doing and work with you to understand if your current treatment is relieving your symptoms. If they determine it's time for a change, they'll recommend next steps. Your psychologist or other mental health counselor will listen to you share your experiences and dive deeper into the patterns and history that may be contributing to them.
Like with an in-person appointment, it's a good idea to do some prep work in advance: write down any questions you have for your provider, note any new or worsening symptoms or side effects you're experiencing, and have a list of your current medications handy for quick reference. Keep that pen and paper handy for any new insights and instructions.
You'll need to use technology.
To replicate the face-to-face experience of in-person visits, your online psychiatrist or psychologist appointment will probably happen over a screen. You might connect with them via your computer, smartphone, or tablet; your device just needs a working mic and camera. Make sure your device is charged and your internet connection is solid. Your provider's office should send you directions ahead of time for downloading any software you'll need for the visit. If you don't understand how to set it up, ask the nurse or receptionist at the office to talk you through the process. In some cases, telehealth sessions can be conducted over an audio call, but in most situations, a real-time video call is preferred.
Your provider might look for clues.
Telehealth for depression offers a unique window into your life. Through your computer screen, your provider can see inside your home, and get clues about you and your environment. This isn't spying–it's simply a way to get to know you better, so your provider can personalize treatment to you.
Your insurance may cover the cost.
A growing number of health insurance providers are including telehealth for depression in their plans. During COVID-19, an emergency declaration from the government expanded access to telehealth services to people with Medicare and Medicaid. If your insurance plan covers mental healthcare, there's a good chance they'll also cover at least a portion of your telehealth appointments. Still, it's a good idea to call and confirm coverage before your first depression telehealth appointment, so you don't end up with a surprise bill afterward.
Telehealth visits are secure.
Your doctor's office will take the same precautions to safeguard your personal information during a telehealth appointment as they would during an in-person visit. They'll follow all the accepted privacy rules, and they'll use encrypted software to block anyone else from getting into your session.
A depression telehealth appointment offers all the advantages of an in-person visit, with the added convenience of staying home. If you're new to this process, call your psychologist or psychiatrist's office and ask for an overview of how to prepare and what to expect during your visit.
Was this helpful?