The Real Benefits of Telehealth for People With Depression
Was this helpful?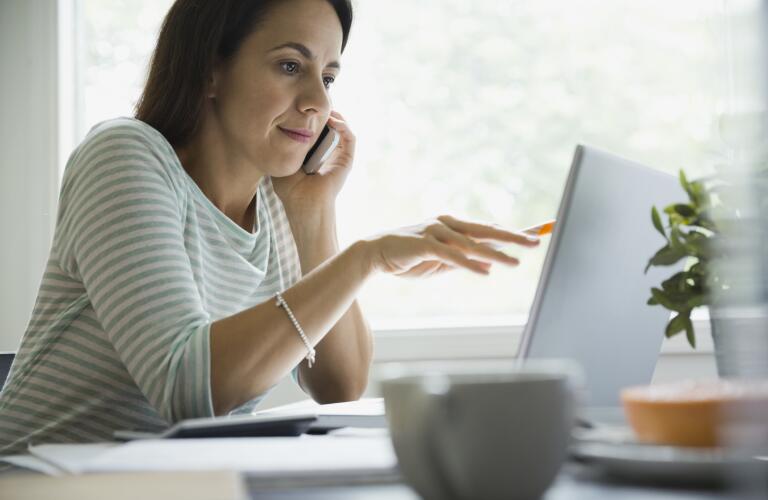 Antidepressant medications and psychotherapy, also called talk therapy, are the main methods for treating depression. A psychiatrist can partner with you to find the right medication, and a psychologist or other mental health professional can provide psychotherapy, in which you'll talk about the thoughts, beliefs, and situations that may be contributing to your depression so you can find healthier and more effective ways to cope with them. In the past, psychiatrist appointments and talk therapy were typically done in person. But now, thanks to advances in technology, getting help for depression can happen remotely using telehealth.
Telehealth, also called telemedicine, is the delivery of health services and information through videoconferencing and other digital communication technologies. Research is finding many telehealth benefits for depression.
Telehealth removes barriers to getting help for depression.
Any number of barriers can stand in the way of you getting the treatment you need. Those barriers can include a lack of time, transportation, or providers in your area. When you have depression, just the simple act of getting out of bed can be difficult some days. Getting up, dressing, and driving yourself to a mental health provider's office can seem impossible. Telehealth removes these and other obstacles to treating depression by allowing you to access care from your home.
Treating depression virtually works just as well as in-person visits.
An online psychiatrist or psychologist visit looks very similar to, and has all the benefits of, an in-person appointment. Using your computer or smartphone's camera and mic, you can see and talk to your provider. They will ask how you're doing, and you can ask questions and get answers to them in real time. Your psychiatrist will go over your medication, and can call in a refill to your pharmacy if you need it. If you'll be trying a new medication or a different dose of an existing drug, your doctor can let you know what to expect as your body gets used to it, so you can anticipate when it'll start working and keep an eye out for any possible side effects.
When it comes to effectiveness, there doesn't seem to be any disadvantage to remote visits. Research finds that getting help for depression with telehealth is just as effective as having these sessions in person. Some studies suggest telehealth for depression can be even more effective than in-person visits, since care is more accessible and convenient. People who use telemedicine for treating depression report high rates of satisfaction with this method.
Using telehealth expands access to depression care.
Almost 119 million Americans live in rural areas or other places where there aren't enough mental health providers. If you don't have a provider nearby, getting help for depression can be very difficult. An online psychiatrist or psychologist can be anywhere, even hundreds of miles from you. The only catch is that they need to be licensed to practice in your state. As long as you have a computer, you can get access to mental health care. Before your online appointment, call your insurance provider to make sure telehealth with your specific provider is covered. Many insurance companies are expanding coverage for telehealth and will cover at least a portion of the fee.
Telehealth could save money.
Depression is one of the most expensive conditions to treat. An estimated $71 billion is spent on treating depression each year. There's some evidence that using telehealth may save money, in part by reducing the need for emergency visits and other care down the road. You'll save more without paying for gas, tolls, and parking. Because telehealth provides easier access to care, people with depression can benefit from more frequent check-ins with their psychiatrist and therapist so their mental health can be better managed. In a study of veterans, telehealth was slightly more expensive on the front end, but veterans who received care remotely had much lower health care costs one year later.
Virtual visits are more comfortable.
Describing depression symptoms can be uncomfortable, especially if you're not used to talking about your feelings. Some people feel more at ease during an online psychiatrist or psychologist appointment than an in-person one, especially those with severe anxiety. Sitting in your own home may relax you enough to open up in a way you couldn't in a medical office.
Telehealth is a beneficial resource for treating depression. Evidence suggests it's just as effective as in-person mental health care, but more convenient and possibly less expensive. Ask the psychiatrist or psychologist who treats your depression if you can take your visits virtual. If not, ask whether they can recommend another provider who does offer telehealth visits.
Was this helpful?