The Do's and Don'ts of Helping a Teen With Depression
Was this helpful?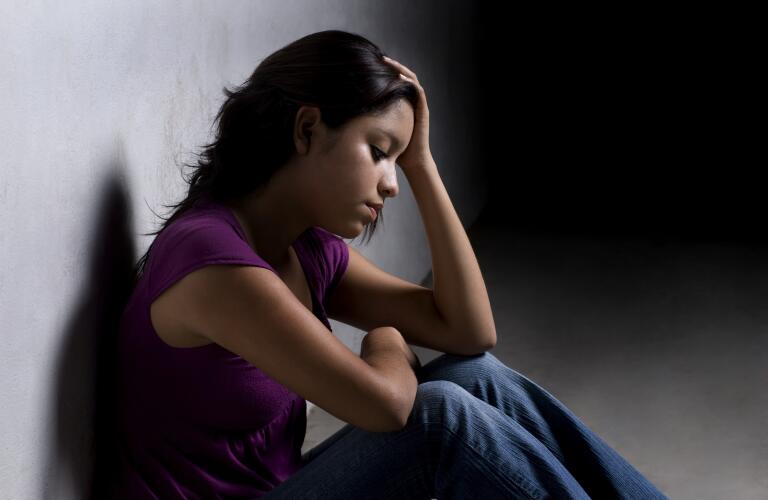 If you have a teen, you know the emotional ups and downs that come with this stage of life. But it can be hard to know when your teen is experiencing the occasional "blues" or "feeling down" and when she is suffering from something more serious that needs immediate treatment.
Clinical depression is a real disorder that affects as many as one in five teens, and it can be difficult to watch your child suffer. But you can help by learning the warning signs and knowing when and how to take action.
A number of factors can cause depression in teens, and it can show up in many forms. A child may experience major depression only once, or it may be a persistent depressive disorder, including bipolar disorder (or manic-depression), which is a condition that alternates between periods of euphoria and depression.
Factors that can lead to depression include:
Family history

Certain brain chemicals (too much or too little)

Difficult life events (such as a death or divorce)

Negative thought patterns

Medication side effects

Peer pressure
What's more, today's teens are faced with additional pressures that were not a part of teenage living for their parents. Navigating social media circles, cyber bullying and increasingly unrealistic expectations from the media to look and act a certain way all play a role in a teen's self-worth, and can often lead to deep disappointment.

Let's face it, teens are moody. Recognizing the signs of depression can be difficult. Did she have a spat with a friend? Is he just stressed out? It can be frustrating trying to navigate the varying moods of your emotional teen.
The following are signs your child may be suffering from depression. These changes are not subtle. The abrupt nature (and intensity) of change is a valuable warning sign. If you find that any of these last for more than two weeks, or if your teen's moods disrupt his ability to function on a day-to-day basis, it may indicate a more serious disorder.
Withdrawal from friends and disparaging activities they truly love

Sadness and hopelessness

Lack of enthusiasm, energy or motivation

Dramatic change in personality or appearance

Changes in eating or sleeping patterns

Overreaction to criticism

Poor self-esteem or guilt

Indecision, lack of concentration or forgetfulness

Poor performance in school

Restlessness and agitation

Anger and rage

Substance abuse

Problems with authority
Many teens with depression won't readily admit a problem. They may feel as if "life is unfair" and even lose hope that things will ever turn around, but they may not know how to express their feelings or ask for help. There are some effective steps you can take to help your child.
Listen without comment.

Set aside time each day to talk. Let your teen know that you are open and available, without judgment, if she needs anything. Ask open-ended questions to create space for dialog

Schedule family time. Eat meals together and organize fun family activities.

Genuinely praise your teen for specific behaviors and accomplishments to help boost his confidence.

Help your child foster relationships. Encourage her to schedule time with friends who play a positive role in her life, and to find some new friends, as well. Healthy relationships are key to a teen's self-esteem.

Make time for your child's interests or community service projects. Helping others can foster gratitude and make one's own problems seem smaller.

Encourage good eating, sleeping and exercise habits, which can improve overall mood. Encourage team-sporting activities for the health benefits and social network.

Talk to a trusted professional about how best to approach your teen and get the help he needs. A doctor may prescribe individual, group or family counseling, and/or medications to help your child begin feeling better.
Force communication, lecture or try to "fix the problem." Sometimes just being in the same room doing separate activities can be helpful.

Remind teens they are loved and appreciated.

Respond to aggression with aggression. Try to maintain a caring attitude and remain as calm as you can. Leave the room if you need a breather.

Ignore the warning signs. If you notice any of the following signs, don't try to manage on your own. Trust your instincts, and get professional treatment right away.

Irrational, bizarre behavior

Suicide threats (direct and indirect)

Obsession with death

Poems, essays and drawings that refer to death

Giving away belongings

Overwhelming sense of guilt, shame or rejection
Was this helpful?