How to Talk to a Parent With Dementia
Was this helpful?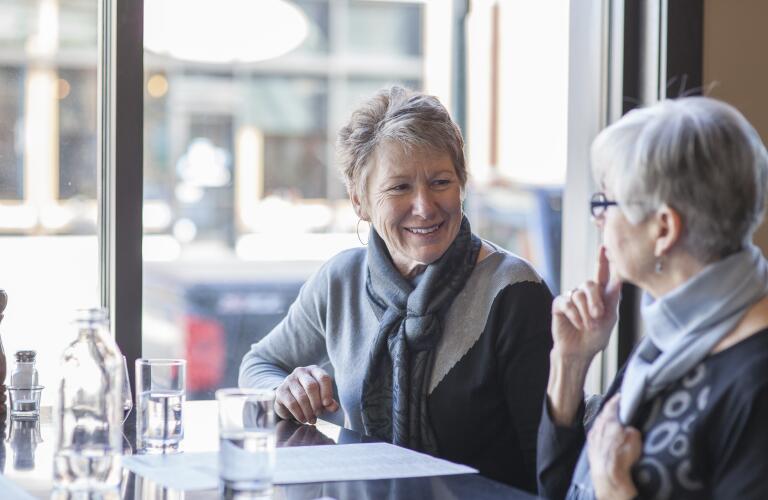 As your mom or dad loses the ability to communicate due to dementia, you may find yourself frustrated, upset or confused over how to converse with them. It's easy to get discouraged and feel like conversation is no longer possible. However, there are a variety of communication strategies for dementia patients you can try that can make talking to a parent with dementia easier. Even in later stages of Alzheimer's disease or other disorders, when speech may become difficult, you can use gestures, songs, photos and videos to continue to 'talk' with your parent.
Depending on the stage of dementia your parent is in, he or she might have trouble with words: finding the right words, using a familiar word repeatedly, being unable to organize words logically. Sometimes, your parent may forget what he or she was trying to say, revert to a native language, or simply avoid words in favor of gestures. However, dementia can affect someone differently depending on time of day and other factors. So, don't assume what a conversation will be like before it begins.
Here are some specific communication strategies for dementia:
Be visible. Start the visit by walking toward your parent from the front, so they aren't caught off-guard.

Call your parent by name, looking them in the eye as you do so. Then, get to their eye level—sit if they are sitting, rather than standing looking down on them.

Time your visit (or phone call) well. Visit at a time of day when you know they usually are better able to talk. For example, some people with Alzheimer's experience "sundowning syndrome" in the late afternoon and early evening and become confused and anxious. This might not be the best time for a conversation.

Listen. Let your parent express his or her thoughts and feelings; don't interrupt. Join them in whatever topic they've chosen.

Don't argue. If they say they just talked to Aunt Mildred, whom you know died 20 years ago, don't try to convince them this wasn't possible. Go with it.

Be succinct. Keep what you say short and to the point. But be prepared ahead of time with things to talk about.

Don't ask open-ended questions, like "What do you feel like doing this afternoon?" Instead make a concrete suggestion: "Do you want to go for a walk?"

Practice patience. If they struggle for a word, try not to fill it in for them or finish sentences. Ask a question related to the topic that may help jog their failing memory.

Keep it personal. Try to keep the conversation between just you and your parent. The more people involved, the harder it is for your parent to follow. That said, you may need help from your parent's caregiver from time to time, especially if you are conversing long distance. It may be wise to plan a visit or conversation when the caregiver is also available in case they are needed.

Try memorabilia. Remind them of old adventures, people and places they liked to visit; bring pictures or sing favorite songs. Use the feedback you get from your parent—if they have no memory of past events, or they get agitated or upset when you bring them up, switch gears and talk about something else. (Be prepared with a list of things to talk about in case you get stuck.)

Get active with them, if possible. Go for a walk or take them for a drive. Find things they like to do.

Use humor. It's OK to laugh, joke and bring humor into the conversation, even if it's just wearing a funny hat.

Use tech. If the visit is not in person, try to set up a video chat rather than a phone call. It's easier for someone with dementia to respond to a face than a disembodied voice.
Late-stage or severe Alzheimer's disease can last several years, and can cause a person with the condition to speak less and use nonverbal communications more. Rather than words, they may rely largely on gestures, expressions and sounds that aren't words. You can still communicate with your parent even at this late stage.
Here are a few tips:
Approach from the front (so you don't surprise them), identify yourself, and make eye contact.

Find a quiet place for a one-on-one visit, where there aren't competing, distracting sights and sounds.

Point and gesture to communicate meaning, and encourage your parent to do so as well.

Touching is also a way to communicate; if your parent welcomes being touched, do so. Hold their hand, give them a hug.

See what kind of emotion your parent is expressing and try to respond in kind. Sometimes this means paying attention to their facial expressions and body language.

Don't talk about your parent to others as if he or she isn't there.
It is difficult to communicate with a loved one who may not know who you are or who may not speak. This is even more challenging when the relationship is long distance and you are speaking over the phone. There may be silence on the other end. But, preparation and video chat technology can help overcome some of these challenges. If you can't think of anything to say, that's OK. Just be there with your parent, which in itself will communicate your love. Also, remember that what doesn't work one day may work the next; don't give up.
Was this helpful?