How Dementia and Alzheimer's Progress
Was this helpful?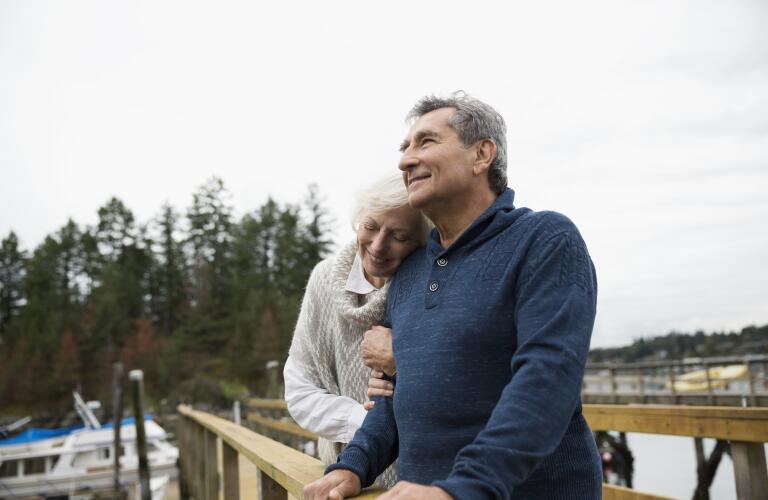 Dementia, or the gradual loss of memory and cognitive function, is progressive. At first, symptoms are barely noticeable. A person may mix up the names of people or objects, misplace personal possessions, or briefly forget which turn to take while traveling to a once-familiar location. With time, symptoms worsen, and forgetfulness is much more common. Eventually, people with dementia (including Alzheimer's disease, a form of dementia) lose the ability to care for themselves. Dementia is ultimately fatal.
Doctors and other healthcare providers sometimes use the 7 stages of dementia to describe the level of cognitive decline as the condition progresses. Others prefer to classify dementia as 'early,' 'mid-stage,' and 'late' or 'end-stage dementia.'
According to the Global Deterioration Scale for Primary Degenerative Dementia (GDS; also called the Reisberg scale), there are 7 dementia stages:

Stage 1: No cognitive decline. A person with no symptoms of dementia would be classified as stage 1 dementia.
Stage 2: Very mild cognitive decline. Individuals may forget names or objects, but symptoms are not evident to others.
Stage 4: Moderate cognitive decline. The affected individual may be in denial about their increased forgetfulness and other symptoms, but others notice they can't effectively manage their finances or travel independently to new places.
Stage 5: Moderately severe cognitive decline. The individual is often unaware of the date, time or location, and needs help with daily tasks, such as eating, dressing, and bathing.
Stage 6: Severe cognitive decline. The person can't function without help from others. She may forget the names of family members. She will also experience loss of control of bowel and bladder function.
Stage 7: Very severe cognitive decline. Affected individuals lose the ability to move independently. Usually unable to speak or walk.
Early stage dementia roughly corresponds with stages 3 and 4 on the GDS scale. People with early stage dementia can live independently, and many still work. However, affected individuals are often acutely aware that their memory isn't as good as it once was, and friends and family members may notice that the individual isn't functioning as well as they did in their prime.
According to the Alzheimer's Association, this is the ideal time to discuss future plans. As difficult as it is to discuss end-of-life plans, dementia is a progressive disease. Get legal and financial documents in order, create a living will, and appoint a durable power of attorney and power of attorney for healthcare.
Stage 5 of the GDS scale describes mid-stage dementia. This stage is often the longest stage of Alzheimer's disease and other forms of dementia, and it can feel as though it's unfolding in slow motion. Gradually, affected individuals become more confused and forgetful. You may notice mood swings and personality changes, and a once-competent cook may struggle to make a simple meal. Individuals who were once impeccably groomed may forget routine personal hygiene and wear stained and inappropriate clothes.
It is not uncommon for people with mid-stage dementia to wander or sleep during the day and be up frequently during the night.
The middle stage of dementia can be very trying for loved ones. At first, affected individuals may need only minor assistance; they may be able to live independently with the help of a housekeeper or personal care assistant. As symptoms progress, they may be safest in an assisted living environment.
Eventually, people with dementia lose the ability to control their bodies. They cannot eat independently and may struggle to swallow. They can't control their bowel and bladder function and may struggle to carry on a conversation. As the disease progresses, they may be confined to bed.
People experiencing end-stage dementia need round-the-clock care. Family members benefit from support as well. Hospice care is appropriate, though it's impossible to predict how long this last stage of dementia will last. Hospice nurses can keep the person comfortable and help family members navigate the final days.
If you have dementia or are caring for someone who does, support groups may be helpful. Visit the Alzheimer's Association for support group information in your area.
Was this helpful?