Dementia Prognosis and Life Expectancy
Medically Reviewed By William C. Lloyd III, MD, FACS
Was this helpful?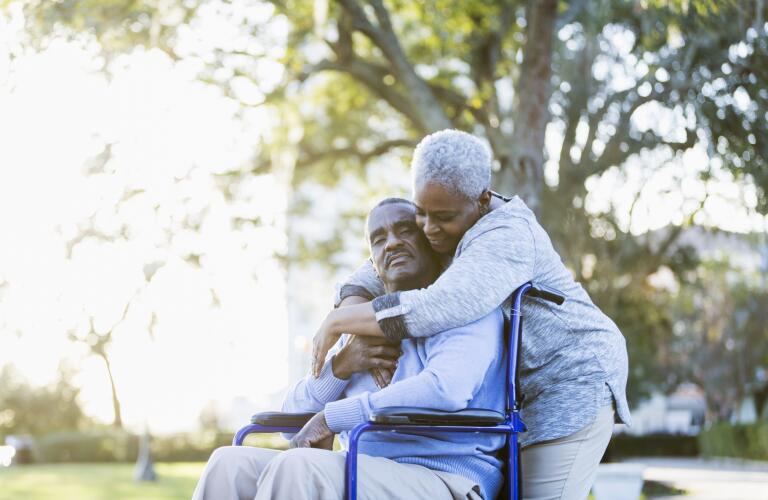 Dementia is a progressive condition, which means symptoms get worse with time. However, everyone's journey is unique. Dementia life expectancy depends on the stage of dementia and the overall health of the affected individual.
Doctors recognize 7 stages of dementia, though some prefer to simply use the terms 'early,' 'mid,' and 'late-' or 'end-stage' to describe patients' experience with dementia.
Symptoms are mild and barely noticeable in the earliest stages of dementia. Initially, family members and coworkers may be unaware of the fact that the affected individual has problems with memory and thinking. As the condition progresses, memory and thinking problems become obvious. Affected individuals may struggle to complete routine activities, such as getting dressed or cooking a meal. Their sleeping patterns may shift; some people with dementia sleep during the day and are up frequently at night. Wandering may occur. Early stage dementia, on average, lasts approximately 2 to 4 years.
As mid-stage dementia progresses, individuals lose control of their bowel and bladder. They may forget the names of family members and long-time friends and are often completely unaware of the date and time and their current location. Mid-stage dementia, on average, lasts 2 to 10 years.
In the end-stage of dementia, most people rely on others to dress and bathe them; assistance with eating is also necessary and some patients have trouble swallowing food and drink. They are susceptible to infection, including pneumonia and urinary tract infections. Eventually, people with end-stage dementia lose the ability to walk and talk. The body gradually shuts down completely. Some people with dementia die of dementia-related infections. Others succumb to another disease, such as heart disease or cancer.
End-stage dementia lasts approximately 1 to 3 years.
Alzheimer's disease is the most common cause of dementia. In most people, Alzheimer's disease symptoms appear after age 60; however, some people have noticeable Alzheimer's symptoms in their 40s or 50s.
There is no cure for Alzheimer's disease, but some medications can slow the progression of symptoms. According to the National Institute on Aging, "beginning treatment early in the disease process may help preserve daily functioning for some time."
According to the Alzheimer's Association, on average, a person with Alzheimer's lives 4 to 8 years after diagnosis. However, some people live with dementia for 20 years.
Lewy body dementia is a form of dementia characterized by the development of abnormal deposits (called Lewy bodies) in the brain. People with Lewy body dementia have trouble with movement as well as cognitive decline. Thinking problems generally show up before movement problems. As Lewy body dementia progresses, affected individuals may also experience visual hallucinations and sleep problems.
Life expectancy for a person with Lewy body dementia is approximately 2 to 8 years after the onset of noticeable symptoms.
Vascular dementia is caused by changes to the brain's blood supply. It can be caused by a series of small strokes over time. Vascular dementia is the second most common cause of dementia after Alzheimer's disease.
Average life expectancy for a person with vascular dementia is 5 years following diagnosis.
Dementia prognosis and life expectancy can vary greatly. Taking steps to improve your overall health may slow the progression of symptoms. Your healthcare provider will help you manage dementia with medicine to preserve mental function and help with behavioral changes. At the end of mid-stage dementia, most people need round-the-clock care, so the caregiver plays an important role at the end of life.

Was this helpful?