When Your Child Has Crohn's Disease
Was this helpful?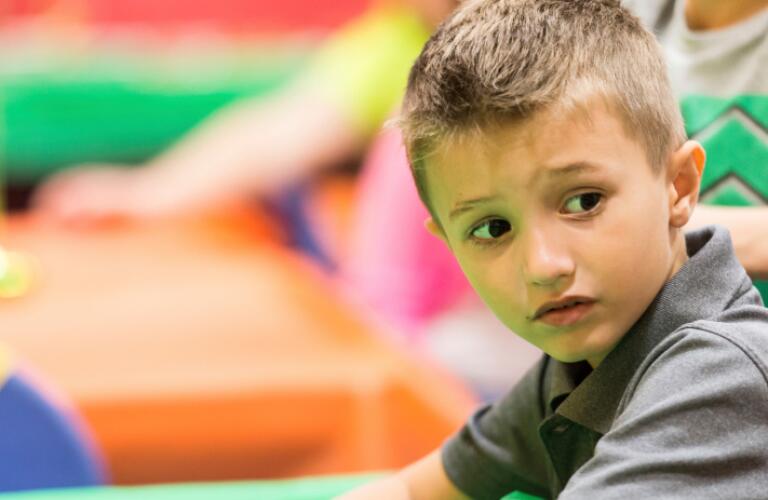 Finding out your child has a chronic condition is never easy. But learning as much as you can about Crohn's disease and how you can help your child live with the condition is one of the best first steps you can take.
Crohn's disease is one type of inflammatory bowel disease (IBD). The other major type of IBD is ulcerative colitis. Crohn's disease is a chronic (long-term) condition that causes all layers of the intestinal wall to become sore, inflamed and swollen. It can affect the mouth, esophagus, stomach, small intestines, large intestines (colon), and anus. Ulcerative colitis inflames only the inner lining of the colon and/or rectum.
No one knows what causes Crohn's disease, but experts believe it could be a result of genetics, environmental factors, a defect in the immune system, or a combination of these factors.
The chronic inflammation of Crohn's disease can cause a number of symptoms:
Abdominal pain and/or cramping
Chronic diarrhea, with or without blood in the stool
Fatigue
Fever
Urgency to have a bowel movement
Weight loss
Crohn's disease may also cause growth delays in children since the disease can affect bone growth and how the body absorbs nutrients. Nutritional deficiency and slowed growth can also happen if your child has a reduced appetite due to abdominal pain.
The good news is your child will only have symptoms when his or her IBD is active. Symptoms may come on suddenly or build up over time. You can help your child avoid symptoms by seeking professional medical help and managing the condition with some lifestyle changes.
In adjusting to this new condition, it's helpful to remember you are not alone. One in 10 people with IBD are younger than 18 and thousands of parents like you are learning how to handle the challenges that come with the chronic nature of Crohn's disease. They know that with the right medical care and management of the disease, their child can lead a full, happy life. Some kids go for long periods, sometimes years, without any symptoms.
Your child's doctor may suggest medication (either prescription or over-the-counter), dietary changes, and counseling with a nutritionist to help your child keep symptoms at bay. Surgery is necessary in some cases to remove damaged intestinal tissue and to help with symptoms. Talk with your child's doctor about the available treatment options and when your child may need them.
The following tips can help your child cope with the disease and avoid IBD flare-ups:
Consider diet. While most kids with IBD need no change in diet, it may be helpful at times to make some small adjustments, especially when your child is having symptoms. Talk with your doctor about how to monitor your child's nutrient intake and whether supplements, such as probiotics or prebiotics ("good" bacteria), may be helpful for your child.

Break for the bathroom. Your child may need to use the bathroom more often and with more urgency. Have your child make note of bathroom locations when you are away from home, and make more time for bathroom breaks. This can help your child feel more in control.

Talk with teachers and instructors. It can be comforting to know that other adults understand your child's needs, such as special diet considerations or the need for more bathroom breaks. Ask the school about a Section 504 plan for your child. A 504 plan allows for special accommodations to ensure a quality educational and social experience.

Offer emotional support. Your child may go through an adjustment period, becoming anxious, agitated, more dependent on you, or even depressed. These are all normal emotional reactions to having a chronic condition. For help, talk with your child's doctor or reach out to a support group for children living with IBD.

Encourage a normal lifestyle. Physical activity can help with stress and build confidence, and even with flare-ups, your child should be able to participate in sports and other fun activities. Pay attention to your child's energy level, and make sure he or she is getting plenty of water.

Have hope. Researchers are making great progress in uncovering the causes of Crohn's disease. While available medication therapy can block inflammation, experts believe new therapies will be even more effective at targeting Crohn's disease. To locate clinical trials in your area, go to the Crohn's and Colitis Foundation of America's website at www.ccfa.org/trials/ or call 888.MY.GUT.PAIN (888-694-8872).
Your child's doctor is your partner in managing your child's health. Be sure to let your child's doctor know about any of the following symptoms:
Change in number or type of bowel movements

Fever (higher than 101 degrees Fahrenheit)

Increasing stomach pain, bloating or cramps

Mouth sores

Ongoing fatigue with no known cause (such as the flu)

Rectal pain or bleeding

Swollen or painful joints

Swollen or red eyes

Vomit with yellow or green coloration or vomiting more than 3 to 4 hours
Your child's needs will vary greatly throughout the course of disease, both physically and emotionally. It's important to be emotionally connected as a family and up to date on your child's treatment options. This way, you'll be better prepared to manage the condition and support your child.
Was this helpful?