What to Expect with a Telehealth Appointment for Crohn's Disease
Was this helpful?
Telehealth appointments for Crohn's disease can be helpful for regular ongoing care and getting prompt attention from your healthcare team when flares or side effects are problematic.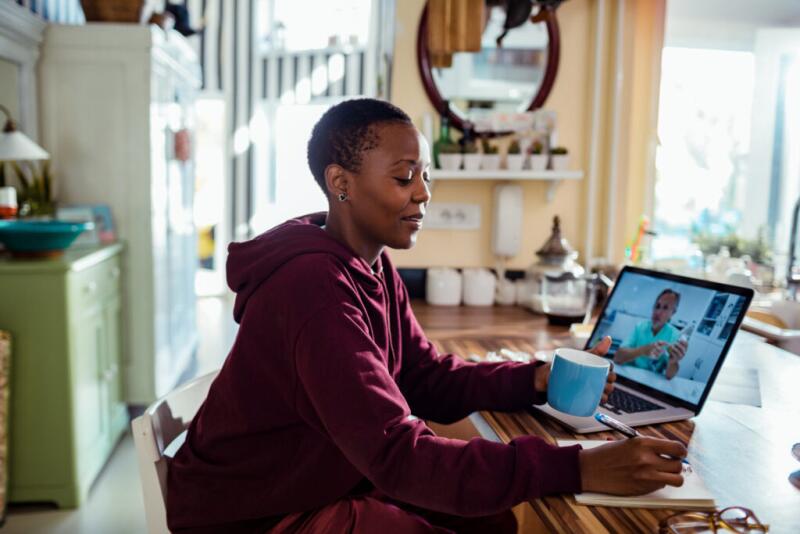 You may still be unfamiliar with telemedicine and a little skeptical of how a remote doctor's appointment for a condition such as Crohn's disease can help. However, telehealth visits can serve several important functions, whether getting advice about a sudden flare or avoiding travel to a doctor's office when you don't feel well.
Learn more about what a telehealth appointment for Crohn's disease will be like if you choose this approach over an in-person visit.
Telemedicine ranges from traditional telephone calls to the use of videoconferencing. When you make a telehealth appointment, you'll want to find out what technology or telecommunications platform your doctor's office prefers. You may be given some options, such as Zoom or Skype, so choose a platform that works for you.
You'll want to ensure your phone, computer, or another device is ready to go and that you have a reliable high-speed internet connection. Remember that you'll see your doctor, and your doctor will see you. Consider choosing a quiet location where you won't have interruptions or distractions.
As with any medical appointment, you want to make the most of your telehealth visit. Be sure to prepare a list of questions or discussion topics, such as a change in the frequency or severity of flares, medication side effects or interactions, new symptoms, or any other changes to your condition or health.
If you use an app to track your symptoms and other information and share it with your healthcare team, be sure that the doctor's office has received your most recent information before your appointment.
Your telehealth appointment will probably be similar to a regular office visit. A nurse or healthcare team member will review your medical history, including any new symptoms or other diagnoses, medication and supplement use, insurance information, and any other reason for your visit.
Your doctor will want to know whether you're having any new problems and will discuss how your treatment is going. If you're having worsening symptoms or more frequent flares, your doctor may prescribe a new medication or increase the dose of a medication you're now on. Your doctor may have other advice for lifestyle adjustments.
Test results can be discussed, too. If your doctor is concerned that additional testing is needed or that an in-person visit would be helpful, you can make arrangements during your telehealth appointment.
Telehealth appointments can be good opportunities to discuss any emotional or psychological challenges you're facing concerning your Crohn's, as you may feel more comfortable sharing your feelings in your home rather than a doctor's office.
Don't worry that a telehealth appointment will provide you with less attention or care than an in-person visit. In a small study of patients with inflammatory bowel disease (primarily Crohn's and colitis), almost 90% of those who used telehealth visits believed the appointments allowed them to adequately address all of their concerns.
If you're unsure about scheduling a telehealth appointment for Crohn's disease, know that telemedicine can work in your favor.
Because most appointments focus on a review of symptoms and discussions about whether medications and lifestyle changes have a positive effect, you can just as easily have those conversations on your phone or with a video chat on your computer.
This spares you from traveling, especially if you are experiencing an uncomfortable or painful flare or have transportation challenges getting to the doctor's office.
It can be easy to schedule an appointment in the middle of your work day, for example, if all you need is 30 minutes of privacy to talk with your healthcare team. A telehealth appointment may also allow you to avoid an urgent care visit.
Doctors also tend to be better able to accommodate a short telehealth appointment rather than an in-person visit into the daily schedule on short notice. You can use a same-day telehealth appointment to discuss a sudden change in symptoms or new side effects from medications or to ask questions rather than wait for your scheduled appointment weeks or months from now.
A survey of more than 800 gastrointestinal specialists worldwide suggests that doctors believe telemedicine should become a core part of Crohn's disease and colitis care in the years ahead.
In response to the COVID-19 pandemic, many health plans started expanding telemedicine coverage.
Telehealth appointments can't take the place of all Crohn's care. For example, an in-person appointment is unavoidable if you need a colonoscopy or upper endoscopy. The same is true for lab work for blood or stool samples. Also, because up to 75% of people with Crohn's disease require surgery to remove a diseased or injured portion of the GI tract, a trip to the operating room may be necessary at some point.
However, telehealth appointments can be a valuable component of your Crohn's disease management for routine appointments or to see your doctor on short notice.
Was this helpful?