The Role of Marijuana in Managing Crohn's Disease
Was this helpful?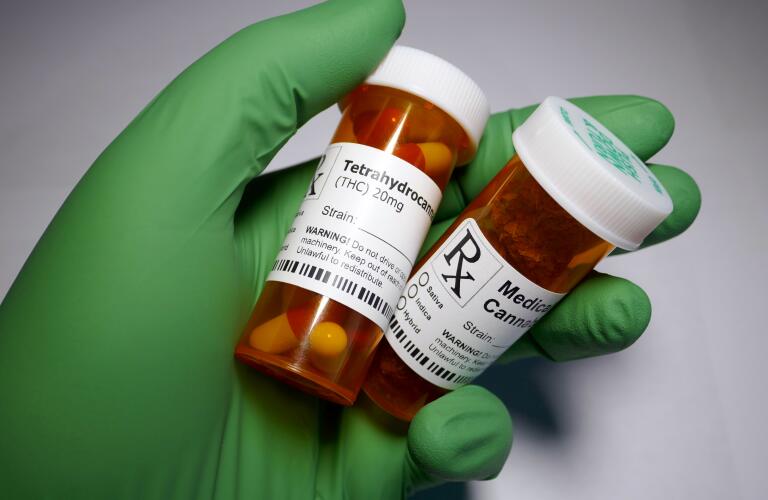 Can marijuana or cannabidiol (CBD) oil ease the symptoms of Crohn's disease? Some people say yes. Actor and Saturday Night Live star Pete Davidson says smoking marijuana improves his appetite and decreases uncomfortable Crohn's symptoms allowing him to perform on the show. But experts say the research on cannabis for Crohn's disease is still inconclusive, largely because U.S. federal law classifies marijuana as a Schedule I drug, designating the substance has a drug with "no currently accepted medical use and a high potential for abuse." As a result, there are few high-quality studies investigating the effectiveness of medical marijuana for Crohn's disease. Here's what you need to know if you're considering therapeutic cannabis for Crohn's.
Cannabis plants contain several chemicals that can affect the functioning of the human body, including tetrahydrocannabinol (THC, which makes you feel high) and cannabidiol (CBD, which does not make you high). Marijuana is made from the dried flowers and leaves of the cannabis plant; it contains both THC and CBD. CBD oil usually contains almost no THC (typically, less than 0.3%); however, it's possible to purchase CBD oil with added THC.
Surveys of people with Crohn's disease have found that many Crohn's patients have tried cannabis for symptom relief. Crohn's disease is characterized by abdominal pain and diarrhea; other symptoms include weight loss, rectal bleeding, fatigue, and decreased appetite. In one survey of 291 people with inflammatory bowel disease (IBD, which includes Crohn's and ulcerative colitis), 50% of those with Crohn's disease reported using cannabis for symptom relief. Cannabis users experienced improved appetite and decreased abdominal pain and diarrhea. A study from Spain reported that 10% of patients with IBD actively used cannabis or CBD oil.
Researchers know that THC and CBD (the active chemicals in cannabis) can relieve pain and decrease inflammation, and a few studies suggest medical marijuana or CBD oil may effectively relieve Crohn's symptoms. In one study, Israeli researchers gave cannabis oil containing both THC and CBD to 23 people with moderately severe Crohn's disease; they gave a placebo to another 23 people with similarly severe disease. After eight weeks, 65% of those who received cannabis oil experienced clinical remission of Crohn's disease, compared to just 35% of the placebo group. However, medical exams did not show any evidence of decreased inflammation inside of the colons of either group.
Another small study tested the effectiveness of medical marijuana. Half of the 21 participants smoked cannabis cigarettes with 115 mg of THC; the other half smoked placebo cannabis cigarettes with the THC removed. The study found 45% of people in the medical marijuana group experienced clinical remission of Crohn's disease, compared to 10% of the placebo group. Those who used marijuana experienced more adverse effects (including sleepiness, nausea, confusion and difficulty with concentration) than those who smoked placebo cigarettes.
A small study that compared the effectiveness of CBD oil (5% cannabidiol) to placebo did not find a significant difference in Crohn's remission rates.
Researchers agree that more studies, with a larger number of participants, are necessary to assess the potential benefits and harms of cannabis in Crohn's disease.
More than half of U.S. states have approved the use of medical marijuana and several states have decriminalized cannabis possession. Medical marijuana is a term referring to using the whole cannabis plant or extracts from it to relieve symptoms or side effects of a medical condition or it's treatment (such as chemotherapy). However, because marijuana is still classified as a Schedule I drug, the use of marijuana remains illegal under federal law.
CBD oil is widely available, but its use and possession are also legally murky. It's a good idea to check your state's position on medical marijuana and CBD before purchasing any cannabis products.
As laws continue to evolve, additional research will likely reveal more about the benefits and risks of using medical marijuana and CBD oil to manage Crohn's disease.
For anyone interested in trying (or prescribing) THC or CBD for Crohn's disease, be aware of state law regarding medical and recreational marijuana. The Crohn's & Colitis Foundation reminds patients to check their employers' policies related to drug use and testing. Be sure to let your doctor know you are considering any alternative treatments.
Was this helpful?