How Crohn's Disease Affects Your Skin
Was this helpful?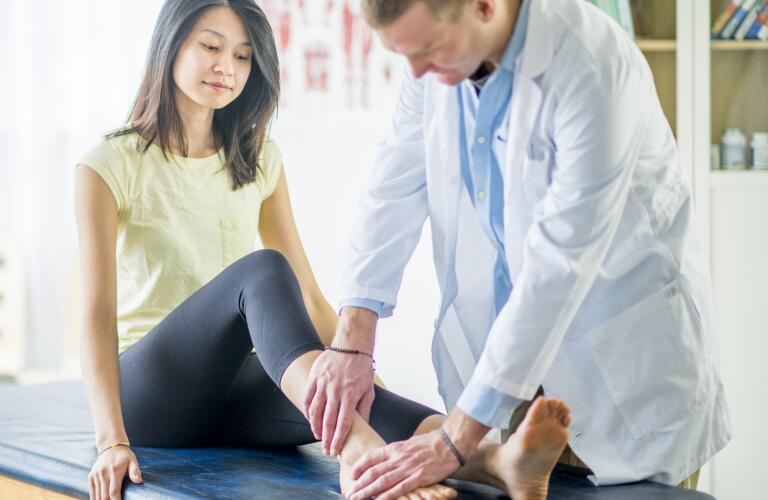 Crohn's disease is a chronic inflammatory disease that affects the digestive tract and can cause abdominal pain, diarrhea, rectal bleeding and weight loss. But Crohn's can also cause annoying and uncomfortable skin conditions. Approximately 40% of people with Crohn's disease will develop at least one Crohn's-related skin symptom. Here is a look at some of the most common skin complications from Crohn's disease.
Approximately 4 to 15% of people with Crohn's disease develop erythema nodosum (EN), which means 'red bumps.' EN is characterized by tender, warm-to-the-touch red lumps that form on the shins, ankles or, occasionally, arms. The bumps can be small (cherry-sized) or relatively large (grapefruit-sized). Affected people may also develop fatigue, fever, chills, and joint pain.
EN is not harmful but can be uncomfortable. Resting and elevating the legs may decrease swelling. Over-the-counter anti-inflammatory medicine (such as ibuprofen) may ease discomfort; wearing supportive socks or compression stockings may also help. If at-home treatment is not sufficient to relieve symptoms, contact your healthcare provider.
In most cases, the red bumps will go away without treatment in about 3 to 6 weeks. However, joint pain may linger for weeks.
EN most commonly occurs during Crohn's disease flare-ups.
This rare skin complication of Crohn's disease typically begins with a small blister or reddish bump, which may appear at the site of a minor injury. The blister or bump then turns into an open skin ulcer that may become quite large and deep. Without treatment, the ulcers may continue to enlarge and spread, or they may heal gradually. Only about 1% of people with Crohn's disease will develop pyoderma gangrenosum.
If you have Crohn's disease and notice a skin ulcer, call your healthcare provider as soon as possible. Medical treatment, including prescription ointments, antibiotics, steroids and powerful biologic agents, can halt the ulcer's spread and encourage healing.
Aphthous stomatitis is characterized by the appearance of small ulcers—canker sores—inside the mouth. Approximately 8 to 9% of people with Crohn's disease will develop aphthous stomatitis. Canker sores typically appear during Crohn's flare-ups. Getting the underlying bowel condition under control often results in improvement of mouth sores too.
If canker sores are causing discomfort and making it difficult to eat or drink, talk with your healthcare provider. Prescription medicated mouthwash and topical steroids may decrease pain and promote healing.
Many people with Crohn's disease develop skin tags—extra little flaps or 'bumps' of skin—around the anus. These skin tags aren't harmful but can be annoying and may complicate hygiene. Some people with Crohn's develop small holes inside the anal canal; these can become infected and cause pain, fever and foul-smelling discharge.
Skin cracks and small ulcerated areas can also occur in the perineal region and affect the vulva or scrotum. Rarely, these cracks may tunnel through the skin to the bowel, creating a fistula, which is a type of 'channel' between the skin surface and bowel.
Genital swelling is another symptom of genital Crohn's disease. Your healthcare provider can help you find relief from the symptoms of genital Crohn's disease. In many cases, getting the underlying bowel condition under control will improve genital Crohn's disease also.
Because Crohn's disease can affect both the digestive tract and the skin, you may need to see both a gastroenterologist and a dermatologist. Working together, you can control the symptoms of Crohn's disease.
Was this helpful?