PATIENT VOICES

Deciding on a Surgery, and Surgeon, for My Crohn's Disease

Was this helpful?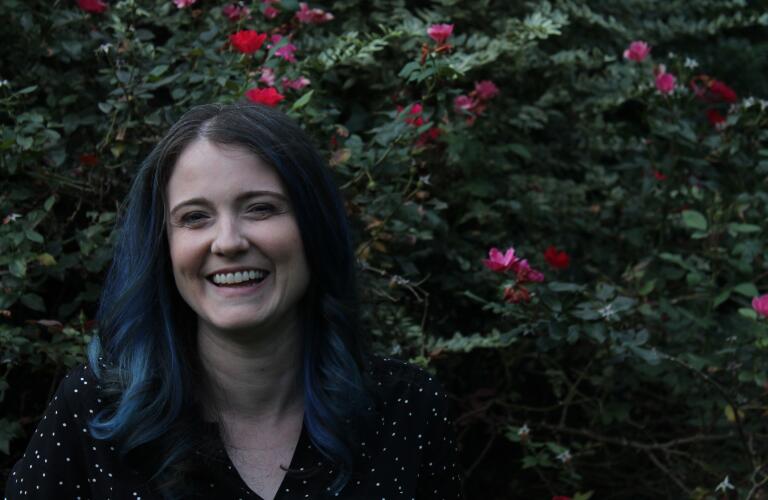 The nurse's thermometer read 103.4 degrees Fahrenheit. I felt an intense stabbing pain in my abdomen. I often had Crohn's disease pains in this same spot, but in the four years since my diagnosis, they had never been this severe. The doctor said I needed to go to the emergency room immediately. Instead, I immediately burst into tears.
I was scared about what might be wrong with me, but mostly frustrated. That morning, I had just started a cool new summer job as a health teacher to resettled refugee children. I'd start school for my new career in public health in a few months. It was like I had finally departed on a long road trip I'd planned for years—and my car broke down before I even left my neighborhood. But I went to the ER anyway.
A CT scan showed a partial intestinal obstruction, which explained the stabbing pains; food was trying to jam its way through my narrowed intestines. I was put on a diet of beef broth and Italian ice. My gastroenterologist adjusted my Crohn's drugs and explained if the obstruction was inflammation, the drugs should resolve it within a month. If it didn't resolve, it probably meant the blockage was caused by untreatable scar tissue—which probably would mean I'd need surgery before I could eat normally again.
The powerful steroids my doctor prescribed made me super-energetic, but had zero effect on my gut symptoms. I was instructed to carefully test tiny amounts of mushy vegetables each week, each time leading to hours of sharp cramps. After living on little more than applesauce and Chick-fil-A milkshakes (the one bright spot in all of this) for weeks, I knew I wasn't going to get any better than I already had on the new drugs. I also knew I couldn't keep this up for long, either being scared every time I ate a carrot, or starting a demanding graduate program while eating actual baby food. It seemed my obstruction must be mostly made of scar tissue, and so surgery was probably the answer.
I'd never had a major surgery before, though, with a recovery time of one week at the hospital and six weeks at home. My doctors had also advised delaying my first Crohn's surgery for as long as possible, and I was still in my 20s. So I wanted to be as sure as I could be: about the need for surgery, and about the surgeon. I did hours of online research about resection surgery, and discussed it with multiple doctors, who agreed surgery seemed wise. I also asked my support group members; many said they wished they'd had surgery sooner because it dramatically improved their quality of life.
Dr. Monica Hum had been my colorectal surgeon for many outpatient procedures the past four years, so we knew each other well. I met with her and asked dozens of questions, including how many times and how often she did this surgery, and her success rates. I don't remember the exact stats she cited, but I remember wondering how it was even possible to fit that many surgeries into a year.
I asked support-group attendees who I knew were Dr. Hum patients, and they gushed about her surgical results and bedside manner. My doctors who knew Dr. Hum recommended her to a degree I'd never seen before, praising her technical skill and collaboration with other doctors.
A week before my surgery, we met for more than an hour to create a surgical plan together. Dr. Hum reviewed my scans slice by slice and shared her thoughts, making notes to involve other specialty surgeons. She plotted incision locations on my abdomen for optimal healing specific to me, and to match potential future C-section scars someday. We also talked about my plans for school and marriage, and future vacations I wanted to take. I felt completely confident in her as my surgeon, in putting my life in her hands. This was largely because she shared her thought process with me, but also because I knew she saw me as more than just a body with a problem to be sliced out. She'd taken the time to know me as a person.
After three hours of surgery, Dr. Hum informed my family the intestinal resection was a success. Ten centimeters of scarred intestine were removed, and the healthy ends stitched together. I was on a heavy morphine drip as I woke, so I was ecstatic I was alive and it was all over. Unfortunately, I was way off about the "all over" part.
The initial 12 hours after my surgery were a happy, hazy party. I celebrated with my support-group friends, who brought me an eye mask and socks (important hospital-stay gifts). I even loved my urinary catheter, because it helped me stay in bed with my new friend morphine all day. It felt great—until the next day, when suddenly the nurses expected me to change gowns, wash up and actually walk down the hallway. I'm sick, I thought. I need rest! Rest and drugs. But the nurses prodded me along, dangling the prospect of eating solid food as motivation.
It would have seemed much more daunting had the nurses not focused me on the little steps one at a time (doing slow laps around the nurses' station or eating grits). And perhaps sensing my fondness for the IV pole, the nurses were also careful to give me pain pills only when absolutely necessary. This reduced my risk for opioid dependence, for which I am extremely grateful.
Dr. Hum continued to coordinate my care, pulling in specialists she knew and trusted. She even strategized about desserts I could have on my still-limited hospital diet. (She inspiringly suggested microwaving a chocolate bar from a "get well" gift basket and drizzling it onto angel food cake.) She went above and beyond, but shrugged it off as just part of the job. Everyone's support helped me recover and be discharged two days earlier than expected.
Six weeks later, I was still sleeping 12 hours a night and living in my pajamas. Getting my energy back took more discipline than I expected; I had to start being active again before I felt more energetic, not the other way around. But I was quickly back to eating carrots and tomatoes, without scary gut pangs. I decided to not give up milkshakes.
The following January, I started grad school. It was only part-time, but draining. I received a grant to research breast cancer in the rural Caribbean that summer. My Crohn's flared, but the overall experience was exciting and gratifying. I was finally on the career path I set out for. I graduated and have worked in public health for the past five years.
Having Crohn's often limits what and how much I can do, but has also made me more sensitive to how my words or actions might make someone feel who is also struggling with something, medical or not. And the frustration of being held back by illness has made me appreciate everything I can do, which has included watching sumo wrestling in Tokyo, snorkeling with sea turtles, and hiking 12 miles to see hot flowing lava.
Question your surgeon: Not every surgeon I've met welcomes being questioned. But responding to patients' concerns is as much a part of a surgeon's job as cutting and stitching. Don't hesitate to ask questions out of fear you're irritating your surgeon.

Emotional recovery: I wasn't just moody about the physical discomfort of recovery; I was surprised to be a little emotionally shaken, too. Your body experiences a trauma you have no memory of, despite consenting to it. Some people prefer to know as little as possible about the specifics; I found it helpful to have every slice and maneuver described to me afterward, and even wish I had a video of my own surgery.

A different body:Your body can also change drastically after a big surgery like this; half my clothes no longer fit me.

Pain meds:The surgery was years ago, before there was a major national conversation about opioid addiction. No one told me how much I'd want to stay on my IV pain medication forever. After discharge, I quickly discovered the pain pills led to GI side effects strong enough to deter me from using them for long. Unfortunately, this is not the case for many people, and it easily could have not been for me.

Relax: When I arrived home from the hospital, I went straight into task-completion mode. I was so anxious about quickly paying bills, replying to piled-up email well-wishes, and sending thank-you notes to people for flowers and gift baskets. I should've just watched TV in bed.
Besides an amazing surgeon and nursing team, and the support of friends and family, I'm glad I had a community of fellow patients who had gone through major gut surgery, too. This is where you get the advice and stories that help you synthesize all the online research and medical advice in your head, so you can finally come to a decision you're comfortable and confident making.

Was this helpful?