PHYSICIAN VOICES

5 FAQs About Crohn's Disease

Crohn's disease is a chronic condition that can make it difficult to perform everyday activities and get the nutrients your body needs.

However, it's also very treatable. Gastroenterologist Barry Levitt, M.D. answers the common questions his patients ask about Crohn's disease management.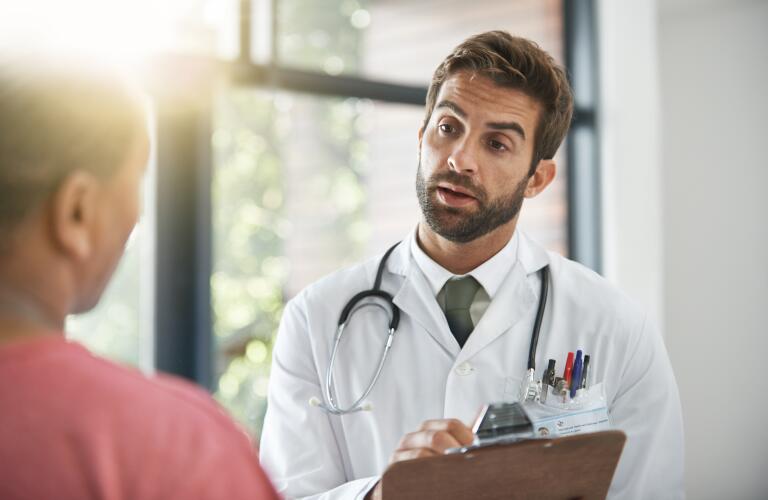 A: Crohn's disease is an inflammatory disease of the gastrointestinal (GI) tract. It can affect any area of the GI tract, from mouth to anus. Unfortunately, we don't know yet what exactly causes Crohn's disease, but we tend to think the cause is multifactorial. We know there is a genetic component for some populations, and there also seems to be an environmental role as well. There also may be an infectious etiology, but at this time, research is inconclusive.
Crohn's disease causes inflammation because the body is responding to some intrusion, but we're not quite sure what that is at this time. The body mounts a very heavy inflammatory response and that response can have a big impact on the body. Common symptoms include diarrhea, fatigue, abdominal pain, bloody stool, and weight loss. Some people with Crohn's have unexplained fevers or develop rashes. Crohn's symptoms can make life very difficult when they are not well controlled with the right therapy. If untreated, Crohn's can cause complications that severely impact the digestive tract and other areas of the body.
A: There are several different types of medicines that I'll use to treat Crohn's. I'll decide which medication to use first based on how severe the patient's condition is. One class of medication, mesalamine products, are basically anti-inflammatory medicines for the GI tract. I also may prescribe antibiotics, corticosteroids, immunomodulator therapy, and biological therapy.
A: The treatment I choose depends on how severe the Crohn's is. If someone comes in with mild to moderate Crohn's symptoms, I'll probably start them on mesalamine products to get inflammation down, and we'll see if that keeps the Crohn's under control. The goal is to get the patients into remission and then onto maintenance therapy so they stay in remission. Sometimes, early on, I'll prescribe steroids to bring their symptoms down and bring them into remission, and then I'll use mesalamine products to maintain it.
For patients with moderate to severe Crohn's that doesn't respond to other types of therapy, I'll try immunomodulators or biological therapy. These can also work in patients who require multiple courses of steroids a year to get flares down, because it is not safe to be on long-term steroid use when other alternatives are available. Biologics target and block specific molecules that produce inflammation in the GI tract. They are very effective in keeping Crohn's symptoms down in patients that need a higher level of treatment, although there are side effects to keep in mind, like a higher likelihood of developing infections.
In very severe cases of Crohn's, we may turn to surgery if the patient has developed complications, but in general we try to avoid surgery because patients will still usually have a recurrence of Crohn's after their operation.
A: There are two ways that diet is important for people with Crohn's. First, Crohn's can cause you to be deficient in the nutrients your body needs. Often in Crohn's patients, the small intestine is inflamed, which makes it harder to digest vitamins, fats, and proteins. And people with Crohn's might not have much of an appetite, which can make this worse. Your doctor may recommend that you take different vitamins and supplements to replenish necessary nutrients.
Second, Crohn's symptoms can be impacted by what foods you eat. Nothing about a special Crohn's diet has been scientifically proven, but my patients find there are specific foods that can make symptoms better and worse. While it's different for every patient, I usually advise that they avoid dairy products, fatty foods, and spicy foods. During a flare-up, it's best to eat low-fiber foods so the digestive system doesn't have to work as hard.
I find that my patients with Crohn's are acutely aware of their bodies. They know what works for them and what doesn't. Sometimes I'll suggest that they start an elimination diet, where they'll only eat the bare minimum foods and then see how their symptoms are. Slowly, they'll reintroduce different food items and see if Crohn's symptoms are exacerbated. That way they have a really clear idea of what they can tolerate.
A: When I first see patients, I make sure to tell them that in most people, Crohn's is a treatable disease and once you get it under control, it should stay that way. Thankfully, there are a lot of treatment options available. Working together with the patient, we tailor the best regimen for each individual to maximize the outcome and quality of life.

Was this helpful?