3 Things to Tell Your Doctor About Your Crohn's Disease
Was this helpful?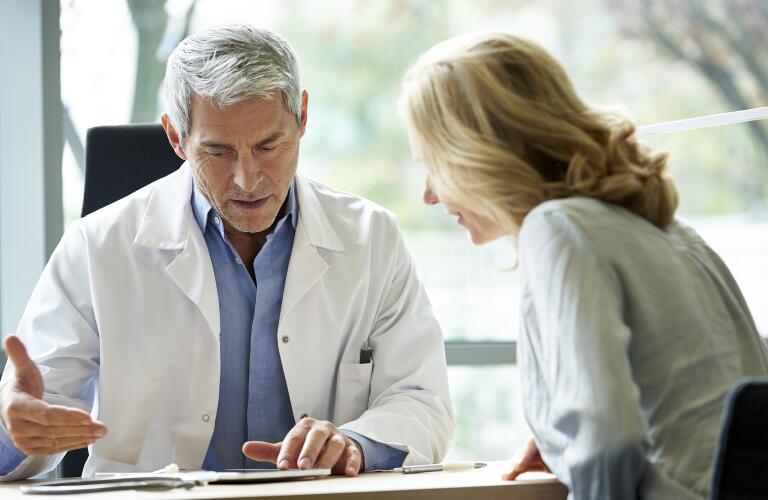 Managing Crohn's disease can be challenging, which is why it's important to build a strong relationship with your gastroenterologist.
At your next appointment, don't forget to mention if you're experiencing these three things:
It can be hard to keep Crohn's under control, and many people with the disease get used to a cycle of flare-ups followed by periods of calm. However, if your flare-ups are frequent or last longer and longer, it may mean it's time to try a new treatment strategy. If not properly managed, Crohn's disease can cause serious complications, like bowel obstruction, ulcers, fistulas, anal fissure, malnutrition, colon cancer, and other health problems–not to mention a decrease in your quality of life. Always tell your doctor if you're experiencing Crohn's disease symptoms, like diarrhea, fevers, fatigue, abdominal pain and cramps, blood in your stool, sores in your mouth, reduced appetite, weight loss, or pain or drainage around the anus–especially if you're sticking to your medication as prescribed. If you do notice any of these symptoms, your doctor can determine next steps to get your Crohn's disease better controlled.
Managing your Crohn's disease means you must follow your doctor's treatment plan and commit to taking medications as prescribed. However, it can be challenging to keep taking your Crohn's disease medications if you're experiencing side effects or your treatment schedule doesn't work with your lifestyle. If you aren't able to stick to your treatment plan, there's nothing to be ashamed about. Be honest with your doctor about why you're having trouble so you can work together to find a solution, which might mean a different drug, dosing schedule, or lifestyle change.
Dealing with a chronic condition like Crohn's disease can be tough, and it's common for people to experience stress, anxiety, and depression as a result. In fact, studies show people with Crohn's disease have a higher likelihood of depression and other mood disorders. Plus, stress, anxiety, and depression can trigger flare-ups and make symptoms worse for people with Crohn's. Fortunately, there are effective resources available to help you cope with the emotional side effects of life with Crohn's disease, from medications to meditation. Don't be afraid to tell your doctor how you've been feeling. He or she can guide you to find the appropriate support and better manage your mental health. Getting outside help to boost your emotional wellbeing doesn't mean you've failed; it means you're using all the tools in your toolbox to live a fulfilling and healthy life.
Living with Crohn's disease can be difficult, but connecting with a gastroenterologist you trust can make all the difference. If you're open and honest about what you're experiencing, you're on your way to staying in control of your condition.
Was this helpful?