When to Call a Doctor If You Think You Have COVID-19
Was this helpful?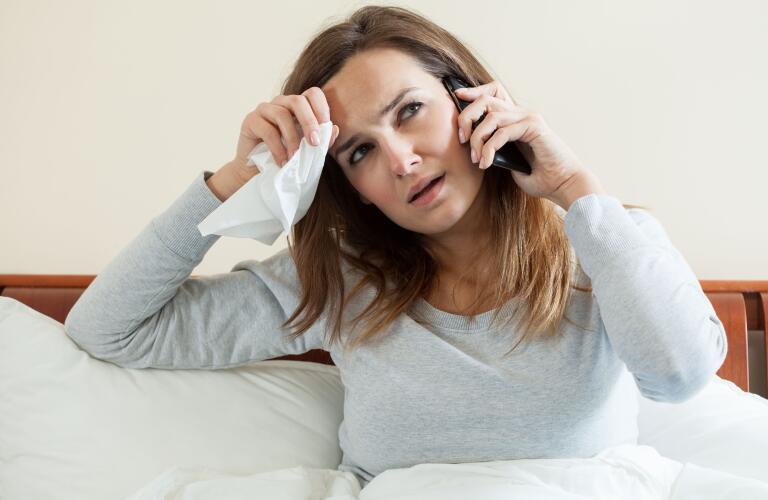 Many COVID-19 symptoms, such as fever and cough, can be caused by other illnesses, like influenza. So, if you develop these types of symptoms, what should you do? Call your doctor? Call 911? Rush out for a COVID-19 test? The answers to these questions depend on several factors that are unique to each person's situation.
If you think you might have COVID-19, act as if you do have it.
Possibly the most important thing to remember is: If you think you may have COVID-19, you should act as if you really do have it. This means immediately self-isolating at home, not going to work or school, and always wearing a mask if others share your residence. Continue to wear a mask if you must go out in public, such as to get a COVID-19 test. (Refer to this list of no-cost testing sites by state.)
The novel coronavirus is highly contagious, so if you have to go out in public, stay at least 6 feet away from other people, sneeze or cough into your elbow, and use hand sanitizer frequently. Ideally, ask a friend or family member (or try an online shopping service) to retrieve needed food and supplies for you—and to check up on you.
Your other household members also should self-isolate, because if you do have COVID-19, you probably were contagious before you developed symptoms—and you may have spread the virus to them. Researchers do not yet know the precise window for the contagious period of SARS-CoV-2 (the virus that causes COVID-19), but most experts agree you can spread the virus at least 2 days and as many as 7 days before your symptoms emerge. That's why your entire household should quarantine if any member may have developed the illness.
You may end your isolation period after 7 days if you have access to testing and your result is negative, and you do not experience COVID-19 symptoms by daily self-monitoring. If you cannot (due to test availability) or choose not to get tested, the guideline is to wait 10 to 14 days from the time you were exposed. Waiting the full 14 days is the best way to prevent potential transmission to others.
When to Call a Doctor for COVID-19
You should definitely call your healthcare provider's office if you have (or think you have) been exposed to COVID-19 (such as by discovering you've been in close contact with someone who tested positive for the virus) and then develop classic COVID-19 signs and symptoms, such as:
Your healthcare provider can give you the best advice about what to do, based on your symptoms and medical history. Your healthcare provider may recommend that you get a COVID-19 test. Each state has developed its own guidelines about who can get tested, when a person can get tested, and where to go for testing. Your provider's office or your state's department of public health can give you specific guidance about COVID-19 testing and where to obtain it, which may depend on test availability and resources in your community.
Of course, you may call your provider's office for advice any time you develop symptoms of illness. Don't try to determine on your own if the symptoms might be related to COVID-19. If your illness turns out to be influenza, for example, your provider can diagnose that and provide antiviral treatment if you seek medical attention early enough.
Your next steps, which may include continued self-isolation for 10 to 14 days, depend on whether or not you test positive for COVID-19. Your provider may recommend a second COVID test if your first test is negative but you continue to have COVID-19 symptoms.
Managing COVID-19 At Home
If you have mild-to-moderate symptoms, treat yourself as you would if you had an upper respiratory infection like a cold. Your doctor will likely prescribe at-home care, including bed rest, liquids, cool compresses for fever, and acetaminophen for pain and fever reduction. Some people develop more severe symptoms after about a week of relatively mild symptoms, so stay vigilant and call your doctor if your COVID-19 symptoms worsen.
Talk with your doctor or a community healthcare clinic about your care if you are at risk for more severe COVID-19 (see below) or you cannot adequately care for yourself. You may need closer medical monitoring. People at high risk may be candidates for emergency use drugs recently approved by the U.S. Food and Drug Administration. The drugs reduced the frequency of hospitalization and emergency department visits.
When to Seek Emergency Medical Care for COVID-19
Most people with COVID-19 develop a mild or moderate case that clears up on its own, without requiring medical attention. Some people develop severe symptoms, however, that warrant emergency medical intervention.
Call 911 and tell the dispatcher about your symptoms, possible or known exposure to COVID-19, and COVID-19 test results (if known) if you develop:
Bluish tint around your lips or nail beds
Confusion or another change in mental status, such as delirium or passing out
Fever over 101.4°F along with other severe symptoms listed here
Peak flow meter reading in the red zone
Severe difficulty breathing
People in a high-risk group for developing a severe case of COVID-19 should be especially mindful of their symptoms. This includes anyone with a personal medical history of:
Cancer (current or past diagnosis)
Do not hesitate to seek emergency medical treatment if you're in a high-risk group and develop severe symptoms of illness.

Was this helpful?