What to Know About Coronavirus Testing
Medically Reviewed By William C. Lloyd III, MD, FACS
Was this helpful?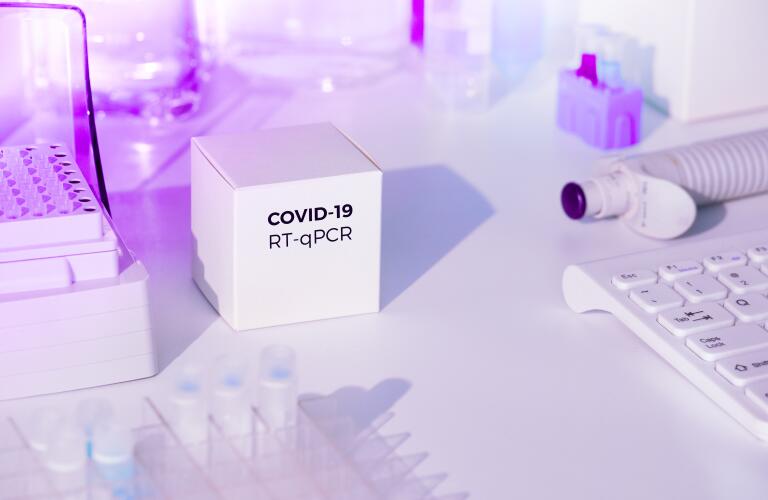 In the beginning of the COVID-19 (coronavirus disease 2019) outbreak, local health departments did not have direct access to coronavirus testing. That has changed, as now you can go to your regular doctor or a community location for a COVID-19 test. Here's what we know about coronavirus testing, types of coronavirus tests, who should be tested, and what happens if your coronavirus test is positive. (See the list of no-cost testing sites by state, according to U.S. Department of Health and Human Services.)
The coronavirus test kit available at the beginning of the outbreak was the 'CDC 2019-Novel Coronavirus (2019-nCoV) Real-Time Reverse Transcriptase (RT)-PCR Diagnostic Panel.' It tests for a SARS-like coronavirus and SARS-CoV-2 specifically, the cause of COVID-19. There are now dozens of different PCR, or "molecular" tests on the market.
The test requires a sample from the patient's nose (nasal cavity) or throat, and the sample is sent to a lab for processing. Lab personnel prepare the sample for PCR (polymerase chain reaction), a process that amplifies genetic material from the virus if it is present. The virus panel tests for active coronavirus infection, regardless of symptoms.
In general, a healthcare provider will collect the specimen, but self-collected specimens are permitted in some cases. Here are the types of upper respiratory specimens* that can be collected:
Nasopharyngeal: A healthcare provider inserts a sterile swab into the nose until it reaches the back of the space between the nose and mouth ('naso' for nose and 'pharyngeal' for throat).
Oropharyngeal: A healthcare provider inserts a swab into the mouth to reach the back of the throat and tonsils.
Nasal mid-turbinate: A healthcare provider (or patient with supervision) inserts a shorter nasal swab (with a stopper) into the nose until resistance is felt.
Nasal (nostril): A healthcare provider (or patient with supervision) inserts a sterile swab at least a half-inch inside the nostril and presses it against the side of the nostril (the nare) for 15 seconds before extracting it. Use the same swab for the other nostril.
Nasopharyngeal wash/aspirate or nasal wash/aspirate: A healthcare provider administers sterile saline into the patient's nostril (one side) and tilts the head forward to collect the wash. A nasopharyngeal or nasal aspirate requires a small catheter and suction device.
*Some COVID-19 tests only require a mouth swab or sample of spit.
In general, anyone with symptoms of COVID-19 can be tested. People without symptoms can be tested as well, but there may be restrictions if there are test shortages, which may include test kits, supplies, or personnel to collect and/or process the sample.
If necessary, testing priority, per the CDC is:
High Priority
The highest priority is for:

Hospitalized patients with symptoms
Healthcare facility workers with symptoms
Residents of a long-term care facility with symptoms
Residents who live in close quarters, such as prisons and shelters with symptoms
Priority
Priority COVID-19 testing is for anyone with symptoms who does not already meet one of the high priority criteria.
For people without symptoms, priority may be given to:

Critical infrastructure workers (people who deliver or provide essential goods, supplies and services)
Healthcare facility workers or first responders
Anyone living in communities with a high degree of COVID-19 hospitalizations
Your primary healthcare provider is your first point of contact for coronavirus testing. If you don't have a primary care doctor, contact your local public health department about testing. Urgent care facilities may also offer testing. Many communities have free testing sites, including "drive-up" locations. You can also purchase tests in certain markets, but you will need a doctor's order. Contact your public health department for more information.
With drive-up COVID-19 testing, you or a healthcare professional collects the specimen. They send the sample to a nearby lab, and you receive your result in 2 to 5 days.
Your doctor can collect the nose or throat sample, but they still send it to a lab for processing. A lab can process the sample in a few hours, but there may be a large backlog of tests. It can take several days to receive your test results. Your doctor may be able to order a COVID rapid antigen test. These tests are different than a PCR test, returning results within hours or minutes.
Call your doctor if you have COVID-19 symptoms. Your doctor may want to test you for other respiratory infections, such as flu, prior to ordering a COVID-19 test. Call an urgent care or your public health department if you do not have a doctor, or go to a community testing center.
You can purchase a COVID-19 test for home use. You fill out an evaluation form and obtain test authorization from a physician. After you collect the swab, you send your sample back to a lab to determine if it contains the virus. At-home COVID-19 test availability may change as more companies develop new COVID-19 tests. Kroger Health recently announced FDA approval of an at-home COVID-19 test for frontline workers, initially available in a select number of states.
If you test positive for the novel coronavirus, it most likely means you have COVID-19. If you need medical care, healthcare personnel will admit you to a hospital equipped to care for COVID-19 patients. Isolating yourself at home helps contain the spread of the virus to other people. Wear a face mask to protect those in your household.
If you test positive but have no symptoms, you still need to self-isolate because you can develop symptoms as long as 14 days after exposure. You can also transmit the virus to others when you are actively infected.
Keep in mind the PCR coronavirus test is very accurate and a false positive—a positive result even though there is no virus in your sample—is unlikely.
A negative test result means the virus was not detected in your sample. It also means your symptoms are most likely due to another illness, such as a cold or flu. (Doctors may test for flu first before ordering a coronavirus test.) Next steps depend on your specific situation, including your current symptoms, health status, and risk of exposure. Healthcare personnel will likely take an additional sample and run the test again. With the MERS coronavirus outbreak, people were confirmed negative if two tests came back negative.
Remember the currently available diagnostic panel for coronavirus only comes back positive if you have an active infection. It will come back negative if you had COVID-19 in the past (and recovered).
A false negative coronavirus test result is possible—a situation in which the individual is currently infected with SARS-CoV-2 but the test result is negative. It is possible the patient sample, or specimen was not obtained or handled correctly. Another possibility is there was not enough virus in the specimen to be detected by the PCR test. You may decide to get a second test in another day or two to confirm the negative result.
If you are not experiencing symptoms, you may be a candidate for testing if your doctor or local or state public health department considers you at risk of infection and developing COVID-19. In general, you are considered at risk of developing COVID-19 if you have been in close contact (within 6 feet or more than 15 minutes) with a laboratory-confirmed case of COVID-19, especially if you or the infected person did not use personal protective measures, such as wearing a face mask.
Unless you have already developed symptoms, wait about five days after possible exposure to be tested. That's because the virus has a 2- to 14-day incubation period from the time of exposure to the development of symptoms. Many infected people do not develop symptoms. Even if you don't develop symptoms, you may still spread the virus to others.
Regardless of whether you get tested, the guideline is to quarantine for 10 to 14 days and monitor yourself daily for signs of COVID-19, such as fever. If you do not develop symptoms and your COVID test is negative, you may end your quarantine earlier, after 7 days from the time you were exposed.
A new type of SARS-CoV-2 PCR test uses a saliva specimen (spit). The 'spit test' uses special solutions to process the saliva samples. The new kit also contains materials to process throat and nasal swab samples, similar to the original PCR kit from the CDC. A healthcare provider orders the test, collects the sample, and sends it to a lab to perform the test.
If the saliva test is negative, the test may be repeated with a throat or nasal specimen. That decision is up to the provider ordering the test.
If you have been infected with SARS-CoV-2, your immune system develops antibodies against the virus, regardless of whether you experience symptoms of the disease. These antibodies help fight the virus and offer immunity if your body encounters the virus again. Antibody tests are important because they identify who has been infected and who is presumably still at risk for infection and developing COVID-19.
The CDC and other labs developed antibody, or serology tests to look for antibodies against SARS-Co-V-2 in a sample of the patient's blood. The COVID-19 antibody test is another name for the test. The CDC test is for research and surveillance of the disease, not for broad public use. Other labs and companies have made antibody testing kits for public use. These tests will be crucial to understanding the full scope of the pandemic, what factors offer protection from COVID-19 (infected carriers of the virus who do not get sick) and identifying who is at risk for becoming infected.
The antigen test detects SARS-CoV-2 protein (the antigen) in a nasal or throat swab of an infected person. It is very specific for SARS-CoV-2, but a negative result may need to be confirmed with a PCR test. The antigen test is a type of rapid detection system for SARS-CoV-2, with results in less than an hour. A rapid antigen test is a point-of-care test, which means the sample is analyzed at the time the sample is collected in the healthcare provider's office or clinic. Some kits return results in 15 minutes.
For more information, refer to Questions and Answers About Coronavirus and check your state's public health website or the CDC website.

Was this helpful?