Treatment Options for COVID-19
Was this helpful?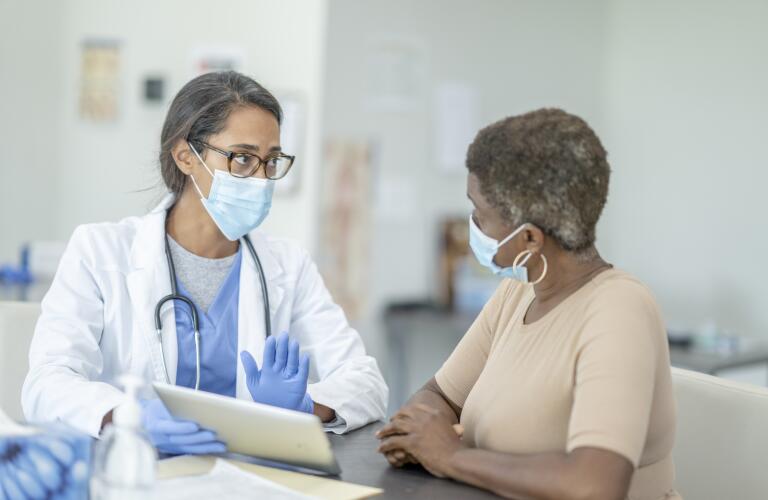 COVID-19 treatment options for mild to moderate symptoms include over-the-counter drugs for self-care at home. Severe symptoms of COVID-19 may require hospitalization. In the hospital, you may receive antivirals, drugs that reduce inflammation, and other supportive treatments, including oxygen. For people with risk factors for developing severe symptoms, monoclonal antibodies, as well as investigational drugs can help reduce the likelihood of severe disease and the need for hospitalization.
The more you know about COVID-19 treatment options, the better able you are to make an informed decision about your care if you contract the infection or become sick.
Infection with SARS-CoV-2, the virus that causes COVID-19 does not usually cause symptoms. When symptoms occur, they develop 2 to 14 days after contracting the virus. Mild and moderate COVID-19 symptoms can include cough, fever, shortness of breath, muscle aches, stuffy or running nose, headache, sore throat, and loss of sense of smell and taste. Over-the-counter medicines can provide some relief for most of these symptoms.
OTC drugs and self-care at home include:
Cough suppressants

Decongestants for mucus buildup

Fever reduces and pain relievers, such as acetaminophen (Tylenol) and ibuprofen (Advil, Motrin). Early studies suggested ibuprofen may worsen COVID-19, but follow-up studies do not show a correlation.

Rest and fluids

COVID-19 symptoms last 1 to 3 weeks, but timing varies considerably between people and COVID-19 can worsen quickly.
Even if you or the person you are caring for has a mild form of COVID-19, you should monitor body temperature, skin color, and breathing throughout the day, and contact a medical professional for guidance if symptoms become more intense or severe.
Severe COVID-19 is a medical emergency. It can occur in some people approximately one week after initial symptoms. Seek immediate medical care for (call 911) for signs and symptoms that can include:
Difficulty breathing or struggling to breathe

Change in level of consciousness, such as difficulty waking

Chest pain or pressure

Skin and mucous membranes that are paler than normal. This is cyanosis due to a lack of oxygen. People with light skin may appear very pale or pale blue. In people with dark skin, cyanosis is easier to see in the normally pink mucous membranes, such as the lips, gums and eyes.

Antivirals are available for some viral infections, such as shingles, HIV and influenza. These drugs inhibit how the virus multiplies or infects cells.
The Food and Drug Administration (FDA) approved the antiviral drug, Veklury (remdesivir) for the treatment of COVID-19. Veklury is not specific for SARS-CoV-2, but it has been shown to reduce recovery time for patients hospitalized with COVID-19.
Who it's for: Hospitalized patients 12 years of age and older and weighing at least 40 kilograms [kg]. Veklury also has a EUA (Emergency Use Authorization) for hospitalized pediatric patients weighing less than 40 kg.
A healthcare professional administers Veklury by intravenous (IV) infusion.
People hospitalized for COVID-19 often have reduced lung function. This can drastically reduce the amount of oxygen the body gets causing low blood oxygen. Supplemental oxygen can increase oxygen saturation, reduce the risk of respiratory distress, and increase recovery in some cases. Patients receive oxygen with a face mask or nose (nasal cannula).
For acute respiratory distress, patients receive high-flow or positive pressure oxygen. Mechanical ventilation through intubation may be necessary when high-flow or positive pressure ventilation is not sufficient.
Some people need supplemental oxygen after discharge from a hospital stay or from the hospital's emergency department. This requires a doctor's prescription and management.
Under certain circumstances, doctors prescribe dexamethasone and other glucocorticoids for COVID-19 in a healthcare setting. These drugs reduce inflammation by suppressing parts of the immune system.
Who it's for: Hospitalized patients with severe COVID-19 who require supplemental oxygen, high-flow or positive pressure oxygen, or mechanical ventilation.
The COVID-19 Treatment Guidelines Panel ("the Panel"), composed of a variety of medical professionals, does not recommend these drugs for patients in stable condition.
The Panel also recommends a course of dexamethasone for people with COVID-19 who need supplemental oxygen but cannot be admitted to the hospital, such as when healthcare resources are limited.
Body-wide, or systemic inflammation can reach very high levels in people with severe COVID-19. To help reduce inflammation, doctors administer drugs that inhibit specific inflammatory proteins and pathways. Immunomodulator is another name for these types of drugs. Medications include:
Baricitinib

Sarilumab

Tocilizumab

Tofacitinib

Who it's for: Hospitalized patients receiving high-flow oxygen or requiring a ventilator to breathe. The Panel recommends specific drug regimens and doses in specific circumstances, sometimes as part of a clinical trial.
People who have recovered (convalesced) from COVID-19 have produced abundant antibodies to SARS-CoV-2 that protect against reinfection. When administered to people with COVID-19, plasma from recovered donors has the potential to help the person's immune system to fight the virus. Low-titer plasma has a low concentration and high-titer plasma has a high concentration of antibodies against SARS-CoV-2.
Early on in the pandemic, some health centers began infusing low- and high-titer convalescent plasma into patients with COVID-19. It improved the course of disease in some people. The FDA issued an EUA for high-titer convalescent plasma for the treatment of hospitalized patients and impaired immunity.
Who it's for: Hospitalized patients with impaired immunity may receive convalescent plasma. However, the COVID-19 Treatment Guidelines Panel states, "There is insufficient evidence...to recommend for or against the use of high-titer convalescent plasma for the treatment of COVID-19." Nonhospitalized people with COVID-19 may receive high-titer plasma as part of a clinical trial.
A monoclonal antibody is a laboratory-made biological drug, or "biologic" that can be very effective at inhibiting the progression of certain diseases, such as cancer and a variety of inflammatory conditions.
With COVID-19, monoclonal antibodies that target the virus can help prevent the infection from progressing into severe disease. The three types of COVID-19 monoclonal antibodies are:
Bamlanivimab plus etesevimab

Casirivimab plus imdevimab

Sotrovimab

Who it's for: People who have been exposed to the COVID-19 virus and who have a high likelihood of developing severe COVID-19 should they contract the viral infection. COVID-19 monoclonal antibody treatment is known as post-exposure prophylaxis.
Risk factors for severe COVID-19 include having a chronic medical condition, being 65 years of age or older, being disabled, or being from a marginalized community, among other factors.
Healthcare professionals administer COVID-19 monoclonal antibodies by infusion at a hospital or other medical facility.
Demand for COVID-19 monoclonal antibody therapy is increasing, which may affect availability. Healthcare centers prioritize people most at risk. Talk with your doctor to determine if you are eligible for this treatment.
Drug companies are in the process of testing oral medications that can reduce the risk of severe disease in people with mild or moderate COVID-19. These antivirals are different from Veklury because they target pathways or proteins specific to SARS-CoV-2.
Pfizer is collaborating with Roche on a COVID-19 pill known as Paxlovid. The FDA is reviewing clinical trial data on the drug, which showed an 89% reduction in the risk of hospitalization or death due to COVID-19.
Merck is working on molnupiravir, a pill that reduces the risk of hospitalization by about 30%. (Early results showed a 50% risk reduction.)
Roche and Atea Pharmaceuticals are working on an oral antiviral drug as well. The drug is in clinical trials and early results are promising.
Who it's for: People with SARS-CoV-2 infection who have a high likelihood of progressing to severe COVID-19. These drugs are still in clinical trials and do not have emergency use authorization or approval from the FDA.
Talk with your healthcare provider if you need more information about COVID-19 treatment options.

Was this helpful?