Tracking COVID-19's Health Effects With Wearable Devices
Was this helpful?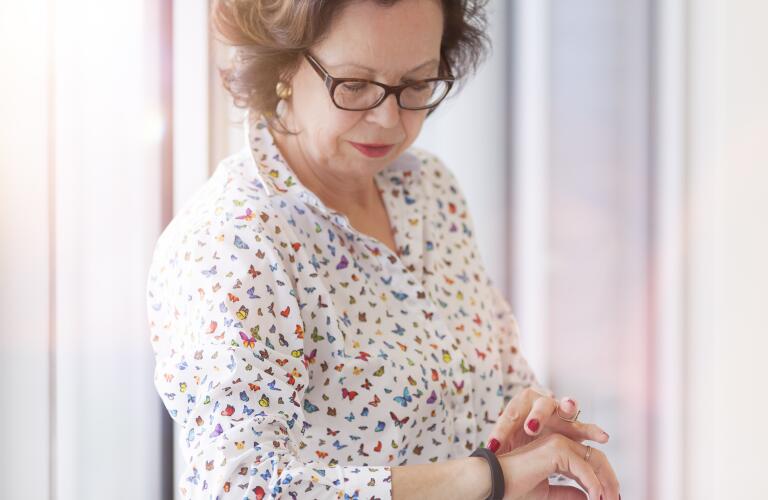 Fitbit® trackers or other wearable devices can track COVID-19 recovery and long-term effects, including long-COVID, according to published research. One of the key benefits to using data from wearables is the data is collected in real time, unobtrusively, over a long period of time and in a truly objective manner.
The Fitbit COVID-19 research study shows changes in behavior and heart rate in people after testing positive for COVID-19 and throughout recovery. Virtual patient monitoring using metrics from wearables as well as blood oxygen levels from SpO2 fingertip oximeters may help determine when treatment intervention is necessary and prevent long-term effects of COVID-19.
Based on a recent study published by the JAMA Network Open journal, people who tested positive for COVID-19 experienced behavioral and physiological changes for weeks or months following recovery from COVID-19. These include elevated heart rate, fatigue, "brain fog," headache, shortness of breath, depression and chest pain.
According to the study, a prolonged physiological impact of COVID-19 infection lasted approximately 2 to 3 months on average. However, there was substantial variability among individuals, which the study stated could reflect various levels of autonomic nervous system dysfunction or potentially ongoing inflammation. (Your autonomic nervous system controls involuntary but vital processes in your body, such as the beating of your heart.)
Based on the Fitbit COVID-19 research, COVID-positive individuals initially experienced a higher resting heart rate for up to 79 days following symptom onset before returning to the individual's pre-COVID baseline. For a small subset of individuals, their resting heart rate was more than five beats per minute higher and did not return to normal for more than 133 days. Also, those with higher resting heart rates also experienced ongoing symptoms, such as cough, body aches and shortness of breath.
What's the significance of an increase in resting heart rate? A higher resting heart rate is associated with an increased risk of death from coronary artery disease. However, it will be some time before we know if the transient increase in resting heart rate observed with COVID-19 has an effect on long-term survival.
Throughout COVID-19 recovery, the Fitbit researchers found that individuals who were positive for COVID-19 took up to 32 days to return to their pre-COVID step count. As with heart rate and step count, sleep quantity also was disrupted during COVID-19 recovery. It took COVID-19-positive individuals 24 days to return to their pre-COVID sleep quantity. Of course, a decreased step count may be expected as COVID-positive individuals are likely staying home to prevent spreading the infection to others.
In a study published in Nature Medicine in October 2020, COVID-19 data from wearables revealed that an elevated temperature (greater than 100°F) was not as common as frequently believed for COVID-19. Based on the data, only 12% of COVID-positive patients had elevated temperatures when tested, and just 31% of patients hospitalized with COVID-19 had an elevated temperature when they were admitted to the hospital.
Assessing a patient's blood oxygen saturation (SpO2) is a key factor in monitoring the progression and severity of COVID-19, because a resting SpO2 of less than 90% can indicate higher systemic (body wide) inflammatory markers. It is also associated with increased COVID-19 mortality.
Currently, fitness wearables don't accurately measure SpO2, but there are some accurate fingertip portable oximeters. These include MightySat™ Rx and Pulsox-310. Originally designed for patients with chronic conditions, such as sleep apnea and chronic obstructive pulmonary disease (COPD), these devices could help patients with mild COVID-19 symptoms monitor their respiratory symptoms from home.
Was this helpful?