The Road to a Coronavirus Vaccine
Was this helpful?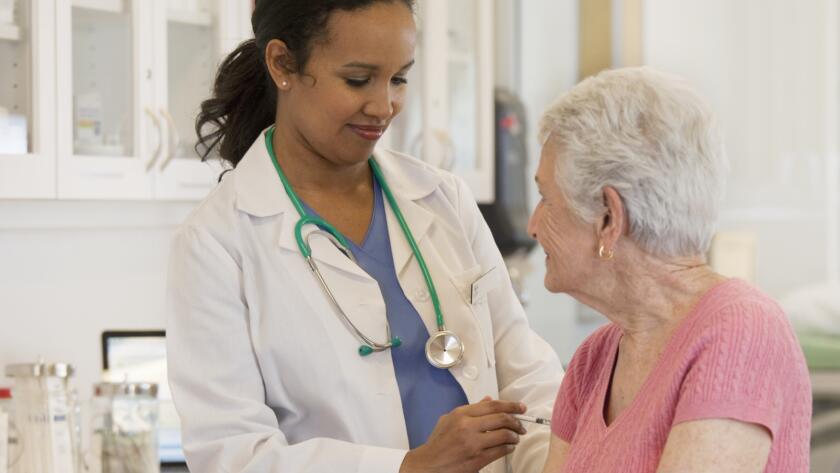 Right now, scientists don't know if the current COVID-19 pandemic will burn out like SARS did. There is a possibility that it will become endemic—meaning it will always be around—or seasonally epidemic like the flu. In either of these scenarios, a SARS-CoV-2 vaccine could help bring on herd coronavirus immunity. There's been a lot of talk about potential vaccines. Here's a look at where we are now and a likely timeline for having a coronavirus (COVID-19) vaccine.
Vaccine Development Process
A vaccine is a substance—sometimes referred to as an antigen—that stimulates the immune system to make antibodies against it and provide immunity. Vaccines go through testing phases very similar to the drug approval process. First, scientists research, create and study potential vaccines in a lab and in animals. This is the preclinical phase of the process. Once they have a good candidate vaccine (one that provides immunity in animals), they move to clinical trials in humans. Clinical trials have three phases:
Phase I gives the vaccine to a small number of people to test its safety.
Phase II trials look at the effectiveness of the vaccine, still in a relatively small group of people. This is where researchers establish the best doses to give.
Phase III trials expand safety and effectiveness to a large group of people, usually on the order of thousands.
Normally, this process can take several years and millions of dollars to complete. Many vaccine candidates don't make it to the end due to either safety or effectiveness issues. Because of this, vaccine makers typically don't ramp up production until approval and licensing is imminent.
Coronavirus Vaccine Development Process
The United States is eager for a safe solution to COVID-19. But there are several obstacles to coronavirus vaccine development—one of the biggest being time. This has resulted in a concerted public-private effort to speed the development process for a coronavirus vaccine. What normally takes years is being condensed into a very short timeframe of 12 to 18 months, with the hope of having a vaccine in early 2021. So, how are they doing it?
Labs and researchers have been able to adapt technologies they've been using on other projects to COVID-19 very quickly. Some have moved from the lab to clinical trials in just two months. That's an earth-shattering pace compared to the normal process.
Government regulators have also streamlined and fast-tracked the process on their end. Usually, regulators work with companies in a sequential manner to prepare the different phases. For coronavirus vaccines, they are planning the phases in parallel. The change is likely to save months of time.
Finally, vaccine manufacturers and government agencies have committed to ramping up vaccine production, even in the investigational phase. This means millions or even billions of doses could be ready to go as soon as approval and licensing is complete. It's a big gamble to invest so much money in something that may provide little to no protection in humans. But it's also a sign of the amount of commitment there is to finding a coronavirus vaccine.
There are three basic ways to make a vaccine. The first is a live virus vaccine. These vaccines are weakened—or 'attenuated'—versions of the virus. Typically, live vaccines are very effective and provide long-lasting immunity. But they take time to develop due to safety concerns. The chicken pox vaccine is an example. So far, no COVID-19 vaccine candidates use live virus.
The second pathway to a vaccine is using a killed—or inactivated—virus. These vaccines can be faster to develop, but may not provoke as strong a response as live vaccines. You usually need multiple, or booster doses of inactivated vaccines to maintain immunity. The pertussis vaccine is an example.
A third way to produce a vaccine is through genetic engineering. Engineered vaccines contain bits of the virus capable of mounting an immune response. Vaccines made this way can be developed very quickly, but it can take time to determine if they work well. The hepatitis B vaccine is the only example in humans in the United States. There are also investigational vaccines that use this technology, such as an Ebola vaccine.
If you hear about a vaccine using the S protein, or spike protein on the coronavirus, it is an engineered vaccine. This is where U.S. projects are concentrating their efforts.
Current Coronavirus Vaccine Candidates
There are many potential SARS-CoV-2 vaccines in development around the world. The Coalition for Epidemic Preparedness Innovations (CEPI) has provided funding for many of them. Currently, CEPI has nine funding agreements totaling nearly $40 million worldwide, including several in the United States. The Biomedical Advanced Research and Development Authority (BARDA), part of the HHS Office of the Assistant Secretary for Preparedness and Response (ASPR), is also currently providing funding to two U.S. vaccine projects.
The first BARDA partnership company is Janssen Research and Development, which is part of Johnson & Johnson. Their vaccine, Ad26 SARS-CoV-2, uses a harmless vector to express the S protein. When the vector is injected in a person, the immune system recognizes the S protein as foreign and makes antibodies against it. If the person were to then become infected with SARS-CoV-2, their immune system is primed to combat the infection before it becomes harmful.
Clinical trials of Ad26 SARS-CoV-2 are set to begin by fall of 2020 with the goal of having a vaccine available by early 2021. They aim to produce 300 million vaccines per year.
The other partnering company is Moderna. Their vaccine, SARS-CoV-2 mRNA-1273, is S protein RNA in a lipid nanoparticle for delivery into the body. This is the same technology the company has been studying for a similar coronavirus (MERS) vaccine. The SARS-CoV-2 vaccine is already in phase I trials with phase II and III trials ready to begin immediately afterwards. Results from the phase I trial are promising: Healthy people who received the vaccine (eight people) made antibodies that were able to block the virus from replicating in human cells grown in a laboratory setting. Moderna is also receiving funding from CEPI for manufacturing support.
Here are some of the other candidates in the works in the United States and around the world:
Altimmune is looking at starting clinical trials in August 2020.
Applied DNA Sciences and Takis Biotech have five potential vaccine candidates currently under study in animals.
BioNTech and Pfizer currently have a vaccine in clinical trials in Germany, with approval to move forward with clinical trials in the United States expected soon.
CureVac aims to begin phase 1 by early summer and move to the next phase by fall 2020.
Generex Biotech has submitted a proposed funding agreement to BARDA for its vaccine candidate.
Imperial College London has funding to begin testing in humans.
Inovio's vaccine is also in phase I and they have planned for one million doses by the end of the year.
Johns Hopkins University is investigating a couple of versions of a vaccine in mice.
Medicago could begin clinical trials as soon as this summer.
Novavax is expected to begin clinical trials during May 2020.
Sanofi and GSK plan to start clinical trials in the second half of 2020 and have a licensed vaccine by the second half of 2021.
Symvivo is currently in phase I clinical trials of its vaccine candidate in Canada.
University of Oxford is currently conducting phase I/II trials in the United Kingdom.
University of Pittsburgh will enter clinical testing of its vaccine in the next few months.
Vaxart may begin clinical trials of its vaccine in the second half of 2020.
In addition, there are a few vaccine candidates in clinical trials in China. These studies aim for completion by the end of 2020.
Once a licensed vaccine is available in the United States, it will probably go to high-risk people first. This would include the elderly, people with underlying conditions that increase their risk of developing a severe case or complications of COVID-19, and healthcare providers.

Was this helpful?