Recovering From COVID-19: I'm On the Other Side
Was this helpful?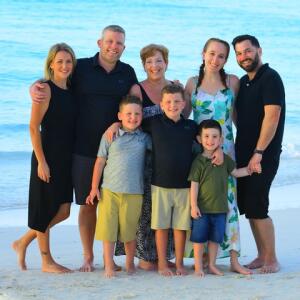 In February, I started hearing about people getting sick with COVID-19 in New York City, especially in the suburbs, like Westchester–where my son, Craig, lives with his family. Things in my area of Long Island stayed the same for a bit longer. My husband passed away two years ago, so I live alone, but my daughter, Marni, lives close by with her family. Eventually, our neighborhood and local businesses started to adopt new social distancing policies. And in just a few days, everything was different.
As everyone adapted to the new normal, my son kept remarking, "We don't know anybody who has it. Mom, do you know anybody who has it?" My answer was always no. But a few weeks after that, I couldn't believe the words coming out of my mouth as I told him, "We know somebody who has it. It's me."
"I kept thinking, this isn't happening."
I started feeling sick on the 24th of March. I was complaining to my friends and my kids that my ear hurt, my tooth hurt, my joints hurt, and I had terrible headaches in my temples. The only thing I had an appetite for was soup, so my kids brought me some from a deli that was supposed to be fabulous. I remember thinking, "This just isn't that good, I don't know what they're talking about." Then it hit me that I'd lost my sense of taste and smell. But I didn't have a sore throat, and at the beginning, I didn't have a cough or trouble breathing. My fever never rose above 101 degrees. I did not believe in a million years that I had the virus. And then I put it all together.
My best friends and I have lived in the same neighborhood together for 40 years. We take walks together, go to restaurants, go shopping, go to the movies–we've been part of each other's daily lives for a long time. That all changed, of course, after we started social distancing, although we'd still chat on the phone. But when I got sick, I couldn't even do that. I was exhausted; I didn't want to do anything but sleep all day.
My kids called my friends, my friends called my kids, and unbeknownst to me, everyone was communicating about how worried they were as I got sicker. I could barely get down a slice of toast and started having severe digestive problems like diarrhea. Sometimes I couldn't even make it from my room to the bathroom a few steps away. I'd need to shower… and then my shower broke. I kept thinking, "This isn't happening. I can't even call someone to fix it." And getting up and down the stairs to the other bathroom was a tremendous effort. I was so depleted, dehydrated, and weak that I would have to rest in my living room after climbing the stairs. I kept thinking about how I usually fly up the stairs, and just repeated a silent plea, "Please, don't let this be forever."
My kids brought me food and Gatorade and left them by my front door, but I couldn't eat much. I was living on Tylenol and cough medicine. My kids and my friends were getting increasingly worried. My daughter later told me that when we FaceTimed, my under eyes were black, my lips were so chapped I could barely speak, and it was a terrifying thing to see me like that. Marni finally insisted on coming inside one day after she dropped off Gatorade. She came in with a mask and gloves and when she saw I could barely move, she told me I needed to go to the hospital. My friends had been telling her I needed to go to the hospital, too. But I was so adamant about avoiding it. I barely remember those weeks, but she later told me I kicked her out of the house. I know I just wanted her to leave so I could go upstairs to my happy place, my bed, and be left alone to sleep. I was able to breathe, even though it hurt, and I knew the hospital would be a scary place to be.
Marni later told me that she and my son discussed taking me to the hospital just so I wouldn't be alone and forced to care for myself. But then it dawned on her that if I went to the hospital, she'd have to be ready to say goodbye to me. She didn't know what would happen if I went. Two of her friends who are doctors told her to avoid the hospital unless absolutely necessary. So they settled on making me call back my primary care doctor, since I'd been having trouble reaching her.
After a stressful experience trying to navigate a video call, I finally talked on the phone with my doctor. She told me to call another number for information on how to get tested for COVID-19.
"Oh my God, I'm going to die."
I got tested on March 31st. The biggest problem, once I knew where to get a test, was that I had to drive myself. I didn't realize how badly I was doing until I got in the driver's seat. I knew the area where they were conducting drive-thru testing, so I didn't think it would be that difficult to get there. But as I got going, I realized I shouldn't be driving–I felt so loopy and out of it. Unfortunately, I had no choice. I got lost using a GPS app in an area I've known for decades. I was panicking in the car. I was weak and couldn't focus, and there were more cars on the road than I anticipated. I thought to myself, "Oh my God, I'm going to die." But I finally made it to the testing center, and the test itself took two minutes. People wearing hazmat suits came to my car, swabbed me, and took my temperature. They said, "Don't call us; we'll call you." Fortunately, the drive home was not as bad. But when I got out of my car in my driveway, I started walking as if I were drunk. I could barely move. It took all my energy to get inside my house and get in bed.
It took a full week–we counted the days–to get my test results back on April 7th. By that time, I'd started feeling a little better. When I got the call that my test was positive, the doctor on the phone didn't offer much guidance. He told me in order to end my isolation, I'd have to be 72 hours clear from taking any medication or having a fever. It was not a lot of feedback, but I know how busy they were. Fortunately, the diarrhea wasn't as bad, the stairs were easier to climb, and I felt the cloud lifting. My cough worsened a bit, but the rest of my symptoms improved as the days went by. When I could stand in my kitchen without having to hold onto something or sit down, I knew I was getting better. I was so grateful to be coming out of it, because ending up in the hospital was my biggest fear.
Today, I'm back to feeling 100%. I crossed the 72-hour threshold and coronavirus is behind me. I'm on the other side, and I'm all better. I can't wait to get back out into the world. I'm not looking to run a marathon, obviously. But once I get a face mask, I'll go to the store and get groceries. I'll see my friends from six feet away. When my friends heard I was better, they were thrilled. Two of them cried. They thought I was dying. And the worst part is they couldn't come over to help me. It was awful for them, and for my kids, to know I was alone dealing with this and they couldn't be there to help. Marni shared later that she'd been talking daily to a doctor friend about my condition, who recently told her she was truly glad to know I'm all better, because based on what Marni had been reporting, she really didn't think I was going to pull through. And it was hard being alone. It was really hard. But I'm eating normally now, I'm taking the stairs without a problem, and I can do what I need to do. I don't really remember the hardest parts. My family and friends were very scared. They talked and texted constantly. I slept through those weeks. I didn't realize how bad it had gotten until I was out of it.
Now, I just want everyone's lives to get back to normal. I know I'm not the only one saying that, and I know it will be a long time before we can all go out to dinner together again. But I look forward to having a glass of wine with my friends, playing with my grandchildren, and really, truly, enjoying it.
Was this helpful?