Oral Drugs Being Studied for COVID-19 Treatment
Was this helpful?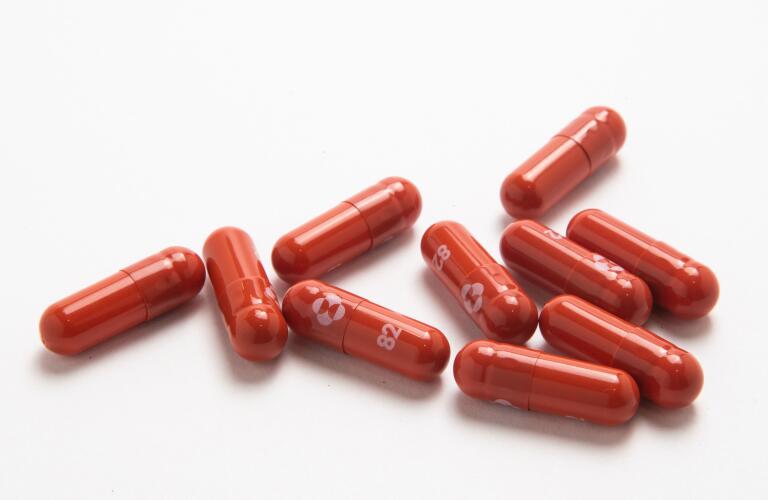 Oral medications that can treat or prevent COVID-19 may soon be available.
Since the start of the COVID-19 pandemic, researchers have been looking for safe, effective and convenient treatments. The most effective treatments—COVID-19 monoclonal antibodies and remdesivir, an antiviral medication—are only available by direct infusion into a vein (intravenous administration) in supervised healthcare settings. That may soon change.
Learn more about prospective oral COVID-19 drugs.
In October 2021, Merck announced plans to seek emergency use authorization for molnupiravir, an oral antiviral pill, after a phase 3 study found that the medicine cut the risk of hospitalization due to COVID-19 in half. The study, with 775 participants, compared the pill's effectiveness in decreasing COVID-19-related hospitalizations and deaths to placebo treatment in people who had mild to moderate COVID-19 and were at elevated risk of serious disease due to age or other health conditions.
Just 7.3% of study participants receiving molnupiravir were hospitalized, compared to 14.1% of participants who received the placebo. None of the people who received molnupiravir died; eight people who got the placebo did. The difference was so striking that outside monitors recommended stopping the study early.
Molnupiravir interferes with the novel coronavirus's (SARS-CoV-2) ability to replicate. It rapidly induces random mutations in the virus so the "virus essentially mutates itself to death," says George Plemper, a virologist quoted in an October 8, 2021 Nature article about COVID-19 drugs.
The drug was well-tolerated in clinical studies. Drug-related adverse events were no more common in people who took the drug than in those who received the placebo. Researchers not involved in the study are reviewing the drug's safety and effectiveness against COVID-19.
In early October 2021, Indian researchers studying a generic version of molnupiravir said they'd found "no significant efficacy" for the medication in people with moderate COVID-19 but have noted some success with mild cases of COVID-19. Antiviral medications are generally most effective early in the disease process. Variation among the U.S. and Indian studies could be related to differences in how each country defines mild, moderate and severe COVID-19.
Merck has asked the U.S. Food and Drug Administration (FDA) to approve the drug for emergency use for adults with COVID-19 who are at high risk of complications. The company is also evaluating the drug in clinical trials to see if it can decrease the likelihood of individuals getting sick after exposure to the novel coronavirus.
If the FDA authorizes the COVID-19 pill, doctors could prescribe molnupiravir for individuals to take at home.
Pfizer, the biopharmaceutical company that produced the first authorized COVID-19 vaccine with BioNTech, is also working on a COVID-19 pill. The company is collaborating with Roche Pharmaceuticals to assess a medication currently known as Paxlovid, a drug that blocks an enzyme SARS-CoV-2 needs to multiply. Phase 1 studies showed the drug is safe and well tolerated by humans. In the Phase 2/3 study, the drug reduced the risk of COVID-related hospitalization or death in participants by 89%. (Participants have COVID-19 and are at risk of developing severe COVID-19.) The companies are also testing the drug to see if it can prevent COVID-19 infections in people exposed to COVID-19.
Healthcare professionals would prescribe Paxlovid with ritonavir, another oral antiviral drug that is often used to treat HIV infection. Pfizer is applying to the FDA for emergency use authorization of Paxlovid.
Roche is also working with Atea Pharmaceuticals on an oral antiviral drug that shows promise against COVID-19. Phase 2 studies found that the drug, currently known as AT-527, cleared COVID-19 infection from 47% of study participants within two weeks. For comparison, 22% of those treated with a placebo cleared their infections within two weeks. Additional clinical trials are underway.
Remdesivir was the first antiviral medication with FDA approval to treat COVID-19. However, a healthcare professional must administer the drug directly into the bloodstream through a vein, so it's not convenient or practical for widespread use. A team of researchers at the University of California – San Diego are currently working on a pill version of the drug, and the National Institutes of Health has approved funding for further investigation.
Soon, oral medication for COVID-19 may be a reality.
For more information about COVID-19 treatment, read How Hospitals Treat COVID-19 Patients.

Was this helpful?