Omicron Variant and COVID-19: What to Know
Was this helpful?
Authorities in South Africa reported the SARS-CoV-2 B.1.1.529 variant—known as Omicron—in November 2021. The first confirmed infection in the United States was December 1, in a person who returned from South Africa on November 22.
Based on the specific set of mutations in B.1.1.529, the World Health Organization (WHO) classified Omicron a variant of concern (VOC) on November 26. Omicron has mutations that make it more contagious than the original pandemic virus and it can push through a person's immunity to the coronavirus. However, several studies show Omicron does not cause as serious an illness as prior variants.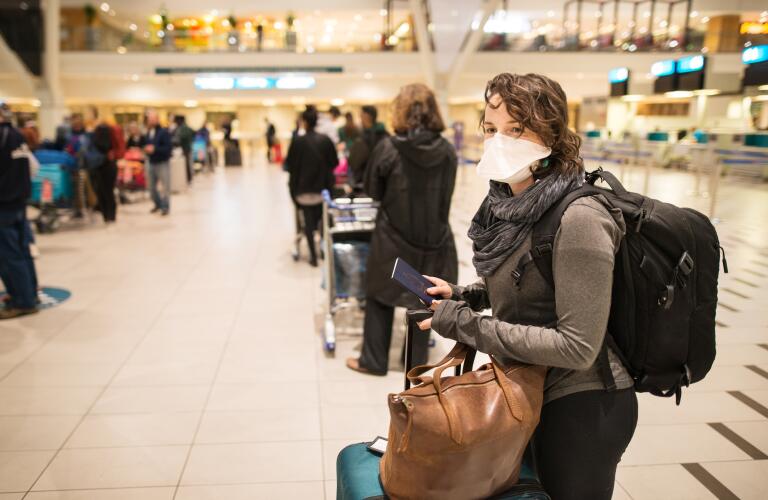 Here's what is known about Omicron variant, vaccine effectiveness against it, travel restrictions, and Omicron BA.2.
Omicron represents all new SARS-CoV-2 infections in the U.S., according to the Centers for Disease Control and Prevention (CDC). Some research suggests Omicron spreads two times as fast as the Delta variant, which itself is two times more contagious than the original virus.
The Omicron variant has four lineages: B.1.1.529, BA.1, BA.2 and BA.3. A lineage is set of closely related variants. Omicron BA.2 cases are increasing in different countries, including the UK and Denmark. The virus seems to be as contagious as the B.1.1.529 lineage.
Anyone with an Omicron infection, regardless of vaccination status or symptoms, can spread the virus to others.
One reason Omicron is spreading so quickly is so-called "immune escape." This is because Omicron can overcome the body's prior immunity to the virus, whether from vaccination or previous infection.
The observation that Omicron is infecting vaccinated people (breakthrough infections) means getting a booster shot of the vaccine is critical.
In a press release dated December 8, 2021, Pfizer announced preliminary results that three doses of the Pfizer-BioNTech vaccine can effectively neutralize, or block the Omicron variant in laboratory studies. According to Pfizer, the level of neutralizing antibodies from blood samples is much higher (up to 25 times higher) after three doses compared to two doses. Other studies support the laboratory results—the booster can increase vaccine effectiveness against Omicron to 80%.
Likewise, a booster dose of the Moderna vaccine increases the level of neutralizing antibodies against the Omicron variant, suggesting that people who receive three doses of the Moderna COVID-19 vaccine are well protected. The company is also testing an Omicron-specific booster in clinical trials.
According to the CDC and researchers, Omicron lineages appear to cause less severe disease than previous variants. This can be due to high vaccination and booster rates, as well as changes in the virus itself.
Even with large surges of infections and hospitalizations, the length of hospital stay, admission to intensive care units, and fatalities are lower with Omicron COVID-19 compared to Delta and other variants. This is good news, but, as with the Delta variant, surges in COVID-19 hospital admissions strain the healthcare system. This can disrupt the ability to staff medical facilities and deliver care to everyone who needs it.
Getting vaccinated and boosted and wearing a mask around others in public helps cut down on infections and hospitalizations.
A CDC report of Omicron infections suggests the incubation period from the time of infection to developing symptoms is about three days, which is slightly shorter than with the original virus and Delta.
With previous versions of the virus, studies showed that people were most infectious about one day before symptoms begin, but spread could occur up to three days before and eight days after developing symptoms. People were encouraged to quarantine after potential exposure and isolate themselves for 10 days if they test positive for the infection.
However, the collective burden of quarantine and isolation requirements, along with evidence that Omicron's infectiousness period is shorter, prompted the CDC to shorten the quarantine and isolation time to five days.
People should quarantine if they have been in close contact with someone with a confirmed SARS-CoV-2 infection. Stay home for five days and wear a mask around others in your household. Watch for fever for 10 days and get tested straightaway if you develop symptoms.
Quarantine if you:
Are 18 or older and vaccinated, but you have not received a booster shot when eligible
Received the Johnson and Johnson vaccine more than two months ago and have not received a booster shot
Are not vaccinated or have not completed a primary vaccine series (two shots for Moderna and Pfizer vaccine)
Isolation means staying home, in a separate room, if others are in your household. Use a separate bathroom if possible. Watch for worsening symptoms and seek emergency care for serious symptoms, such as difficulty breathing.
You should isolate, regardless of vaccination status, if you:
Received a positive viral test for COVID-19, even if you don't have symptoms
Have symptoms of COVID-19, even if you don't know if you've been exposed
Are waiting on COVID-19 viral test results or have not been tested
Review the full guideline here.
According to WHO and CDC, the risk of reinfection is higher with the Omicron variant compared with other variants. Reinfection is infection after a previous infection with the virus. Reinfection may or may not lead to symptoms.
The Omicron variant has an increased ability to evade, or hide from the immune system, which makes reinfection more likely. Based on its specific set of changes, researchers expect that protective antibodies the body made during the first infection may not easily recognize and bind to the Omicron variant. When this happens, the variant has time to mount an infection before the body has a chance to stop it.
The CDC states, "Based on the changed genetic make-up of Omicron, some treatments are likely to remain effective while others may be less effective." Data show two different monoclonal antibody treatments—REGEN-COV and bamlanivimab combined with etesevimab—"are highly unlikely to be active against the Omicron variant," reports the U.S. Food and Drug Administration.
Other FDA-authorized treatments are likely to be effective against Omicron in people with mild or moderate COVID-19 who are at high risk of developing a severe form of the disease. These include ritonavir (Pfizer's antiviral pill, Paxlovid), remdesivir (Veklury), sotrovimab, and molnupiravir (Merck's antiviral pill).
The government is restricting entry of travelers from several countries, including South Africa, Zimbabwe, and Botswana, due to the risk of Omicron transmission. As of November 30, 2021, the Presidential Proclamation allows entry to "lawful permanent residents of the United States" who have visited these countries in the preceding 14 days. Learn more about traveler requirements for entry into the U.S.
Contact your local public health department for more information about the spread of SARS-CoV-2 variants where you live.

Was this helpful?