Navigating Psoriatic Arthritis Care During the COVID-19 Pandemic
Was this helpful?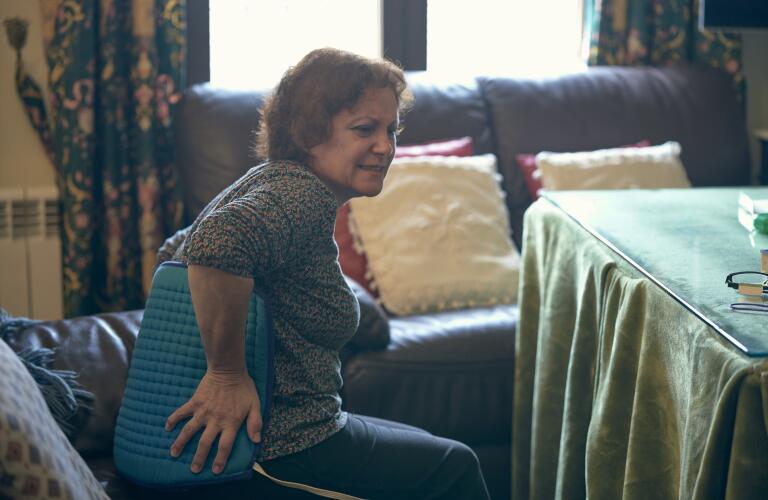 It's estimated that up to 30% of people diagnosed with psoriasis will eventually develop another condition known as psoriatic arthritis. Psoriatic arthritis, which is characterized by joint pain, swelling, and stiffness, can affect any joint in any part of the body. And like psoriasis itself, psoriatic arthritis may go through periods of flare-ups and remission.
Currently, there is no cure for psoriatic arthritis—but that doesn't mean there aren't treatments that can help. However, due to the nature of the disease and the side effects of some treatments, it's important to keep yourself safe from infectious diseases like COVID-19. Fortunately, the expanding use of telehealth, also known as telemedicine, gives you more opportunity than ever to stay connected with your doctor while also limiting your exposure to potentially harmful germs.
Like psoriasis, psoriatic arthritis is a chronic, or long-term, condition which may get worse over time. Symptoms such as fatigue, joint pain, tenderness, swelling, stiffness, or reduced range of motion may be mild, or they may be severe enough to prevent you from completing normal daily activities. These symptoms result from your body's immune system inappropriately attacking normal, healthy cells. This causes inflammation inside your joints.
Psoriatic arthritis care focuses on reducing inflammation and preserving any affected joint's ability to move normally. Typically, this involves a combination of medications and, in some cases, steroid injections or joint replacement surgery. But some psoriatic arthritis medications, such as certain steroid drugs and biologic agents, work to suppress the immune system. They can significantly improve psoriatic arthritis symptoms, but they also may prevent your immune system from responding well to infectious diseases like COVID-19. This means you may be at higher risk of a more severe case, so it's important to take measures to stay as healthy as possible. But that doesn't mean you should stop taking the treatments your doctor prescribes.
Rheumatologists and other doctors are increasingly offering telehealth appointments to help keep patients safe while they continue treatment. Telehealth offers several benefits compared to office visits, such as:
Connecting you with specialists who may not be located near you
Cutting down on commuting time and cost
Limiting your exposure to infectious diseases
Shortening wait times to see your doctor
Telehealth appointments are typically conducted from the privacy and comfort of your own home. Your doctor may call you on the telephone or may use videoconferencing technology with your computer or smartphone.
If your doctor offers telehealth, you may use this service to:
Answer your questions. If psoriatic arthritis is a new diagnosis, you probably have many questions about how you can best manage the condition. If you've already had your initial office appointment, your doctor may use telehealth to help you develop and stick to a treatment plan.
Coordinate treatment with other specialists. In some cases, doctors use telehealth to connect with you and other medical specialists at the same time. This helps coordinate care among your entire healthcare team so no one misses any details.
Discuss your symptoms. Making a symptoms list, including information about how serious symptoms are and how often they occur, can be extremely helpful for your doctor to know. Be sure to let your doctor know about any symptoms you experience since these can indicate psoriatic arthritis changes.
Renew your prescriptions. It's easy for your doctor to renew prescriptions via telehealth. In most cases, your doctor can send prescription refills or new prescription information directly to your pharmacy.
Triage your condition. Telehealth is a great way for your doctor to help you determine whether you should seek out more urgent care. If you're having particularly troublesome psoriatic arthritis symptoms, contact your doctor to determine whether you should stay home, go to an urgent care center, or even visit a hospital.
Though living with psoriatic arthritis can be challenging, telehealth is a great way to stay connected with your doctor while you develop and follow your treatment plan. In the COVID-19 era, telehealth for psoriatic arthritis is one of the best ways to protect yourself and keep yourself healthy.
Of course, there may be occasions when you need to see your doctor in person. In these cases, it's still important to get the care you require. Doctor's offices and hospitals are using strict safety guidelines during this time, and many healthcare workers are vaccinated already. Wear your mask–or even two, per the latest recommendations–and pack some hand sanitizer to use frequently. Your health is your doctor's priority, so their clinic will be doing all it can to ensure the safety of patients like you.
Was this helpful?