How to Monitor Your Child's Health If They've Had COVID-19
Was this helpful?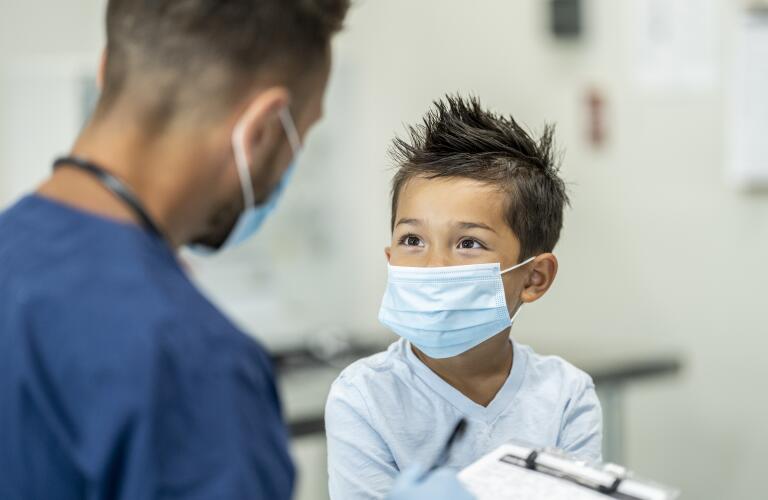 Is your child among the millions who have had COVID-19?
If so, you might be worried about their long-term health. Though scientists are still learning about COVID-19 in children, reports of heart damage in babies and college athletes have emerged, as has evidence of a link between infection with SAR-CoV-2 (the virus that causes COVID-19) and multisystem inflammatory syndrome (MIS-C), a shock-like condition that can be fatal. Healthcare providers have been seeing children with symptoms with long-haul COVID as well.
The good news: Most children recover completely from COVID-19. And if complications occur, prompt medical treatment can help. Parents play an important role in monitoring their child's health and well-being post-COVID-19. Here's what you need to know:
It can take a few weeks to recover completely from COVID-19. If your child is not back to their baseline health within three weeks or so, you may want to check in with their healthcare provider.
Researchers are still working to understand long COVID (also sometimes called "long-haul COVID" or "post-COVID syndrome"), which is loosely defined as persistent health symptoms that remain after a likely bout of COVID-19. Common long COVID symptoms include extreme fatigue, shortness of breath with activity, headaches, heart palpitations, and continued loss of taste or smell.
Because these symptoms can also indicate other health problems, it's a good idea to schedule an appointment with your child's doctor, who can perform a physical exam and run some tests that may identify a treatable underlying issue.
Doctors have reported incidents of heart failure in infants and teenagers who have had COVID-19. In some cases, the infection was so mild that the child didn't even realize they were sick.
Healthcare providers don't yet know how common COVID-related heart damage is. However, don't hesitate to seek medical attention if your child exhibits any symptoms of heart failure, such as shortness of breath with mild exertion, unusual fatigue, faster-than-normal breathing, and persistent cough and lung congestion. These symptoms may not indicate heart failure, but given the link between COVID-19 and heart damage, it's smart to seek professional input.
Multisystem inflammatory syndrome in children (MIS-C) is a serious condition that's characterized by the inflammation of multiple organs of the body. Symptoms may include fever, abdominal pain, vomiting, diarrhea, neck pain, rash, bloodshot eyes, and fatigue. Without treatment, MIS-C can progress to death; with treatment, most children improve.
Scientists and healthcare providers are still learning about the link between COVID-19 and MIS-C, but they know that most cases occur in children who had COVID-19 (or were around someone with COVID-19) in the previous 2 to 4 weeks. So, be vigilant: if your child develops a fever, abdominal pain, and vomiting a few weeks after having COVID-19, call their healthcare provider ASAP. If you child is confused or has difficulty breathing, severe pain, or bluish lips, call 911.
Because COVID-19 can affect the heart, the American Academy of Pediatrics (AAP) says children should not exercise or resume sports participation until a doctor says it's OK.
A child who had a mild or asymptomatic case of COVID-19 may only need a physical exam and health screening. before returning to sports. A child who was sick more than one week should undergo an echocardiogram (EKG) as well, to check for signs of heart damage. Children who were hospitalized or developed MIS-C should not exercise for at least 3 to 6 months post-recovery and should be seen by a heart doctor (cardiologist) before resuming sports.
As doctors and researchers learn more about COVID-19 and children, these recommendations may be adjusted. Your child's healthcare provider can help you figure out how to monitor your child's health after COVID-19.
Was this helpful?