Healthgrades celebrates 24 Leading Hospitals in Early COVID Care
Despite the early challenges of the pandemic, these hospitals excelled in their response to COVID-19. Here's how they did it.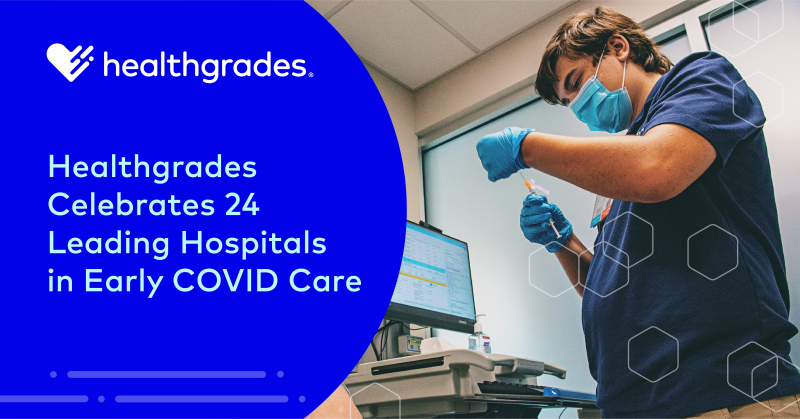 March 2022 marks the two-year anniversary of the coronavirus pandemic, and it's the perfect time to reflect on how far we've come. The early days were filled with the uncertainty that came with the arrival of an unknown virus, but the tireless efforts of healthcare professionals around the world since then have helped mitigate the spread and provided hope.
We still have a ways to go, but Healthgrades would like to take a moment to recognize the hospitals across the country that provided stellar COVID care at the start of the pandemic. By analyzing CMS data for COVID patients during the first three quarters of 2020 (January to September), Healthgrades compiled a list of 24 stand-out hospitals that provided exceptional care while treating the highest volumes of coronavirus patients.1
View our list of Leading Hospitals in Early COVID Care below.
For further insight, Healthgrades spoke with leaders from four of these hospitals to see how they gained an edge over the virus during its first wave.
George Ralls, MD, Senior Vice-President and Chief Medical Officer of Orlando Health Orlando Regional Medical Center: While the COVID-19 pandemic brought an unprecedented level of uncertainty, we responded early on by rapidly engaging our emergency operations plans. Even before we encountered our first case, we activated our corporate and hospital incident command systems, created special task forces, and developed an aggressive internal communications plan.
As pandemic scenarios evolved, so did we. We stayed up-to-date with expert guidance and published scientific findings through a physician-led medical management task force. Logistical planning was supported by internal prediction models developed by our strategy team that supplemented publicly available models. Most importantly, we decided early on to actively counter distracting or misleading information with logical decision-making. Through this process, we encouraged our leaders to creatively find solutions (not wait for them), anticipate failure points, and plan ahead.
Because of the massive amount of information (good and bad) that flooded communication channels, we prioritized transparent and accurate internal communication. Numerous modes of communication were utilized to keep our team members and physicians informed about patient volumes, policy rationale, and organizational challenges. Our communications plan also engaged our patients, families, and the community at large through surveys, social media platforms, and external news outlets.
Kimberly Guy, President of St. Joseph's Hospital: The safety of our patients, team members, and physicians is always our top priority at St. Joseph's Hospital and throughout the BayCare Health System. Managing infection prevention measures as the pandemic took hold and leveraging our resources to focus on patient care became key factors to our success. Specific tactics included:
Cross-training team members to provide support in additional areas. For example, we moved surgical and procedural nurses to critical care and the ancillary team stepped in to act as runners, helpers, and sitters.
Creating dedicated COVID-19 units
Adding negative pressure to multiple units
Stopping all administrative meetings and project work to fully focus on patient care
Providing support for the team through meals, respite rooms, prayer, counseling, and free access to the Employee Assistance Program
Restricting visitation
Leadership stepping into frontline care and support roles
Leadership rounding consistently to support the team, including night, weekend, and day shifts
Collaborating with BayCare leadership to support mask production, delivery of adequate supplies, and the establishment of drive-through COVID testing sites
Chintan Mistry, MD, Chief Medical Officer of Advocate Christ Medical Center: There were many things that were unknown in the early days of the pandemic, but our initial strategies focused on collaboration and communication. Our incident management structure was also activated to facilitate a coordinated response to the continuously evolving situation of the pandemic.
Given the complexity of patient care and the need to manage limited testing resources, especially in the earlier days of the pandemic, one of the most effective decisions we made was to create an operational "Strike Team." This group of critical care and emergency department physicians, nurses, and clinicians served as a clinical resource and content experts for team members on all things COVID-19, from policies and procedures to data and care techniques. The strike team worked around the clock, serving as a 24/7 hub for our COVID-19 response and helping steer the entire care plan.
The multi-disciplinary strike team kept our frontline clinicians from getting sidetracked by everyday operational questions and evolving policies so the frontline teams could focus on patient care. Through it all, our team had a resource to communicate with about problems or questions that could be addressed in real-time.
The strike team also focused on overseeing testing for COVID-19 patients by working with the care team to determine if patients met the criteria for testing; following their care if they were admitted to the hospital; and ensuring patients had the necessary information to properly self-quarantine after discharge. The team was also instrumental in training colleagues on how to properly use PPE, ensuring our staff was working as safely as possible.
The collaboration between our incident command team, our clinical leaders, and our administrative leaders was admirable. The core goals of every department were the same — to provide necessary patient care while keeping staff and patients safe.
Michael A. Young, MHA, FACHE, President and CEO of Temple University Health System: Our staff came together to serve the needs of the patients, with teamwork and cross-system coordination. Our entire medical staff — not just certain specialties — rotated through the COVID hospital to ensure we had adequate coverage and that the workload didn't fall on just a few departments. We saw therapists, nurses, EVS, transport, non-clinical staff, and many others all come together to help one another, even if the work was not in their usual scope. We used our subject matter experts to run every area of the operation and listened to their advice. Our team also has a strong commitment to the community that was essential at the beginning of the pandemic. We went out into our surrounding neighborhoods to offer education and ensure that the healthcare needs of our neighbors were met.
Mistry, MD: We're proud of the communication, interaction, and response between our administrative, operations, and clinical teams that allowed the hospital to respond to changing conditions in a rapid fashion. We really worked quickly as we designed a response and reconfigured units to handle incoming patients during those early days.
Caring for COVID-19 patients takes a multi-disciplinary team of doctors, nurses, and specialists all working together. Especially during the early days of the pandemic, this type of collaboration was essential as we worked to figure out the best practices for treatment and response. Everyone weighed in with their specific expertise to contribute to solving the puzzle. The more we learned about the virus, the more we shared with each other and put into practice in order to help patients.
We have, unfortunately, handled unprecedented surges in patients, many of them in high-risk conditions. It can be overwhelming at times. But our team has been dedicated to serving our patients, facing new and constant challenges head-on with both skill and compassion.
Ralls, MD: It's important to truly listen to the needs and concerns of team members and respond. Our team members' needs evolved throughout this experience, as have many elements of the pandemic response. Early on, credible information and critical resources needed to care for their patients were at the top of the list. Today, our team's needs also include support for their well-being and an organizational commitment to value their unique experiences and perspectives, keeping in mind that many of them have been personally impacted by COVID-19.
Guy: Across the country, our industry's workforce is stretched from the pandemic crisis and is facing the most severe staffing challenges we have seen in our lifetimes. Our leadership team is working to secure appropriate staffing while providing emotional and wellness support to our team members in every work area, from support staff to frontline caregivers. In addition to encouraging, recognizing, and appreciating our extraordinary team, we offer a robust wellness program with easy access to an Employee Assistance Program.
We're also strengthening the "clinical ladder," which gives our team more opportunities for development. To ensure a healthy future, we're creating innovative care models that address current gaps in the workforce and we're enhancing partnerships with local colleges to develop programs such as "Earn as You Learn." Along the way, we're maximizing the use of technology to support the provision of high-quality, evidence-based care.
Young: Caring for the caregivers is key. Burnout is high and hard to manage with the length and intensity of this pandemic. We continually focus on gratitude, encourage breaks when possible, build interpersonal relationships, and support mental health. It's also important to stay current on the latest science and guidance while being responsive to frontline needs as they arise.
We've been protecting the health and well-being of our employees and medical staff through small and large gestures of appreciation such as free meals, hazard pay, appreciation awards for shining stars, and publicizing the incredibly awesome work of the nurses and physicians in conversations such as this one.
Looking Ahead
The past two years have been anything but easy. The Healthgrades team thanks all of the hospitals and frontline workers who have fought and continue to fight COVID-19 while helping our communities recover.
1 To identify Leading Hospitals in Early COVID Care, Healthgrades used inpatient data from CMS for almost every hospital in the country, with the exception of military and Veterans Administration hospitals.
To identify patients being treated for COVID-19, the following ICD-10 codes in any diagnosis code position were used: U07.1, B97.29, and B 34.2. The hospitals on the list treated more than 750 COVID patients January - September 2020, and achieved a below-average mortality rate of less than 24.6%.
Since the first COVID-19 outbreaks were highly concentrated in the Northeast and South, hospitals in other parts of the country saw comparatively lower patient volumes. This does not diminish the outstanding work they exhibited since the start of the pandemic.

Was this helpful?