Eye Doctor Visits During the COVID-19 Pandemic
Medically Reviewed By William C. Lloyd III, MD, FACS
Was this helpful?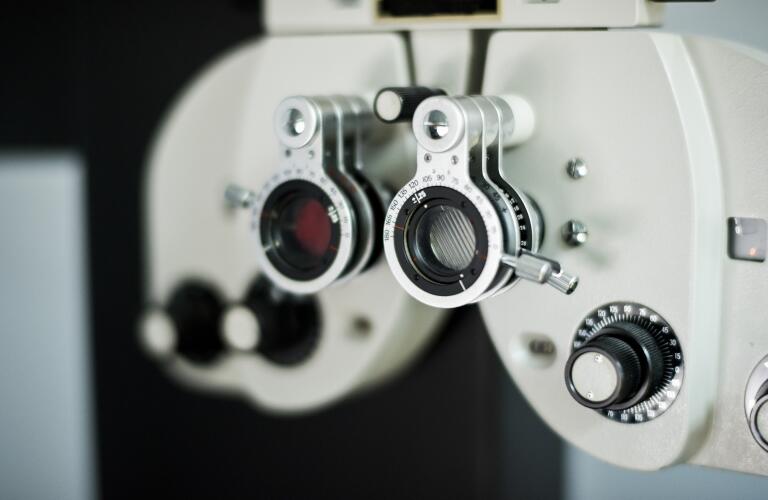 Eye doctor visits—like nearly everything else—are different in the COVID-19 era. Routine checkups have been cancelled in an effort to slow the spread of the novel coronavirus that causes COVID-19. If you're not having any vision problems or unusual eye symptoms, you may be able to delay vision care until after the pandemic passes. If your vision is worsening or you develop any other eye symptoms, you can still seek medical advice and care.
Learn more about eye doctor visits during the COVID-19 pandemic, including vision checks, telehealth, and urgent and emergency care.
Even before the novel coronavirus pandemic, the American Optometric Association (AOA) outlined standards of care for eye and vision telehealth. According to their 2017 position paper:
The standard of care provided to the patient must be the same as in-person care.
Telehealth is not appropriate for an initial diagnosis or establishing the doctor-patient relationship.
Patients must be made aware of the limitations of telehealth and given the option of in-person care.
As patients and professionals adapt in response to COVID-19, telehealth has become the cornerstone of non-urgent healthcare. Whenever possible, physicians are seeing patients virtually to assess and manage visual problems and eye conditions.
Routine vision checks are on hold while safer-at-home orders are in place. If you're having trouble with your vision, contact your eye doctor; some are using virtual eye exams to check a patient's vision. You may be able to get a new prescription and new glasses or contacts without leaving home.
Expect emptier waiting rooms when people are allowed to return to medical clinics for non-urgent care. Family members may be asked to remain at home to decrease the number of people in the building, so physical distancing can be maintained.
Some chronic eye conditions, including glaucoma, diabetic retinopathy, and macular degeneration, can be monitored remotely. However, effective monitoring may require the use of specialized equipment, such as a handheld device that can monitor in-eye pressure, and this equipment is not widely available. Ask your eye care provider about remote monitoring options but be aware that it may not be possible.
Call your eye doctor if you are experiencing eye symptoms or vision changes. Your doctor can evaluate your symptoms over the phone and offer guidance. If additional assessment is necessary, your doctor may ask you to come to the office.
You may be asked to wear a mask during in-person visits; your doctor probably will too and may also wear a face shield. Expect less talking than usual; some eye doctors are asking patients to limit conversation during exams to decrease potential coronavirus exposure.
Crusty, itchy eye? Swollen eyelid? Call your eye care provider. Many sudden and uncomfortable eye symptoms can be assessed and managed via telehealth. Your provider may ask you to send pictures or use a videoconferencing app to meet you virtually.
Urgent eye conditions that can usually be managed virtually include bumps or growths along the eyelids, dry eyes, inflamed or swollen eyelids, and eye infections. If symptoms get worse or fail to improve after a virtual visit, tell the doctor. An in-person visit may be necessary.
Eye emergencies require in-person treatment, even during a pandemic. If you experience sudden vision loss, eye pain, or double vision, call your eye doctor immediately. Anyone who experiences a blow or trauma to the eye should also seek immediate medical care. Do not let fear of the coronavirus keep you from going to an emergency room. Most emergency rooms now have separate entrances, waiting and treatment rooms for people with COVID-19 symptoms, so your risk of exposure will be minimized.
Without prompt treatment, you may experience vision loss or permanent eye damage.
Eye care professionals remain available to help you manage your vision and acute and chronic eye conditions. Call your doctor to ask about virtual appointment options, including phone, email and video. If you don't already have an optometrist or ophthalmologist (an eye specialist who also performs eye surgery), search online for eye care providers who offer telehealth.

Was this helpful?