Coronavirus: What Lung Cancer Patients Need to Know
Was this helpful?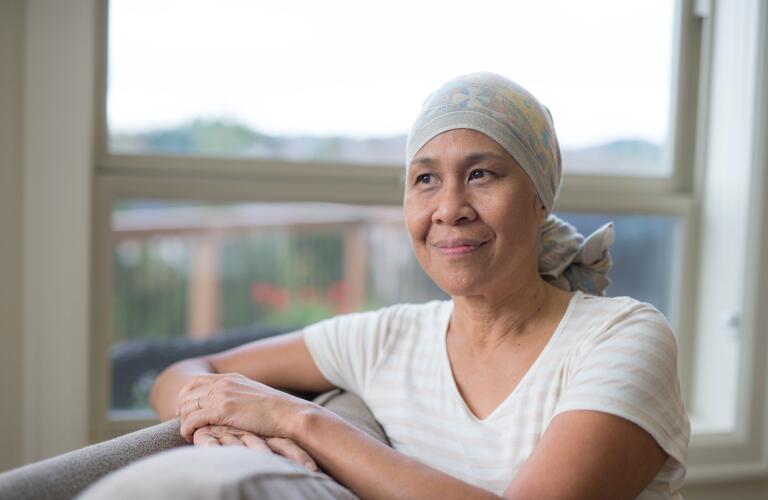 More than half a million people in the United States are living with lung cancer. If you have lung cancer, it's natural for you to be especially concerned about the coronavirus disease 2019 (COVID-19) pandemic. Cancer treatments such as chemotherapy can weaken your immune system and increase your risk of being infected by a contagious disease like COVID-19, plus the disease can be more severe in those with impaired lung function. Learn what precautions to take and get the help you need to cope.
How Coronavirus Affects Lung Cancer Patients
If you're living with lung cancer in this time of COVID-19, you may have already experienced changes in your treatment plan:
Where you receive treatment has changed
Scheduled treatment has been postponed
How you receive prescription medications is different
If your treatment has been delayed, keep in mind that's not automatically a bad thing. In many cases, treatment can be delayed safely as an extra precaution against being exposed to COVID-19. Going to the hospital at this time can put you at risk of contracting the infection, and lung cancer patients may be at higher risk of a more severe case. Chemotherapy can weaken your immune system's ability to fight the infection, and recovering from a recent lung surgery may increase your risk of complications as well. Additionally, radiation can lead to scarring in the lungs, which decreases lung function. That's why it might be wise to postpone treatment for a few months, depending on your specific case
Doctors are working hard to weigh the benefits and risks appropriately. It's important to stay connected with your doctor to monitor your individual situation, so take advantage of available opportunities to talk with your doctor over the phone or online. Your pharmacy may also be able to mail your medications to your home and provide doses for longer-term. Give your pharmacy a call and ask about your options.
Stay Safe: Precautions to Take
To help reduce exposure to COVID-19, it's important for everyone to practice social distancing and hand washing. It's especially important for those at higher risk of serious complications to stay at home as much as possible and avoid crowds. Know the symptoms of COVID-19 that require immediate medical attention:
Constant chest pressure or pain
There are some things we can control, and other things we can't. You're making a profound personal sacrifice in practicing social distancing to help your community. Take it easy on yourself and give these coping tips a try:
Change your thinking: Know that the current situation will end at some point and work to accept that no one knows when.
Tap into your coping skills: They've helped you through lung cancer so far and will continue to work.
Do something you like: You don't need to be around other people to enjoy doing puzzles, making crafts, reading, listening to music, or gardening.
Turn off the news: Stay informed but take a break from the information onslaught when it begins to stress you out. Stay away from scary language like "crisis," disaster," "unprecedented," "alarming," and "deadly."
When you're struggling, call, text, or email a friend or family member. When you see someone else struggling, return the favor, and you'll both benefit. The American Lung Association LungHelpLine is also open 24 hours a day to provide support. You can call 1-800-LUNGUSA (586-4872) or ask a question online.
Was this helpful?