Children and the Delta Variant: What Parents Need to Know
Was this helpful?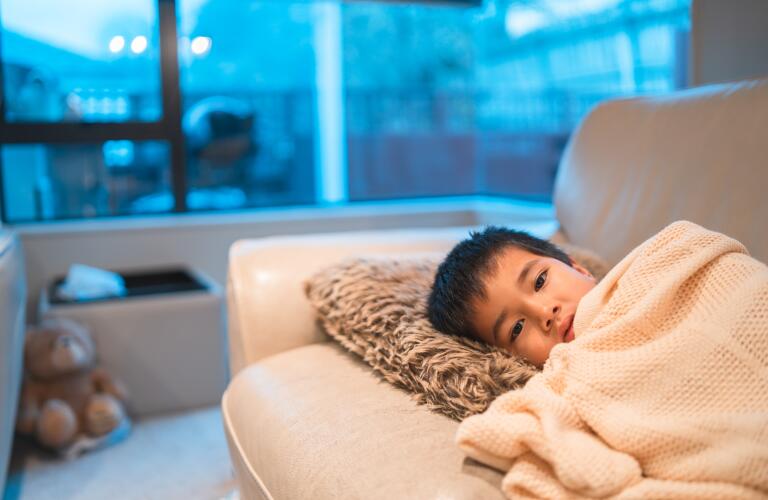 A mutation of the coronavirus that was responsible for the first wave of COVID-19 infections, the Delta variant is twice as contagious as the original pandemic virus and has sickened thousands of American children. According to the American Academy of Pediatrics (AAP), the Delta variant is behind a surge of hospitalizations of children and adolescents in the summer of 2021.
Learn more about the Delta variant and children, including steps you can take to lower the risk of COVID-19 in children.
Early in the pandemic, it appeared that children were not as susceptible to coronavirus infection as adults. The emergence of the Delta variant—and the availability of COVID vaccinations for adults and teenagers—has changed the demographic picture of COVID-19 infection. By mid September 2021, children accounted for more than 26% of new COVID-19 cases, according to the AAP.
Three factors contribute to the rise in infections in children and infants:
The Delta variant is more than two times as infectious as the coronavirus that began circulating in 2019.

No vaccines have been approved for use in children younger than age 12, so most children do not have immune protection. (As of October 29, 2021, children ages 5 to 12 years are eligible to receive the Pfizer-BioNTech COVID-19 vaccine.)

Children are returning to in-person school.

Serious COVID-19 infections in children are still rare, but healthcare providers have noticed an uptick in COVID-19 hospitalizations in otherwise healthy children. Of children hospitalized with COVID-19 between March 2020 and June 2021, 46% had no underlying health condition, according to the U.S. Centers for Disease Control and Prevention (CDC).
Although hospitalization rates among children and adolescents are increasing during the Delta variant, the proportions of kids with severe disease are similar to before Delta. There is no evidence that the Delta variant is more virulent than the original pandemic virus, according to Children's Hospital Los Angeles.
A child who is exposed to the Delta variant—who comes into contact with someone with COVID-19—will not necessarily get sick. Whether someone becomes ill or not depends on a variety of factors, including the length of the exposure and the child's immune response. Symptoms of COVID-19, which may appear 2 to 14 days following exposure, include:
If you notice any of these symptoms, it's a good idea to keep your child home and seek COVID-19 testing.
A large proportion of children (and adults) who are infected with the Delta variant do not develop symptoms. As such, the AAP recommends COVID-19 testing for any child, teenager or young adult 3 to 5 days after close contact with someone with known or likely COVID-19 infection.
You can take steps to decrease your child's exposure to the Delta variant, which will decrease the chances of your child developing or spreading COVID-19. Here's how:
Vaccination. If your child is 5 years of age or older, they can get the Pfizer-BioNTech COVID-19 vaccine. Hospitalization rates through mid-August were 10 times higher among unvaccinated than among fully vaccinated adolescents.

Mask up. The CDC and AAP currently recommend universal indoor masking for all people ages 2 years and older. To decrease the risk of COVID-19 infection, your child should wear a mask to school, childcare, church, stores, and other households. As COVID-19 levels decrease in communities, it may be safe to move about without wearing masks. Watch for announcements from your local public health department.

Get outside. Playing outside with friends is safer than playing inside. Plan outdoor playdates and family gatherings.

Your healthcare provider can help you understand the risk of exposure to the Delta variant and COVID-19 and give you risk reduction tips tailored to your child and local COVID-19 conditions.
Was this helpful?