5 Heart Conditions That Put You at Risk for COVID-19
Was this helpful?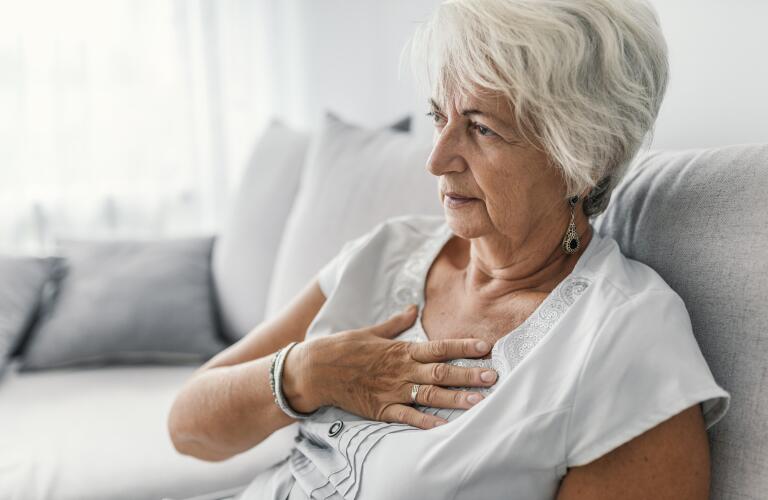 From the beginning of the coronavirus pandemic, experts have pointed out that older individuals and those with underlying medical issues appear to be at a greater risk of developing a severe case of COVID-19 if infected. If you are one of the 30.3 million adults in America with heart disease, you probably have some concerns about how the coronavirus may affect you. Here's what you need to know.
COVID-19 often manifests itself as a respiratory illness, with symptoms such as cough, shortness of breath, and fever. Though most cases are mild and lead to a full recovery, having a pre-existing heart condition can make you more likely to develop serious complications. When your lungs are infected, your heart has to work harder to compensate for lack of oxygen in your blood, and this can be dangerous for a heart that's already damaged. In addition, the coronavirus can affect your heart directly, causing inflammation and damage to the muscle tissue.
Heart conditions that can place you at higher risk for severe COVID-19 illness include:
Coronary artery disease: When the major blood vessels of your heart are narrowed, often due to a buildup of plaque, the blood supply to your heart is compromised.
Heart failure: This occurs when your heart can't pump enough blood to supply your body with the oxygen it needs.
Heart valve disease: When your heart valves are too narrow, as with aortic stenosis, or when they are "leaky," as with mitral valve regurgitation, it can place extra strain on your heart.
Cardiomyopathy: This refers to when your heart muscle thickens and becomes stiff, which interferes with its ability to pump.
Heart transplant: Medications that lower your immune system must be taken after a heart transplant.
Take steps to lower your risk of COVID-19 if you have heart disease.
Along with the rest of the population, you should take precaution to prevent infection with the coronavirus. The Centers for Disease Control and Prevention (CDC) recommends the following:
Wash your hands frequently, using soap and water for at least 20 seconds. Use hand sanitizer with at least 60% alcohol if you aren't near a sink.
Avoid touching your face if your hands aren't clean.
Cover your mouth and nose with a tissue or the inside of your elbow if you cough or sneeze. Wash your hands afterwards.
Clean and disinfect regularly touched surfaces, such as doorknobs, countertops, and phones.
Avoid contact with people who are sick.
Practice social distancing when you must leave your home.
Wear a face mask if you are out in public.
Make taking care of your heart a priority.
During this time, it's especially important to continue to properly manage your heart condition. Eat well, stay active, manage your stress, and get plenty of sleep. Be sure to take your medications as directed and try to maintain at least a 2-week supply if possible.
My Aortic Stenosis Confession: Susan
Stay in close contact with your health care provider. Remote medical visits, or telehealth, may be possible in some cases. Let your doctor know if you have any changes in your condition or concerns about your health. Talk to your doctor about the risks and benefits of undergoing any recommended heart procedures, such as transcatheter aortic valve replacement (TAVR) for a faulty aortic valve. Some procedures may be safely delayed, but others shouldn't be postponed for your own health.
And certainly, don't ignore any warning signs of a heart attack or stroke. Even in the midst of the COVID-19 pandemic, it's critical that you call 911 if you need emergency care.
Was this helpful?