The Progression of COPD Treatments
Was this helpful?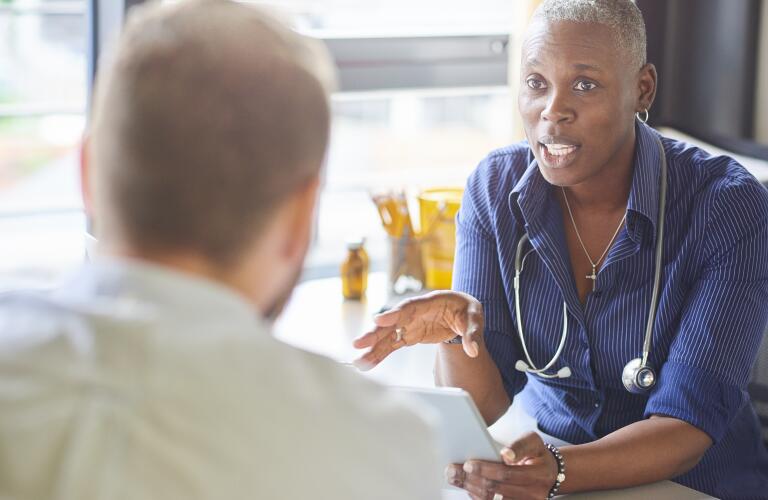 Chronic obstructive pulmonary disease (COPD) is a chronic disease affecting the lungs. With COPD, ongoing inflammation of the small airways in the lungs causes persistent coughing and shortness of breath, which can lead to lung failure in extreme cases. COPD is actually a group of diseases, including emphysema and chronic bronchitis, characterized by airflow blockage and breathing problems. Nearly 16 million Americans have been diagnosed with COPD, and millions more have symptoms of COPD without realizing they have a problem or discussing it with their doctor.
The upside of a COPD diagnosis is you know what you're dealing with and can take steps toward feeling better. COPD tends to be progressive, meaning there is a first set of treatment options, then a second, then a third, depending on whether you continue to have exacerbations (severe symptoms for days or weeks) at each step.
The first step in any COPD treatment plan is to stop smoking if you smoke and to avoid second-hand smoke, air pollution, and heavy fumes as much as possible. For some people, this is the only step needed to control COPD. But for those with a nicotine addiction, overcoming it is difficult. Be honest with your doctor about your smoking status and talk about nicotine replacement therapy, medications, support groups, and lifestyle changes. You're not alone in the struggle and hiding it doesn't help.
If avoiding smoke doesn't bring you relief from COPD symptoms, your doctor may recommend an inhaler that contains one or more bronchodilator medications to relax the muscles around your airway and help you breathe. There are two main types of inhalers:
Short-acting inhalers you use as needed

Long-acting inhalers you use every day
Your doctor may recommend one or both types of inhalers, depending on your symptoms.

If you've tried smoking cessation and inhalers and still have COPD flare-ups, an inhaled steroid may be recommended. Often, a combination of bronchodilators and inhaled steroids is taken at the same time.
If symptoms continue with the previous treatments, your doctor may prescribe oral steroids for a short period of time—up to five days. This isn't a long-term answer because steroids can have serious side effects and increase your risk for diabetes, osteoporosis, and cataracts.
If your COPD is moderate or severe, your doctor may recommend additional oxygen therapy or a pulmonary rehabilitation program. Oxygen therapy can be given in your doctor's office or through a lightweight, portable device you can use at home and even on the go. A pulmonary rehabilitation program brings together a team of specialists to help you live better with COPD through nutrition, exercise, counseling, and education.
New COPD Medications: Biologics
If your COPD doesn't respond to traditional treatments and therapies, newer medications can be explored. Biologics, also called targeted therapies, are a type of medication that helps stop inflammation in your body at the cellular level. Biologics have been developed for many inflammatory conditions, including asthma, and have proven effective for many people.
When the most severe forms of COPD can't be helped by other therapies, surgery can be an option. Procedures include the removal of damaged lung tissue and lung transplant.
A COPD diagnosis can be concerning but try not to become overwhelmed. It's something you can—and should—take one step at a time toward breathing and feeling better.
Was this helpful?