The 6-Minute Walk Test for COPD
Was this helpful?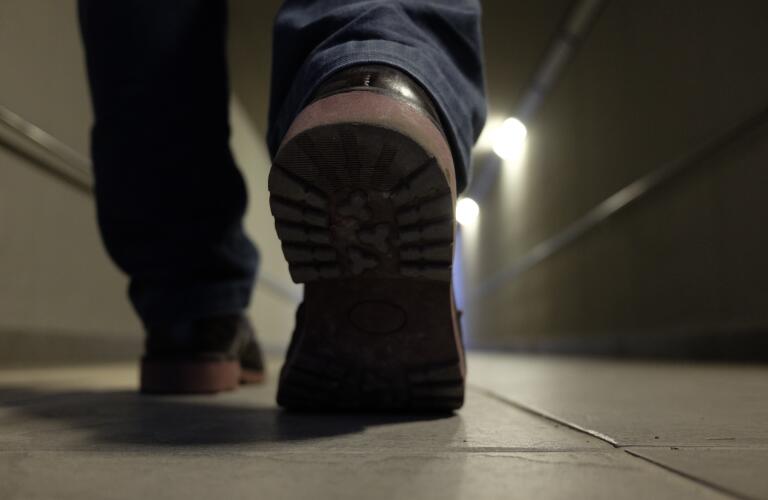 Chronic obstructive pulmonary disease (COPD) includes such progressive lung diseases as severe asthma, chronic bronchitis, and emphysema. COPD symptoms include shortness of breath, frequent coughing, wheezing, and tightness in the chest. Although the condition is currently incurable, there are treatments that can help with COPD symptoms. When evaluating your lung health—and determining how well your treatment is working—doctors commonly use the 6-minute walk test (6MWT). It's an easy, painless way to measure how your body responds to physical activity.
What Is the 6-Minute Walk Test?
The 6MWT measures the distance you can walk on a flat, indoor surface in six minutes. Oftentimes, you walk in a doctor's office hallway at least 100 feet long, with a turnaround point marked halfway. During the test, you continue walking until six minutes have passed. Your doctor will tell you when to start walking, where exactly to begin and turn around, and then start the timer when you begin walking. The doctor will likely let you know when each minute has passed throughout the test.
Here's what to know:
Before beginning the 6MWT, your doctor will have you sit and rest in a chair for at least 10 minutes.

You can stop and rest during the six minutes, and you aren't expected to move at your maximum exercise capacity—you choose your own pace.

Wear comfortable clothing, appropriate shoes for walking, and bring any walking aids that you regularly use, like a cane or a walker.

Do not exercise vigorously before the test.

Follow your regular meal and health regimen that day.
Your doctor will record the distance you traveled in six minutes and ask you to rate your level of fatigue on a scale from 0 to 10.
What Does the 6MWT Tell You?
The 6MWT is a tool for assessing people with COPD, and it can provide you important information either as one-time measure of your functional health or as a before-and-after measure to see how well a treatment plan is working. Research has shown that your performance on the test can predict important health outcomes—such as your quality of life and whether your lung health has declined since your last test—without requiring more complicated testing techniques or technology.
One study, for example, found that people with moderate to severe COPD who couldn't walk more than 357 meters during the test—slightly less than a full lap around a track—had a higher risk of being hospitalized during the three-year study, and those who couldn't walk more than 334 meters—slightly more than three-quarters of a lap around a track—had an increased risk of dying during those three years.
The distance you can travel in six minutes is a good indicator of your overall health, and a good measure of your ability to perform daily activities. Based on your performance on the 6MWT, your doctor may recommend an exercise rehabilitation program that includes strengthening and aerobic exercise, which has been shown to increase the distance people can walk on the test by an average of 50 meters per year. Your doctor may also want to adjust your medication regimen and oxygen supplementation based on your 6MWT result.
The 6MWT is a low-tech, important tool for measuring your lung and overall health if you have COPD. Since your daily living activities aren't performed at maximum capacity—similar to the conditions of the 6MWT—the test can give you and your doctor important information about your functional exercise level and about whether a treatment plan is addressing your COPD symptoms.
Was this helpful?