Is Juul Safe for People With COPD?
Was this helpful?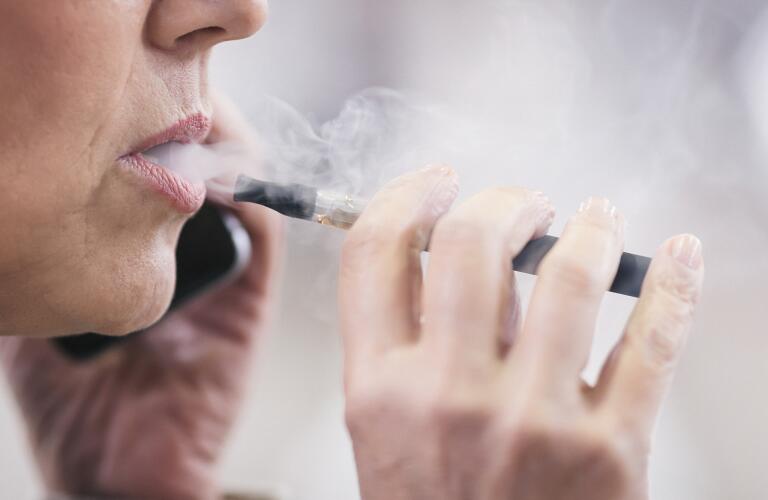 Juul is one of the most popular brands of e-cigarette, which people use to inhale vapors in a way that mimics cigarette smoking without the tobacco. Vaping has been touted by e-cigarette companies as a safe alternative to smoking regular cigarettes, and use among young people is becoming increasingly widespread.
However, most e-cigarette fluid contains nicotine, which is still an addictive substance. And much of the research available so far shows that there are damaging effects on the lungs from vaping, including an inflammatory response due to harmful chemicals. As a result, e-cigarettes still present risk for people with respiratory conditions such as COPD (chronic obstructive pulmonary disease).
COPD is a chronic inflammatory lung disease that makes it difficult to breathe. Inflammation blocks airflow from the lungs to the rest of the body, often causing symptoms such as:
Excess mucus

Chronic cough

Frequent respiratory infections

One of the major known causes of COPD is inhaling cigarette smoke. Another risk factor for COPD is long-term exposure to chemical fumes, which cause inflammation in the lungs.
E-cigarettes are battery-powered devices that create a vaporized fluid, usually containing nicotine, for the user to inhale. Inhaling the vapors (vaping) doesn't involve the tobacco, tar and smoke in conventional cigarettes, so it has been promoted as a safer alternative that may help people quit smoking. However, vaping's effects on the lungs may be more harmful than people think. E-cigarette fluids often contain flavorings, toxins and chemicals that may cause permanent lung damage or even lung cancer.
Because e-cigarettes have been on the market for just over a decade, research is relatively limited regarding their safety and long-term health effects. The studies that are available, however, tend to show that while vaping may be slightly less destructive to the lungs than traditional smoking, there are still harmful chemicals in e-cigarette fluid. Research has shown that these chemicals include:
Benzene, which is found in car exhaust

Heavy metals, such as lead

Diacetyl, a chemical that can cause lung disease

Formaldehyde, a human carcinogen also found in car exhaust

Acrolein, which contributes to permanent lung damage

Some research has shown inhaling e-cigarette fluids that contain nicotine triggered effects that a doctor would expect to see in someone with COPD, including destruction of lung tissue. Other studies have shown that young people who use e-cigarettes, even with fluids that don't contain nicotine, can experience an inflammatory response and respiratory infections, and that nicotine only compounds those effects.
Rather than e-cigarettes being the answer to help people stop smoking, the opposite may be true. Research has shown that the use of e-cigarettes among nonsmoking teens and young adults often leads to smoking regular tobacco cigarettes.
In addition, people who are exposed to secondhand e-cigarette emissions may also inhale nicotine, chemicals and lead.
The research available suggests Juul and COPD are not a good mix. Many studies have concluded that vaping poses more risks to more people, particularly youths, than potential benefits with helping smokers kick the habit.
While the FDA has not approved e-cigarettes as a smoking cessation aid, limited research does indicate that smokers with COPD who have been unsuccessful quitting may benefit by switching to e-cigarettes, though the study acknowledges vaping poses health risks. However, the American Lung Association strongly urges smokers to use other cessation methods to stop smoking and reduce their risk of developing COPD.
If you smoke and have or are at risk for COPD, talk to your doctor about effective ways to quit the habit. Together, you can find an effective plan to keep your lungs as healthy as possible.

Was this helpful?