How Do Combination Medications Work for COPD?
Was this helpful?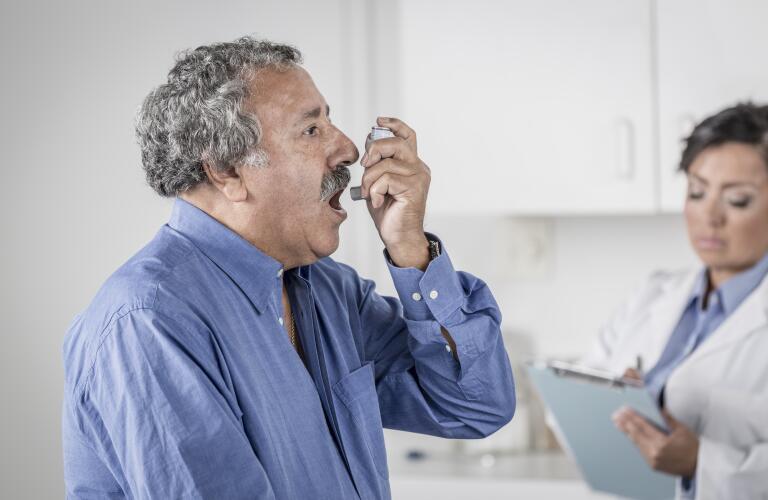 The act of breathing is something that most people take for granted. After all, the average adult breathes around 20,000 times each day. But if you are one of the estimated 16 million Americans with chronic obstructive pulmonary disease (COPD), you probably rely on medications to help you breathe comfortably. Here, we'll discuss how combination medications may be an effective treatment option to help you manage your symptoms of COPD.
Chronic obstructive pulmonary disease is actually a group of conditions, including chronic bronchitis and emphysema, that cause changes to your lungs and make it hard to breathe. The majority of cases develop as a result of cigarette smoking, but exposure to irritants in the environment and even some genetic disorders can also lead to cases of COPD.
With COPD, the airways in your lungs become inflamed, lose their elasticity, and start to narrow, impacting their ability to move air in and out of your lungs. Your lungs may also produce more mucus, and this can obstruct your airways even more.
The primary symptoms of COPD include:
Dyspnea, meaning difficulty breathing, especially with exertion

Cough

Excess sputum, or mucus, production
While there is no cure for COPD, it is treatable, and there are several medication options.

Treating COPD With Medications
Many medications used to treat COPD are given using an inhaler or a nebulizer, allowing you to breathe the treatment directly into your lungs. Two main types of COPD treatments include:
Bronchodilators: Bronchodilators help keep your airways open, either by relaxing the muscles around the airways or by preventing them from constricting. Some bronchodilators are short-acting, providing quick relief but only lasting for 4 to 6 hours. These are often referred to as "rescue" medications and are used when symptoms flare. Other bronchodilators are long-acting. They provide less immediate effects but can work for 12 to 24 hours. These are considered "control" medications and help prevent exacerbations of COPD.

Anti-inflammatories: Steroids are used in COPD for their anti-inflammatory properties. This results in less swelling within the airways as well as a decrease in mucus production. Like long-acting bronchodilators, steroids are used as a "control" medication for COPD.
If you have mild COPD, you may only need a short-acting rescue inhaler. But if you have moderate to severe COPD, you'll likely also need additional control medication, or sometimes multiple medications, to help manage your disease.

Using Combination Medications for COPD
The development of combination inhalers for COPD has changed treatment for many people. These medications combine either different types of bronchodilators, or bronchodilators and a steroid. Each individual component of the combination inhaler has its own mechanism of action to open up your airways or relieve inflammation. When used together, the combination may provide even better or longer lasting disease control.
It's important to remember COPD is a lifelong disease that's often progressive, meaning it can get worse over time. In addition to making healthy lifestyle changes, like quitting smoking, being compliant with your medication regimen is key to slowing down COPD's progression and keeping your symptoms at bay. This is another reason why combination COPD medications have been helpful. Rather than take two or three separate medications, a combination medication allows you to use a single inhaler (or sometimes nebulizer treatment) to accomplish the same task. Additionally, some new combinations inhalers for COPD only need be used once a day. Simplifying your routine can help boost your medication compliance.
Examples of combination inhalers for COPD include:
Glycopyrrolate/formoterol (Bevespi Aerosphere), tiotropium/olodaterol (Stiolto Respimat), and umeclidinium/vilanterol (Anoro Ellipta): These inhalers combine two long-acting bronchodilators.

Fluticasone/salmeterol (Advair), fluticasone/vilanterol (Breo Ellipta), and budesonide/formoterol (Symbicort): An anti-inflammatory steroid and long-acting bronchodilator are combined in these inhalers.

Umeclidinium/fluticasone furoate/vilanterol (Trelegy Ellipta): This newer COPD inhaler is the first to combine three medications into a single treatment. It combines two long-acting bronchodilators with a steroid.
If you are struggling to take your COPD medications as directed or are having a hard time controlling your symptoms, be sure to let your doctor know. Though you'll still need a rescue inhaler for quick relief, you might find that combination medication works better for you.

Was this helpful?