COPD in the Hispanic Community: 5 Tips to Advocate for Your Health
Was this helpful?
Members of the Hispanic community may experience challenges when seeking treatment for COPD. Some tips to advocate for your health include finding a culturally competent doctor, learning more about the disease, and joining a support group.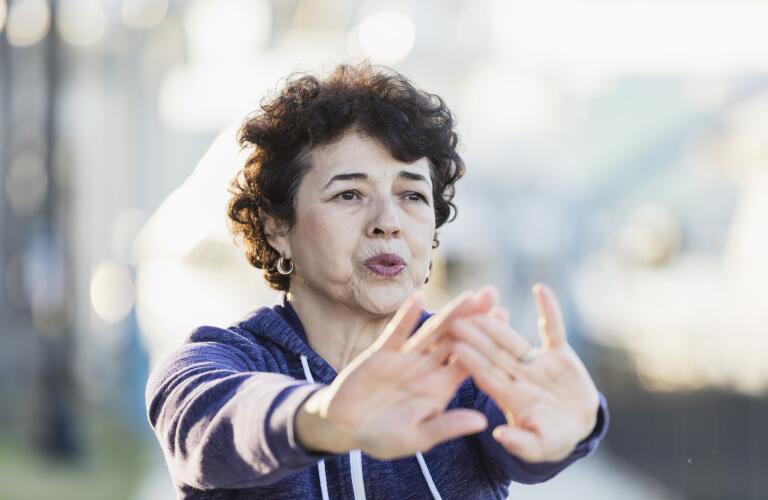 Chronic obstructive pulmonary disease (COPD) is a serious respiratory disease that requires ongoing treatment. When members of the Hispanic community need care, they can search for a culturally competent doctor – a physician who has received training in how the nuances of different racial and cultural backgrounds impact an individual's health and their experience navigating the healthcare system. Although rates of COPD in Hispanic people are lower than the general population, a 2017 study suggests members of the Hispanic community may experience challenges when seeking treatment. These barriers may be a result of racial disparities in healthcare, lack of knowledge about COPD, and limited access to culturally competent doctors. The following strategies can help you take greater control of your health and better manage this common but severe lung disease.
COPD is an inflammatory lung condition that makes breathing difficult and can increase the production of mucus in the airways. It can also raise the risk of developing lung cancer, cardiovascular disease, and other serious complications. COPD treatment involves the use of medications, some inhaled and some taken orally, as well as oxygen therapy and pulmonary rehabilitation in more serious cases.
The more you can learn about COPD, the more information you'll have to discuss with your doctors. Also, the information they provide you will be easier to apply if you have previously learned about the basics.
The internet provides a wealth of information about COPD, but online resources can't take the place of a board-certified, experienced doctor. If you find medical information online that you think is helpful or raises questions, bring it to your next appointment.
The Centers for Disease Control and Prevention (CDC), as well as other health agencies and institutions, have helpful information in English and Spanish. If you want to find additional resources in Spanish, ask your doctor for information about local support groups or consult with the Office of Minority Health (OMH).
COPD requires ongoing care and finding a doctor you feel comfortable with is important. A 2020 study suggests people prefer to see doctors and other healthcare professionals who share a similar ethnic background. If you're unable to connect with someone with a similar background as you, seek out a doctor trained in cultural competence.
A culturally competent doctor or a local clinic with experience serving People of Color can help you feel more comfortable and confident sharing information about symptoms or other important health matters.
Working with a doctor who understands the importance of family and other cultural traditions can make for a more relaxed and effective relationship. You may be able to be more descriptive when discussing symptoms or medication side effects if you both share the same cultural background.
Finding a doctor who speaks Spanish can make you feel confident about taking the next steps in COPD treatment. You can search online for a doctor who speaks Spanish at Healthgrades.com, using the language filtering feature, which can be found on the search results page within "All Filters."
You can also turn to websites and directories like healthinherhue.com and huedco.com to connect with a Physician of Color.
Every health insurance plan works a little differently. Premiums, deductibles, co-pays, and coverage for services and prescriptions all vary from one plan to another. The better you understand your own insurance coverage, the less likely you will be surprised by charges or experience other problems. COPD is a lifelong condition that may require multiple medications, so staying on top of your health insurance will ease some of the stress.
If you feel more confident understanding insurance information in Spanish, call your health insurance and ask to speak with a bilingual representative. Remember, you can also request that a printed copy of your information be mailed to your residence.
For additional guidance, turn to a program called Latino/Hispanic Partners, operated by the U.S. Centers for Medicare and Medicaid Services (CMS). This service provides information about accessing quality health insurance through national and local health organizations focused on assisting individuals from the Hispanic community.
Having a loved one with you during a doctor visit may reduce stress and make you feel at ease. It can also be helpful to ask your friend or relative to take notes while you concentrate on listening and asking questions. Sometimes medical jargon can be difficult to understand and it can be even more complex if English is not your native language. If that's the case, you can bring a companion to act as an interpreter or make previous arrangements with the doctor's office to request translation services.
If you don't have someone to accompany you to the appointment or need transportation services, contact the National Alliance for Hispanic Health for free assistance.
Keep in mind you don't have to walk the path of managing COPD on your own. Join a local or online support group to share your experience and learn strategies from others living with your condition. You can make new friends, talk about any challenges you're facing, and gain more confidence managing your COPD. If you prefer to share your COPD journey with other Hispanic people, contact the COPD foundation and ask for more information about Spanish-speaking groups.
COPD is a chronic condition that can impact many aspects of your life, and it requires a serious commitment to treatment and lifestyle changes. Finding a culturally competent doctor, learning more about the disease, understanding your insurance coverage, and finding your COPD community will allow you to advocate for your health and successfully manage your condition.
Was this helpful?