Where Colon Cancer Spreads
Was this helpful?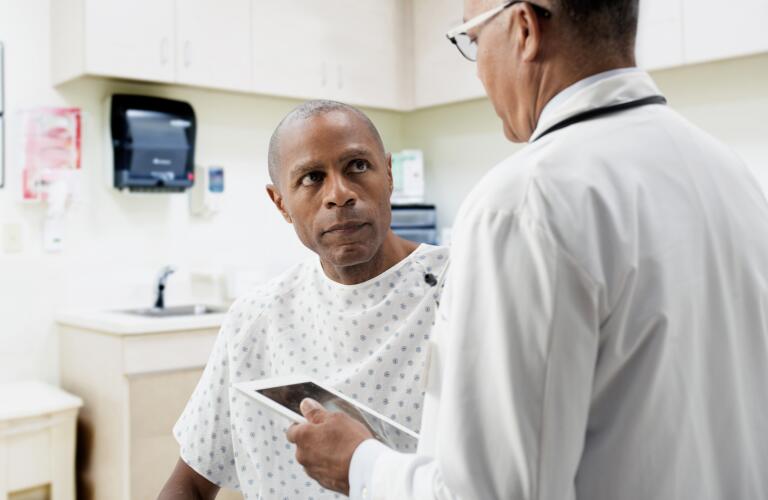 Colon cancer, also called colorectal cancer, is one of the most common cancers in the world. About 20% of the people who are diagnosed with it have stage III (3) or IV (4) colon cancer at the time of diagnosis, which means the cancer has spread from the colon to another part of the body. No matter where it spreads, it is still considered colon cancer.
The later stages of colon cancer reflect where and how far the cancer has spread.
In stage III colon cancer, cancerous cells are present near the original tumor in tissues or lymph nodes.

In stage IV colon cancer, the cancer has spread to distant organs—oftentimes the liver—but it can also appear in the lining of the abdominal cavity, in a lung, or the brain.
Advanced colon cancer is a serious disease, but doctors have more ways to treat it than they did as recently as twenty years ago—and cancer treatment experts continue to make progress.

Colon cancer can spread to other parts of your body when cancerous cells reach healthy tissue near a tumor, enter your blood stream, or move into a lymph node. Lymph nodes are bean-shaped structures throughout your body, filled with fluid, that form part of your body's immune system. Once cancerous cells are in the lymph system, they can travel and spread the disease.
If you have colon cancer, your doctor may arrange for tests to determine if and where your cancer has spread. This is all part of the diagnostic workup for cancer. You may have imaging tests, such as a CT, MRI, or another type of scan that can highlight cancerous growths. Doctors may use blood tests to analyze your liver function and look for substances called tumor markers, which may also indicate the disease has spread. You may also have a chest X-ray so doctors can see if there is any colon cancer in the lung.
Primary colon cancer has few, if any, symptoms, but as the disease progresses you may have constipation or diarrhea, blood in the stool, or abdominal pain. Advanced stages of colon cancer may cause fatigue, changes in appetite, or pain in the regions of the body the cancer has reached. Your cancer care team has many options to treat these symptoms, including medication and other therapies, in addition to treating the tumors at distant sites.
As the techniques to treat advanced colon cancer have improved, the outlook for patients with disease that has spread has become better. People can live longer and some may be cured. Here are the most common ways doctors treat colon cancer that has spread:
People with any stage of colon cancer can benefit from palliative cancer care, with the goal of relieving symptoms and improving quality of life for patients and their families. This type of care is especially important for people with advanced colon cancer that is no longer responding to treatment.
Colon cancer that has spread is a life-threatening disease, but in the past three decades, the picture has changed. Some people become long-term survivors, with no signs of disease as far as five years out or longer from treatment.
It is important that colon cancer survivors complete all follow up testing that your doctor recommends, so that if your colon cancer recurs, you can be treated as soon as possible.
If you or someone you love has been diagnosed with colon cancer that has spread, make sure you understand all your treatment options and what each one is intended to do, as well as the risks and benefits. The treatment improvements of the past years offer a chance of a longer life, and perhaps even a cure, to those with advanced colon cancer.
Was this helpful?