Talking With Your Doctor About Colon Cancer Treatment
Was this helpful?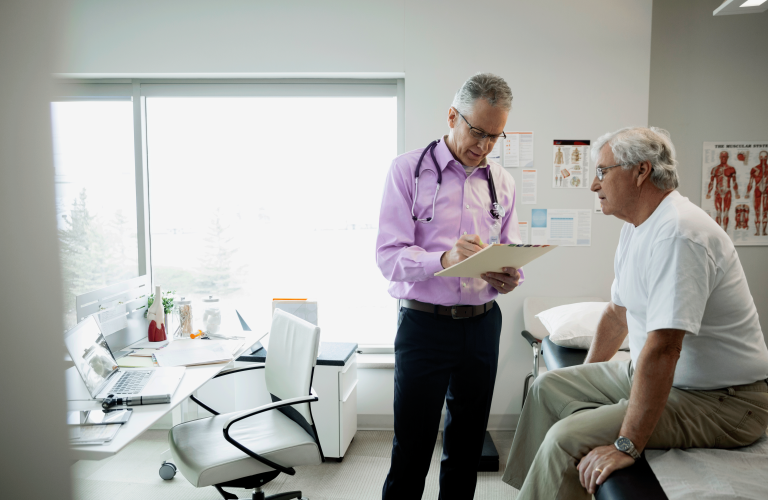 Doctors can treat colon cancer several different ways. That makes it important for you to talk with your doctor about all your options. Together, you can figure out which treatment plan may be best for you.
Treatment options include surgery, chemotherapy, targeted cancer therapy, and radiation. You may need one of these or a combination. The treatment that's right for you will depend on such things as:
The stage of your cancer (how far it has progressed)
Where in your colon the cancer is located
Your overall health
How well you tolerate side effects from the treatment
Ask your doctor to explain the risks as well as the benefits of any procedure or therapy. It's also a good idea to talk with your doctor about how to ease side effects of treatment.

It's important to communicate openly with your doctor. Don't hesitate to ask questions that could affect the success of your treatment. Questions you may want to ask include:
Why do you recommend this treatment?
Should I have more tests before deciding on a treatment?
Is there anything I should do to prepare for my treatment?
How long will the treatment take?
What will happen during the treatment? And afterwards?
Will treatment affect my daily routine?
What are the odds that this treatment will work?
What type of follow-up care will I need after the treatment ends?
Do I qualify for any clinical trials?
Write down your questions before meeting with your doctor. Then, keep this list handy while you're talking with your doctor. That way you won't forget to ask something. You also might want to take a friend or family member with you to your appointments. This person could listen and write down important details (and the answers to your questions) about your treatment plan.
One more thing to think about before talking to your doctor: How much do you want to know about your disease? You can be very involved in your treatment decisions if you have all the facts. But, some people prefer not to know every single detail and possibility. Think about this. Then let your doctor know which approach is right for you.
Coping with colon cancer is difficult. Almost everyone who has the disease feels some level of distress. Signs that you are struggling may include:
Anger
Sadness
Lack of focus
Trouble sleeping
Let your doctor know if you have any of these symptoms. You could also ask about complementary or alternative treatments that could help. Examples include:

Art therapy
Dance or movement therapy
Exercise
Meditation
Music therapy
Relaxation techniques
These therapies aren't going to cure your cancer. But, they might help ease symptoms of distress and provide a sense of peace.

The doctor who manages your treatment should be an expert in colon cancer treatment. Your treatment is more likely to be successful if your medical team is experienced in treating this disease. Even so, it's always wise to get a second opinion. Talking with another doctor can be reassuring. Another opinion can also help you make better decisions about your treatment.
Was this helpful?