New Colon Cancer Screening Guidelines: 6 Things to Know
Was this helpful?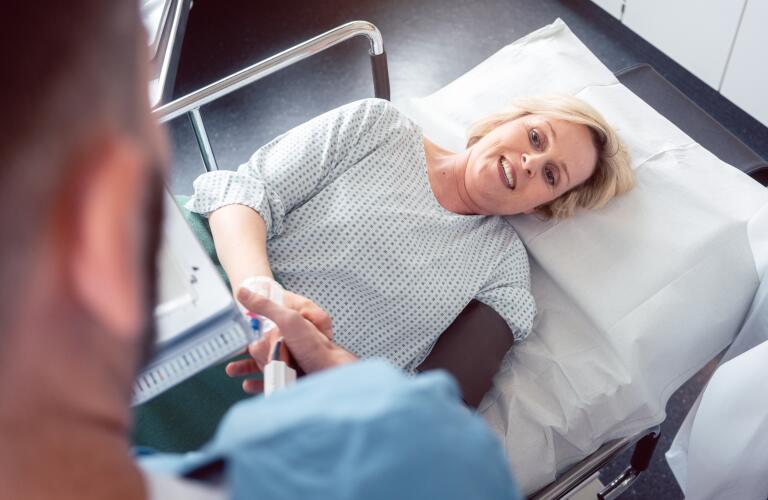 For the past two decades, doctors have told Americans at average risk for colorectal cancer (CRC) to have a colonoscopy at age 50. However, the American Cancer Society (ACS) changed its guideline in November of 2020, recommending that routine colon cancer screening begin at age 45. The U.S. Preventive Services Task Force (USPSTF), a volunteer organization of disease prevention experts, also made a formal announcement about the decreased age for screening.
Why this change? The American Cancer Society points to increased rates of colon cancer among patients under 50. Regardless of screening guidelines, it's important to talk to your doctor (at any age) about your individual risk factors for colorectal cancer. In the meantime, here are some key points to know about this new screening recommendation.
The new guidelines affect anyone over age 45 with an "average" risk for developing colorectal cancer. How do you know your colon cancer risk level? You're considered to be at average risk if you are a non-smoker with:
No personal history of colorectal polyps
People at a higher risk for colorectal cancer—such as those with Crohn's disease or a family history of colon cancer—have always been advised to begin screenings earlier than age 50. The new guidelines only address people who lack the additional factors that put them into a high-risk group.
Colorectal cancer rates have been rising sharply in people under age 50. According to statistics from the American Cancer Society, people born in 1990 now face twice the risk of developing a colorectal cancer as a person born in 1950. Yet these adults traditionally have not been screened due to their youth. By revising the age guideline for colon cancer screening, the hope is these cancers in younger people will be detected earlier, when treatment is more effective. Earlier detection may also lead to a reduction in the colon cancer rate among those under age 50.
The U.S. Preventive Services Task Force announced the younger screening age recommendation May 18, 2021. Their recommendation is based on more evidence showing the effectiveness and accuracy of new screening tests for colorectal cancer. The new age guideline does not change previous recommendations that colorectal cancer screening decisions should be made on an individual basis, taking into account each person's own risk factors, family history, and lifestyle.
The new guideline makes clear that colonoscopy is not the only colorectal cancer screening option available. In fact, the guidelines mention other tests for colon cancer as an acceptable alternative to colonoscopy for adults with a normal risk of colorectal cancer. These include stool-based tests such as:
Fecal immunochemical test (FIT): Detects the presence of blood in the lower colon, which can be indicative of colon cancer.
High-sensitivity guaiac-based occult stool test (gFOBT): Also detects the presence of blood in the stool.
Multitarget stool DNA test (such as Cologuard): Detects changes in colon epithelial cell DNA that could indicate cancer or precancerous cells.
According to the guidelines, these noninvasive tests provide an alternative to colonoscopy, provided any abnormal result is followed up with a colonoscopy to look for cancer or precancerous polyps. And while you can purchase colon cancer screening tests over the counter, it's not a good idea. Get a prescription for your test from a physician so you can get help interpreting the test results and receive any necessary follow-up care.
Colorectal cancer screening frequency guidelines have not changed since 2016. Continue on the following schedule:
FIT and guaiac-based stool tests: Annually

Multitarget stool DNA test: Every 3 years

Colonoscopy: Every 10 years through age 75, if result is normal

Computed tomography (CT) colonography: Every 5 years

Flexible sigmoidoscopy: Every 5 years

Flexible sigmoidoscopy with annual FIT: Every 10 years

Your own screening frequency may differ based on your results. Also, different colon cancer screening tests have different levels of sensitivity, such as accuracy in detecting precancerous growths. Your doctor may recommend specific tests and more frequent screening intervals if your result with any of the tests is abnormal.
If you're age 45 (or approaching it), talk with your primary care provider about what the new colon cancer screening guidelines mean for you. Your primary care provider can design an age-appropriate screening schedule for all types of health issues, not only colon cancer.
And if you have any colon cancer symptoms, regardless of your age, see your healthcare provider to receive appropriate care. Make an appointment if you experience:
Discolored stools, particularly very dark or black, tarry stools
Feeling as if you can't empty your bowel
Narrow stools, especially narrower than normal for you
Your primary care provider can evaluate these symptoms and set a path toward diagnosis that may include seeing a gastroenterologist.
Colon cancer rates among individuals over age 55 have declined over the past decades, thanks in part to age-based screening programs. If you're 45 years old, take a proactive approach to reducing your colon cancer risk by discussing the new screening guidelines with your healthcare provider.

Was this helpful?