Why the Flu Vaccine Is Especially Important in 2020
Was this helpful?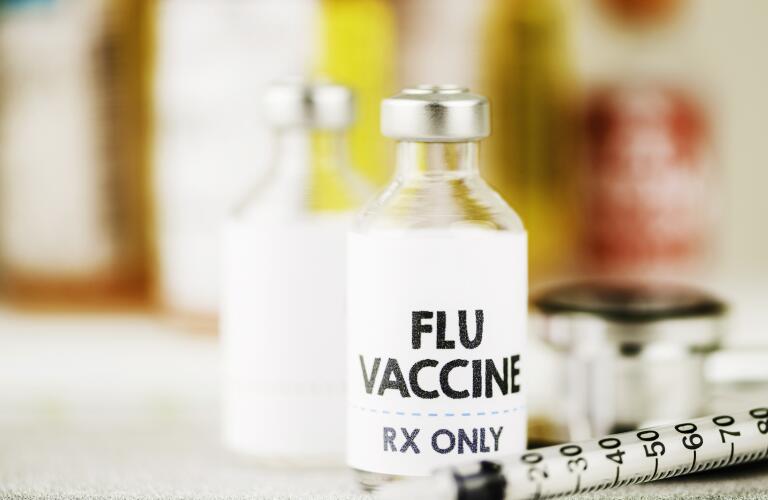 Fall is the beginning of cold and flu season, and getting your annual flu shot in 2020 is more important than previous years. Co-infection with influenza virus and SARS-CoV-2, the virus that causes COVID-19, is possible and has already occurred in some people. So far, there is not enough information to know how the flu and COVID-19 will interact. Prevention is the best outcome to avoid serious health problems.
Immunization against infectious diseases is a very effective prevention tool. COVID-19 vaccines are in clinical trials, but they may not be available to most people until after the 2020-2021 flu season ends. Fortunately, there is a readily available influenza vaccine.
The Centers for Disease and Control Prevention recommends everyone 6 months and older get a flu shot, and those age 65 and older should get a high-dose form of the flu vaccine. For optimal protection, the CDC recommends getting a flu shot in September or October to cover the seasonal flu season, which typically runs through March and possibly into April.
Here are six reasons why the flu vaccine is especially important this season:
1. The flu continues to be a serious illness.
Historically, many people have discounted the seriousness of influenza complications, but the reality is, seasonal flu continues to be a serious, and sometimes deadly, illness. For the 2018-2019 flu season, an estimated 35.5 million people got the flu, with more than 490,000 undergoing hospitalizations for the illness—and more than 34,000 died from seasonal flu. It's uncertain if the preventive measures implemented to reduce coronavirus spread will also reduce flu spread.
2. Having the flu vaccine can reduce flu severity if you still get sick.
Because the seasonal flu vaccine is not 100% effective, there will be some vaccinated people who still get sick. However, those who do get the flu vaccine generally experience less severe flu symptoms than unvaccinated flu patients. In fact, according to a 2017 CDC study, flu vaccination reduced deaths, intensive care unit (ICU) admissions, ICU length of stay, and overall duration of hospitalization among flu patients. A separate 2017 study showed flu vaccination significantly reduced a child's risk of dying from flu.
3. The flu vaccine can help protect your immune system.
Although the seasonal flu vaccine will not protect you from other viruses, it can help keep your immune system from being weakened or compromised. If you don't get the flu vaccine and do get the flu, the infection will take a toll on your immune system, which could leave it susceptible to other viral infections and diseases, including COVID-19.
4. Having the flu vaccine could limit future trips to the doctor.
During the 2016-2017 season, vaccination for the flu prevented an estimated 2.6 million medical visits. Right now, many people are avoiding doctors offices and medical centers in an effort to avoid contracting the coronavirus, so getting a flu vaccine now can ward off a doctor visit later. Many pharmacies and health departments offer flu vaccines, so you don't have to go to a doctor's office to receive the vaccine. In addition, it may be possible to receive a flu vaccine at a drive-through immunization site to further reduce possible exposure to the coronavirus.
If you don't have a doctor or health insurance, contact your local health department for flu vaccine resources where you live.
5. Getting the flu vaccine protects those who can't get immunized.
Not everyone can get a seasonal flu vaccine due to certain chronic health conditions, allergies to the vaccine ingredients, and other conditions. In addition, babies younger than 6 months old are unable to get a flu vaccine, so they are left unprotected. When those who can get a flu vaccine get immunized, they can help reduce the spread of flu, increasing community immunity and protecting those who cannot receive the vaccination.
6. Getting the flu vaccine could help conserve hospital resources.
The quick onslaught of the coronavirus pandemic led to a major shortage not only of regular hospital beds but also ICU beds, as well as a lack of ventilators and personal protective equipment. Those shortages have yet to be fully restored, and a large number of severe influenza cases could further strain those resources.
By getting a seasonal flu vaccine, you can help conserve hospital resources by reducing your likelihood of contracting the flu and flu complications.

Was this helpful?