This Year's Flu: 7 Must-Know Facts for Families
Was this helpful?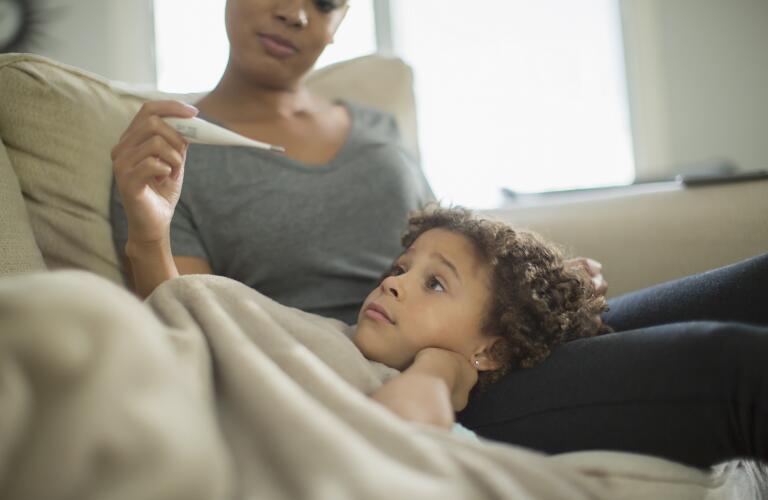 It's important to take any flu season seriously, but this season is different, as it's occurring during a worldwide outbreak of another infectious disease—COVID-19. So far, 2020-2021 flu activity is lower than usual compared to previous seasons. The Centers for Disease Control and Prevention interprets the low case count with caution, as flu cases may increase through the end of the flu season amidst the surge of COVID-19 cases. What can you do to protect yourself and your family during this flu season? Here are some important points to consider.
By January 2020 (of the 2019-2020 flu season), there were nearly 17,000 influenza cases; in the 2018-2019 flu season, about 7,700 cases (the case count became much worse within weeks). Although it is too early to tell how this flu season will turn out, it is not surprising that flu cases are lower than previous years.
Possible reasons for a lower case count include:
Higher flu vaccination rate: More people have received the flu vaccine this year than in any other year.
Social distancing: By keeping a distance from others during the COVID-19 pandemic, people are also reducing their risk of infection from the influenza virus.
School closures: Influenza spreads easily between people and especially among children.
Health officials are urging unvaccinated people to get flu shots, even in February or later. Flu viruses can continue to circulate into May, so you still have many weeks in which you and your family (age 6 months and older) will need protection. Most flu vaccines are quadrivalent: They are designed to guard against four different strains of influenza in a one-shot regimen. There is also a quadrivalent nasal spray flu vaccine for use in healthy people 2 to 49 years old. Pregnant women and people with certain medical conditions should not receive the nasal spray flu vaccine. Only one flu vaccine—Fluad—is trivalent, protecting against three flu strains.
Flu vaccines vary in effectiveness from year to year. For the 2019-2020 flu season, vaccine effectiveness was 45% for influenza A and 37% for influenza B, based on lab-confirmed infections. Because of how public health officials determine the makeup of flu vaccines, effectiveness for the 2020-2021 season will not be available until later this year.
Research shows flu vaccines can prevent hospitalizations and deaths for adults too. For the 2019-2020 flu season, CDC estimates that flu vaccination prevented 7.5 million flu illnesses, 105,000 flu hospitalizations, and 6,300 flu deaths. When you are vaccinated, you are protecting yourself and those around you.
Go to vaccinefinder.org for information about vaccines and where to find a vaccine provider.
The flu vaccine protects you against infection and illness from influenza viruses, which are different from coronaviruses. The COVID-19 vaccines, involved in their own massive distribution and vaccination program, will help protect you from COVID-19 and hopefully control the pandemic. The flu vaccine does not work against COVID-19 and the COVID-19 vaccine does not work against influenza.
Although vaccines are specific for a disease, no vaccine is 100% effective. Some people who receive the flu shot still develop flu. How does this happen? There are different reasons, including a weak immune response. It can also be due to the specific influenza strain causing the infection. Scientists formulate the flu vaccine based on the four different strains they predict will be circulating in the upcoming flu season. But, there are other types and strains of influenza. If a person gets infected with a strain that is not formulated in the vaccine, they will not be well protected and could become ill.
One thing is for sure—you cannot develop the flu from the vaccine itself. The injectable vaccines do not contain any live virus. The nasal spray contains a small amount of inactive virus that cannot start an infection.
Still, even if flu shots aren't 100% effective, research shows they can shorten the length and severity of your illness, preventing complications that can lead to hospitalization or even death. Flu vaccines also carry minimal side effects, meaning for most people, the rewards far outweigh the risks.
If you are 65 or older, special vaccines are available that boost effectiveness. Talk with your health provider or pharmacist about these and other measures you can take to protect yourself from this year's flu.
The influenza virus causes the flu and SARS-CoV-2 causes COVID-19, but the symptoms overlap so it is difficult to diagnose one over the other based on symptoms alone. If you develop such symptoms as cough, fever and body aches, your doctor may test you for both flu and COVID-19, depending on your potential exposure to COVID-19 and your symptoms. It's possible to be infected with both viruses at the same time; it is unlikely, but there are confirmed cases.
If you contract the flu, the CDC recommends receiving antiviral flu medications as soon as possible after flu symptoms develop, especially for people in certain high-risk groups, including:
Children older than 6 months
People hospitalized for any reason, or living in a nursing home or other care facility
In a non-COVID flu season, the CDC advises doctors not to wait for flu lab results to begin antiviral treatment if a high-risk person presents with symptoms and the doctor suspects flu. However, when community influenza case counts are low and COVID-19 case counts are high, doctors may choose to wait for lab results before prescribing antiviral medicine for flu. It's possible COVID-19 is the cause of your symptoms, and flu antiviral medicines, such as Tamiflu, do not work for COVID-19.
In some instances, doctors prescribe antiviral medication preventively, such as if a person at high risk for complications is exposed to someone with flu, or for residents in nursing homes who are exposed, in order to prevent institutional outbreaks. Consult with your doctor about preemptive antiviral medication if you are at high flu risk.
For some people, flu can progress very rapidly, from the typical first symptoms—fever, aches, headache, cough and sore throat—to life-threatening complications within a matter of 48 hours.
Emergency warning signs for children include:
Rapid breathing or trouble breathing
Not waking up or interacting
Flu that eases, then returns with fever and worsened cough
In adults, danger signs include:
Pain or pressure in the chest or abdomen
Flu that seems to get better but returns with fever and worsened cough
As the season rages on, consider these steps, in addition to getting the flu vaccine (and the COVID-19 vaccine when you are eligible):
Avoid being within 6 feet of an infected person; the virus is airborne and can spread through coughing, sneezing or even just breathing.
Avoid crowds during flu season.
Wash hands frequently and avoid touching potential sources of germs, such as doorknobs.
If you get sick, stay home. Don't return to work until at least 24 hours after your fever subsides (without fever-reducing medicine).
Was this helpful?