Talking With Your Doctor About Chronic Pain Treatment
Was this helpful?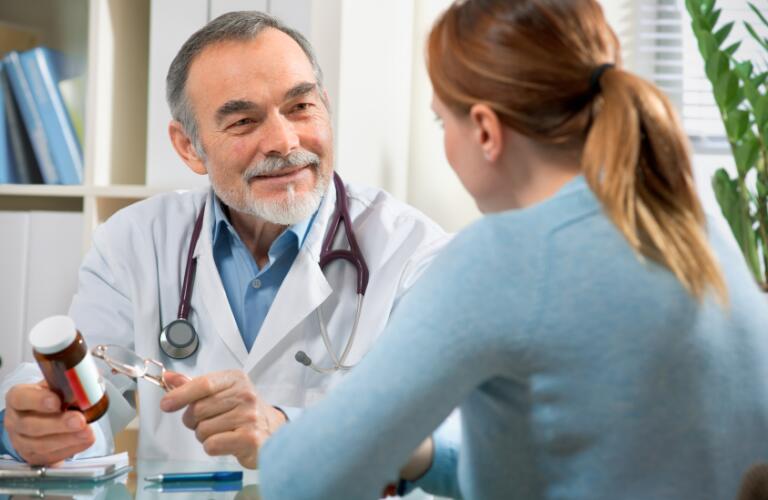 Treatment may not make your pain disappear. But in most cases, medications, therapy, or a combination of the two can provide significant relief and help you lead a full life.
Your doctor will give you advice on controlling your pain—but the final decision on treatment is up to you. It's important to understand all the choices available to you and how they might fit into your life. When discussing treatments, ask your doctor the following types of questions:
Pain is a complex condition. No one treatment works for everyone, and you will likely have more than one choice when it comes to pain control. Ask your doctor to lay out all the possibilities. He or she should explain the benefits and risks of each and offer opinions on where you might consider starting.
A wide variety of medicines can help relieve pain, from over-the-counter acetaminophen (Tylenol) to prescription-only opiates like oxycodone (OxyContin). The active ingredients in commonly prescribed antidepressants and anti-seizure medications have proven to be very effective in the management of specific pain syndromes. Like all treatments, each drug comes with benefits and risks.
If your doctor prescribes or recommends a medication, ask him or her to explain all the details. You'll want to know, for instance:
How long should I take the drug? Can I get refills when I run out?
Should I take this drug only when pain strikes? In most cases, medicine for chronic pain works best when you take it on a schedule instead.
Are there changes I should make to my lifestyle? For instance, should I avoid some foods or drinks?
Should I take this medicine with food or water?
What side effects should I watch for? And what should I do if I notice them?
Will this drug interact with any of my other medicines including over-the-counter drugs or supplements?
Oxycodone (OxyContin) and other narcotics can become habit forming for some people. It's important to tell your doctor if you currently have problems with substance abuse, or if you've struggled with addiction in the past.
Taking your mind off your pain can help you control it, whether or not you're also taking medication. And it's not all in your mind—relaxing can actually change your brain chemistry so you experience less pain. Ask your doctor to recommend stress-reduction methods that may work for you, such as meditation or yoga.
Acupuncture, which uses small needles to stimulate pressure points on your body, also relieves pain for many people. So does biofeedback, in which you learn to control things like your heart rate, blood pressure, and tension in your muscles. There are other effective behavioral medicine strategies such as Cognitive behavioral therapy and relaxation therapy. Your doctor can advise whether he or she thinks these treatments might work for you—and if so, refer you to a qualified practitioner.
Some medications work quickly. Relaxation may take a few weeks to show an effect. If sufficient time has passed and your pain isn't reduced, you and your doctor might want to try another option.
Some treatments or medications cost more than others. If you have financial concerns, ask your doctor which treatment provides the best value. He or she will be able to help you understand whether or not your treatment is covered by your insurance.
Some doctors undergo extra training and certification to treat pain. They are known as pain medicine or palliative care physicians. They may be able to offer additional options for managing your pain.
Your insurance company may require you to get a referral from your primary care doctor before seeing a specialist. Make sure you check with your insurance company before scheduling your appointment.
Some types of pain—especially chronic back pain—respond to surgery. Pain procedures may involve blocking a nerve from sending pain signals or removing part or all of a damaged bone in your spine.
Exploring surgery raises a whole new set of questions. Ask your doctor or surgeon:
Can you explain what happens during the operation?
How well does the surgery typically work to relieve pain?
What kind of anesthesia will I need?
Will I stay in the hospital overnight?
What is the recovery like?
Your doctor can guide you through the maze of pain treatment options. But sometimes, you may want a little more assistance with the emotional and social aspects of pain. Your doctor may be able to refer you to a support group or mental health professional for help coping.
Was this helpful?