What Happens When You're Eligible for Medicare?
Was this helpful?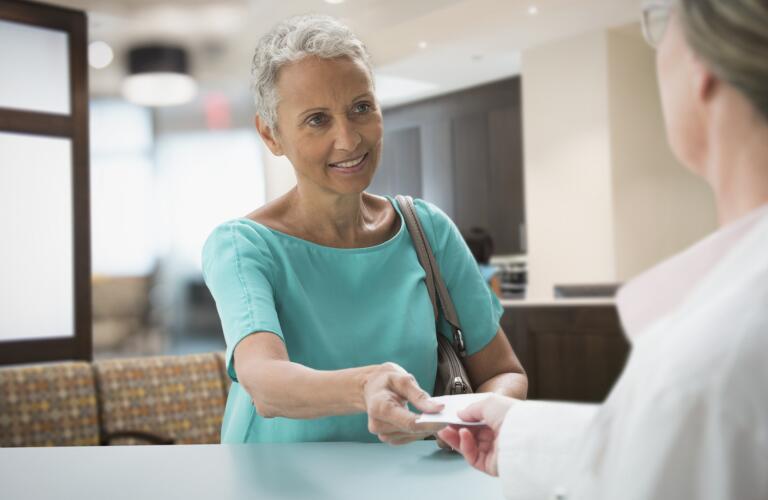 At first, starting Medicare seems pretty simple. Most people know it kicks in at the Medicare eligibility age of 65. But it turns out there's more to it than that. Here are the facts about Medicare eligibility and the Medicare enrollment process.
Who's eligible for Medicare?
Medicare is the federal program that provides healthcare coverage for seniors. You are eligible for full Medicare benefits when you turn 65 if you meet the following criteria:
You are a U.S. citizen or legal permanent resident.

You are receiving or qualify to receive Social Security or Railroad Retirement Board (RRB) benefits.

You or your spouse is or was a Medicare-covered government employee.
Certain people under age 65 can also qualify for Medicare benefits. This includes:

People who have been receiving Social Security disability benefits or certain RRB disability benefits for 24 months.

People with ALS (amyotrophic lateral sclerosis), also known as Lou Gehrig's disease.

People with ESRD (end-stage renal disease) requiring dialysis or a kidney transplant.
How do you enroll in Medicare?
Your eligibility begins three months before you turn 65. You can enroll for the first time during these three months. This initial enrollment period extends through your birthday month and for three months afterwards. So, you have a seven-month window in total. However, Medicare enrollment is automatic for many people.
If you are already getting Social Security or RRB benefits, Medicare will automatically enroll you in Part A and Part B. You will receive a 'Welcome to Medicare' packet three months before your 65th birthday. It will include your Medicare card. If you aren't receiving these benefits yet, you will need to sign up for Medicare through Social Security. However, even if your enrollment is automatic, you still have decisions to make and deadlines to meet. Read the entire packet to avoid gaps in coverage and lifetime penalty fees.
Most people who paid Medicare taxes while working don't have to pay for Part A—the hospital insurance. You will pay a premium for Part B—the medical or outpatient insurance. However, you can drop this coverage if you don't need it or want it. You may have to pay a penalty if you decide to re-enroll in Part B after your eligibility period.
What are the options for Medicare coverage?
You have a lot of ways to use Medicare coverage. Read your packet thoroughly so you understand all the different possibilities. However, Medicare coverage comes down to two basic choices:
Original Medicare: This option includes Medicare Parts A and B. Traditional Medicare is another name for this option. You can see any doctor that accepts Medicare. However, out-of-pocket costs are high and there are coverage gaps. So, you may want to add Part D prescription drug coverage or a Medigap policy.

Medicare Advantage: This alternative bundles Medicare Parts A and B coverage with other benefits not available with Original Medicare. Most plans include Part D coverage plus extras, such as dental, vision, and hearing services. In addition, these plans usually have lower out-of-pocket costs. However, most are managed care plans that limit care to their network of providers. Medicare Part C is another name for this option.
Signing up for extra coverage with Part D or Medigap is voluntary. However, if you decide you want coverage after your initial enrollment period, you may pay a penalty. For Part D, the amount depends on how long you went without drug coverage. It will be added to your monthly premium. Medigap may cost more after your initial enrollment period as well
Opting for Medicare Advantage is also voluntary. You can enroll in these plans once you have Part A and Part B. The companies offering these plans will need your Part A and Part B start date. If the plan you choose doesn't have prescription drug coverage, you may pay a penalty if you add Part D later or switch to a plan with drug coverage.
When does Medicare coverage start?
When you enroll in the three months before your birthday, coverage starts on the first day of your birthday month. If you wait until your birthday month or the three months afterwards, coverage will start on the first day of the month after you enroll.
What happens if you're 65 and still working?
If you're 65 or older and still working, you have options depending on your employer's size. If you work for an employer with 20 or more employees, you can choose to delay Medicare. However, most people get Part A for free. If you enroll in Part A, it can serve as your secondary insurance. This means it will pay for hospital costs your employer plan doesn't cover. You can also opt to fully enroll in Medicare and decline your employer's plan. This may be a better choice if your employer coverage is poor or if your employer doesn't pay much of your premium.
If you work for an employer with fewer than 20 employees, they can require you to enroll in Medicare. If this is the case, Medicare is your primary insurance. Any employer coverage would pay for services not covered under Medicare.
Once you stop working, you qualify for a special enrollment period to sign up for Medicare.
What happens if you're 65 and have insurance through a spouse's plan?
If you qualify for premium-free Part A, it likely makes sense to keep it or enroll in it. It can serve as secondary insurance.
In general, you don't have to keep or enroll in Part B benefits if you have coverage through a spouse's health plan. So, you could save money by dropping Part B and avoiding the premium. You will qualify for a special enrollment period once your spouse retires or loses coverage. So, you won't have to pay a penalty as long as you sign up during the special enrollment period.
If your spouse's plan has prescription drug coverage, you won't pay a penalty for not enrolling in Part D. You could save money by keeping your spouse's coverage and not paying for the Part D premiums.
There are some rules you have to follow to make sure you don't owe any penalties in the future. First, the health plan has to be under your spouse's current employer. This means your spouse needs to be employed and not retired. Losing retiree coverage doesn't qualify you for a special enrollment. So, you both would pay a penalty if you lost the retiree coverage for some reason. For retiree coverage, it's best for both of you to enroll in Part A and Part B. It can work with your retiree plan to cover more of your costs.
You also need to make sure your spouse's plan doesn't require you to go on Medicare. This can be the case for employers with less than 20 employees.
What happens if you're 65 and want to go on Medicare, but your spouse is covered under your employer plan?
Medicare is not family coverage. Each person must qualify for it when they turn 65. So, if you retire and drop your employer plan, a spouse who isn't 65 yet will lose coverage. If you have retiree coverage, check to see if it will cover your spouse. Or, your spouse may be able to enroll in their own employer plan. If neither of these are options, your spouse will need to find other coverage. The Healthcare Marketplace is one option, but there are others.
Non-working spouses who are 65 can enroll in Medicare themselves. Your spouse can qualify for Part A premiums under your work record.
Was this helpful?