Assisted Living Costs and Coverage Options
Was this helpful?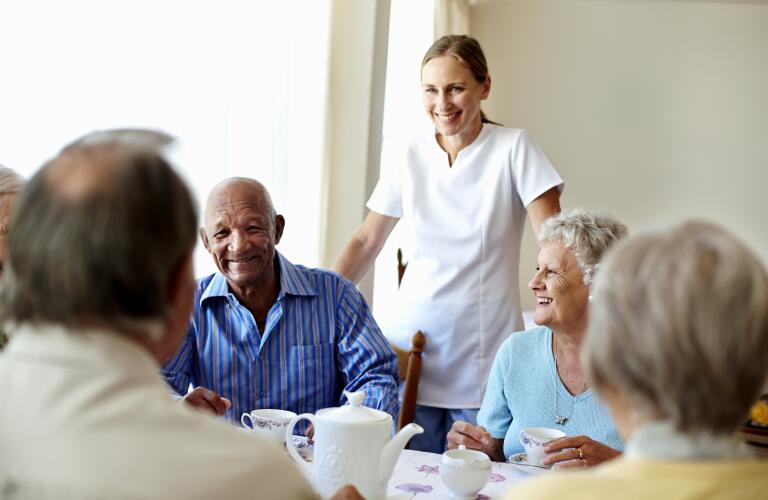 Without a doubt, the cost of assisted living can add up quickly. The location of the facility, the senior's personal care needs and add-on services all play a role in determining the monthly cost. You also have to weigh the value of services with the out-of-pocket price. If a senior needs minimal assistance, home care could be sufficient, but if someone needs comprehensive care, a nursing home might be the best choice. When the senior is mobile but needs some help with day-to-day activities, an assisted living residence may be suitable.
While the residence must be affordable, it's important to make sure the cost satisfies your expectations and maintains your quality of life. With all those decisions to make, the prospect of paying for assisted living can be daunting. By investigating all the payment options available to you, you'll feel more prepared to make wise choices.
How much does assisted living cost?
The national rate for a private room, meals and some personal care assistance is about $3,750 per month, according to a 2017 Genworth Financial survey. That cost doesn't include the price of additional assistance you or your loved one may need beyond what is provided in the base rate. For example, if your relative requires help with bathing or medication management, the rate could increase anywhere from $200 to $500 per month depending on the services needed. Many facilities use a point system in which each added service is assessed a predetermined number of points. The sum of these points then translates to a monetary amount added to the rent. However, costs vary from state to state and facility to facility, so you'll have to research the options in your area to figure out what's affordable and practical for you.
Some considerations to keep in mind:
High price doesn't always equal better value. If a facility costs less but meets all the senior's needs, it's a good option.

Know which amenities are included and which ones cost extra. Even laundry service can be an additional cost at some facilities.

Do some research on the way rates at your preferred facility have risen in the past so you can be prepared for future increases.

Always ask whether administrators anticipate a change in ownership of the facility in the near future. Leadership changes could cause a huge impact – either good or bad – on the quality and availability of services.

Carefully review the contract to know exactly what you're signing. Consider having an attorney read the agreement to make sure you haven't missed any important details.
How do you pay for assisted living?
Many seniors or their family members pay the cost of assisted living out-of-pocket. While Medicare will sometimes cover a short stay in a nursing home for specific circumstances, the federal health insurance program for seniors age 65 and older does not offer any type of coverage for long-term care.
Medicaid, which provides healthcare coverage for millions of low-income Americans, is a partnership between the federal government and states that offers many benefits, including nursing facility services. The U.S. government mandates this benefit, but states have the freedom to establish the criteria Medicaid recipients must meet to receive nursing facility care assistance. Contact your state Medicaid agency to find out if you're eligible for this benefit.
Another option seniors and their families have is to buy long-term-care (LTC) insurance, which can be pricey—sometimes prohibitively—and also varies widely in policy coverage and benefits. You can claim the benefits only if you're cognitively impaired by dementia or Alzheimer's disease or if you can no longer perform activities of daily living (ADLs), such as bathing, dressing or eating. Some policies cover only nursing home care, and others provide benefits for assisted living communities, home care, adult daycare or other care options. And many policies state that the senior must pay out-of-pocket for an allotted time (typically 90 days) as a deductible before coverage takes over. Besides the cost and benefits, there are other factors to weigh when considering insurance, such as whether a spouse or other family member would risk bankruptcy by paying out-of-pocket for your assisted living. In that case, LTC insurance might be a smart idea. However, only about 35 percent of people who buy a policy with a 90-day elimination period will use the benefits in their lifetime. If you decide to buy LTC insurance, make sure you understand exactly what your policy does—and does not--provide.
Other possible ways to pay for assisted living include:
Using veterans benefits: These benefits may vary depending on your situation, so contact your local Veterans Administration office to find out what you're eligible to receive. VA Aid and Assistance is a monthly tax-free stipend paid to eligible veterans who demonstrate financial need. Applying can often be a complex process, so consider asking a professional geriatric planner or local veterans volunteer advocacy group for assistance.

Cashing out a life insurance policy: You might be eligible to receive accelerated or "living" benefits by selling your policy back to the company. You'll receive only about 50% to 75% of its value, but in some cases, the immediate financial payout is worth the loss. Contact your insurance company to find out whether this is a possible option for you.

Using a reverse mortgage: If you have paid off your mortgage, you may be able to establish a reverse mortgage to pay for assisted living. To begin a reverse mortgage, your bank will evaluate what your home is worth along with other factors, and then give the borrower a loan that increases over time. The loan must be repaid upon the borrower's death, usually by selling the home. Talk to your bank to see if it offers reverse mortgages.
No matter how you decide to pay for assisted living care, always read the fine print—that includes an insurance policy, eligibility rules for benefits, and the assisted living facility's contract. Make sure you know what you're agreeing to and what you're getting for the price you're paying.

Was this helpful?