Your Cholesterol-Friendly Guide to Holiday Foods
Was this helpful?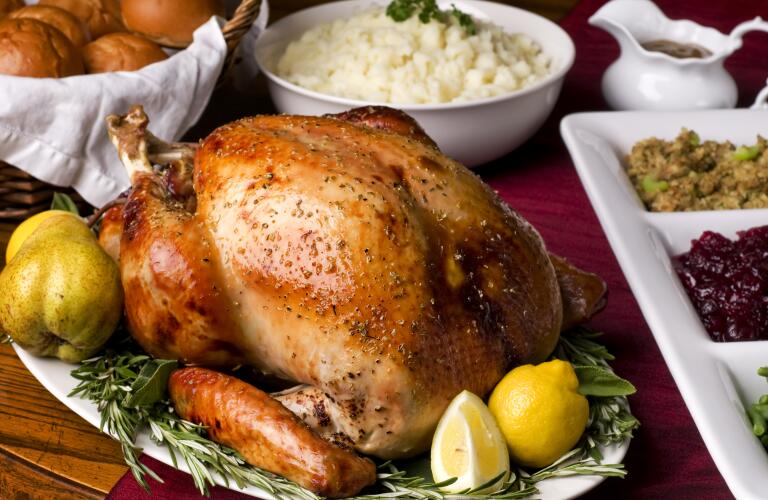 Sugary sweets, fatty appetizers, creamy eggnog. From office parties to family feasts, temptation is everywhere during the holiday season. It can be tough to stick with a cholesterol-friendly diet that's low in saturated fat, trans fat, dietary cholesterol, and calories. But it's not impossible. With a little planning, you can celebrate the season without selling out on cholesterol control.
One thing that sets apart this time of year is the emotional pull of food memories. Maybe you feel as if the holidays just aren't right without the annual Thanksgiving pumpkin pie, Christmas cookies, or Hanukkah latkes. No problem. Rather than give up your favorite holiday food, find a way to make it lighter. These heart-healthy twists on holiday classics are a good place to start.
Turkey. Instead of basting with pan drippings, use wine or apple juice. When it's time to carve the bird, choose white meat, and remove the skin before eating.

Stuffing. Pump up the fiber content by using whole wheat bread cubes or brown rice. Toss in some dried cranberries, dried apricots, and raisins for good measure.

Mashed potatoes. In place of cream and butter, use fat-free evaporated milk for a creamy texture. Add a little low-sodium, fat-free chicken broth for extra flavor.

Gravy. Make it with low-sodium gravy mix and water. Or make it from scratch, letting the pan drippings cool so that you can skim off the hardened fat first.

Latkes. These potato pancakes are a Hanukkah tradition. Replace whole eggs in the recipe with egg whites or cholesterol-free egg substitute. Serve with a dollop of fat-free sour cream or unsweetened applesauce.
Pumpkin pie. Skip store-bought pies; the crusts are usually loaded with saturated fat and trans fat. Instead, bake a crustless pie, similar to custard. If you start with a fresh pumpkin, save and toast the seeds. They contain the type of unsaturated fat that helps lower cholesterol.

Baked goodies. Substitute applesauce or mashed banana for some of the oil in a cookie, cake, or brownie recipe. Replace one whole egg with two egg whites.
Snacking nuts. For a festive appetizer, make spiced nuts. Choose a recipe that's heavy on spice, light on sodium and sugar. Research has shown that eating certain nuts like walnuts, almonds and pecans can actually help reduce cholesterol.

Party platters. Skip the fat-laden meat and cheese platter. Instead, choose whole grain crackers or raw veggies, and serve with low-fat dip or hummus.

Eggnog. If you simply can't imagine the holidays without eggnog, buy a fat-free or low-fat brand. And watch out for the spiked kind. Even in party season, the recommended maximum is one alcoholic drink per day for women, and two for men.
Have a plan in mind before you hit the party buffet or sit down to Thanksgiving dinner. If you're not the host, volunteer to bring a dish, and make it heart healthy. Eat a small meal earlier in the day so you're not as susceptible to temptation.
Start with a zero-calorie, nonalcoholic beverage so you don't drink your whole alcohol allowance in the first 15 minutes. Before you begin filling your plate, scan the spread. Decide in advance which foods to choose and which to skip. Remember: You don't have to sample everything, and seconds aren't actually required.
Once you've eaten, step away from the food. You'll be less prone to mindless munching if you socialize out of arm's reach from the appetizer platter.
Was this helpful?