Why You Might Need to Add Meds to Your Statin Regimen
Was this helpful?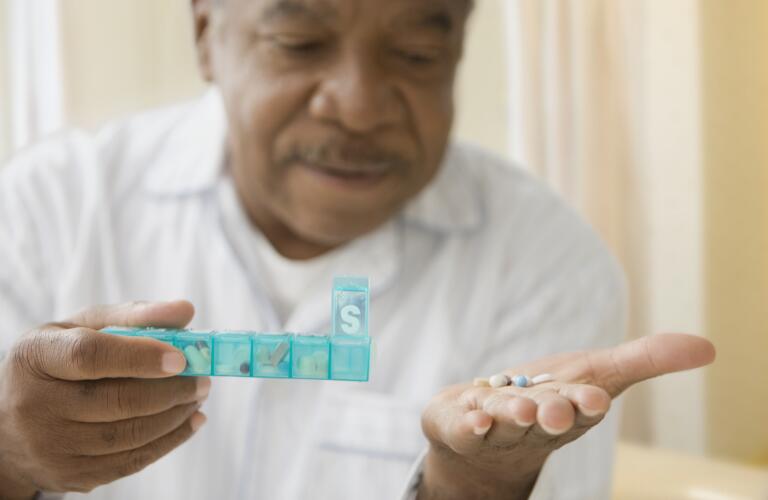 Your body needs the cholesterol in your blood to help build cells, but it's important to keep your cholesterol at the right level. If your cholesterol is too high, it can cause plaque to build up in your arteries, making them stiff and narrow, and increase your risk of heart attack and stroke.
To combat this, in addition to making healthy lifestyle changes, medication is often needed to bring high cholesterol levels down. Statins, a class of drugs that prevent cholesterol from forming in the liver, are usually the first line of treatment. But in some cases, a combination of medications may be prescribed. Here's what you need to know.
When should you consider additional cholesterol treatment options?
There are two types of cholesterol numbers your doctor will look at: your LDL (low-density lipoprotein), the "bad" cholesterol that builds up in your arteries, and the HDL (high-density lipoprotein) cholesterol, the "good" cholesterol that removes cholesterol from your blood and carries it to your liver. Your age, your overall health, and any coexisting medical conditions, like diabetes, will be considered to evaluate your risk of heart disease or stroke. Your doctor may recommend additional medication if:
Your statin isn't working as well as hoped: Statins are generally effective at lowering LDL cholesterol, but if it's not coming down to an acceptable level, another medication may be needed.
You've been diagnosed with familial hypercholesterolemia: This genetic disease causes high levels of LDL cholesterol from a young age, placing you at a high risk of heart disease. It's usually treated with multiple high cholesterol medications.
You can't take a statin: A small percentage of people aren't able to tolerate statins, due to side effects such as liver or muscle inflammation. Interactions with other prescription medications or pregnancy may also result in the need for a non-statin cholesterol medication.
Your triglycerides are too high: Along with your LDL and HDL, your doctor will watch your triglycerides. Triglycerides are a type of fat found in your blood, and when your level gets too high, it can further contribute to your risk of heart attack and stroke. You may need a medication to more specifically target your triglycerides.
What other cholesterol treatment options are available?
Options for add-on medications to assist in lowering your cholesterol and decrease your risk of heart disease include:
Resins: Cholesterol is needed for your liver to make bile acids, which help your body digest food. Resins cause bile acids to be eliminated in your stool, forcing your liver to make more of them. As a result, cholesterol in your blood is reduced. Cholestyramine (Prevalite), colesevelam (Welchol), and colestipol (Colestid) are examples.
Cholesterol absorption inhibitors: Ezetimibe (Zetia) is a drug that lowers your body's ability to absorb cholesterol from your food and release it into your blood.
PCSK9 inhibitors: Alirocumab (Praluent) and evolocumab (Repatha) are injectable medications that absorb LDL cholesterol in your liver and decrease the amount in your blood.
Fibrates: These drugs, such as fenofibrate (TriCor, Fenoglide, others) and gemfibrozil (Lopid) help remove triglycerides from your blood and may also help increase your HDL cholesterol.
Niacin: This lowers the amount of LDL cholesterol and triglycerides your body can make. It can have adverse side effects, however, so it's usually only used if you can't take a statin.
Omega-3 fatty acids: These supplements made from fish oils help reduce your triglycerides. They can also have serious side effects, so talk to your doctor before starting.
Bempedoic acid: The first new non-statin cholesterol drug to come to market in almost 20 years, this medication, under the brand name Nexletol, blocks a specific enzyme in the liver involved in producing cholesterol. A similar drug, Nexlizet, was also recently approved and combines bempedoic acid with ezetimibe. These medications don't cause the muscle pain associated with statins and can be combined with PCSK9 inhibitors.
As with many other health conditions, remember it may take some adjusting of your treatment plan to find the best strategy to lower your cholesterol. Eat well and exercise. Stay on top of your doctor's appointments and be sure to reach out to your health care team with any questions or concerns.
Was this helpful?