Why It's Important to Commit to Your Cholesterol Medications
Was this helpful?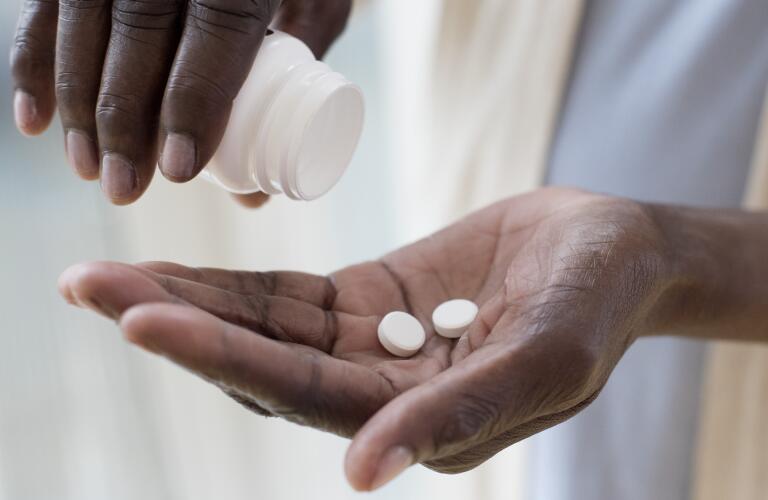 Eating right and exercising regularly are good first-line strategies for getting your cholesterol levels under control. But while you may have diligently followed your doctor's recommendations for a healthier lifestyle, your cholesterol levels may still be too high. Unfortunately, healthy lifestyle choices alone don't always do the job. That's where cholesterol medications can be helpful–but you have to commit to taking these cholesterol medications to experience the benefits of them. Some cholesterol-lowering drugs can cause side effects, which is a common reason people don't stick to their treatment regimen as prescribed. If this is the case for you, it's important to know there are many medication options that may not have the same, or any, side effects. And the benefits of taking your cholesterol medication every day as prescribed are worth working to find the right fit for you.
Benefits of Treating High Cholesterol
First, let's clarify what doctors mean when they say you have "high cholesterol" or "hypercholesterolemia." There are two kinds of cholesterol in your blood: low-density lipoprotein, or LDL, which accounts for most of your body's cholesterol, and HDL, or high-density lipoprotein. You also have another type of fatty substance in your blood known as triglycerides, which you might hear your doctor mention. High cholesterol means that your LDL levels are too high. A 'high' LDL level is 190 mg/dL or higher, if you don't have other health conditions like diabetes or an existing higher risk of heart disease or stroke, which would reduce that cutoff to 70 mg/dL. You've probably heard some people call LDL the "bad" cholesterol. That's because high levels of LDL increase your risk of developing heart disease or having a stroke.
But only about half of the adults who could benefit from taking cholesterol-lowering medications are actually taking them, according to the Centers for Disease Control and Prevention (CDC). The ones who aren't are missing out on the benefits. Unfortunately, when you have too much LDL, it tends to begin forming layers called plaque inside your blood vessels, causing your blood vessels to narrow. That's when the problems can start, and that's why it's so crucial to work with your doctor to find a cholesterol medication that you can commit to.
Ultimately, the goal of taking cholesterol medication is to lower your LDL and triglycerides and raise your HDL, which can help remove some of that excess LDL from your bloodstream. Doing so significantly reduces your risk of heart attack or stroke, and taking your medication as prescribed–whether that's every day or even twice a day in some cases–will give you the best chance to prevent heart disease that could impact your health and overall quality of life. Sometimes, people think because they feel good, they don't need to take their cholesterol-lowering medication; however, consistency is key to get the best results.
That's why it's so important to find the right medicine for you. It's easier to stick with a medicine that you tolerate well and take as directed. Left untreated, high cholesterol can get worse. And that further increases your risk for having a heart attack or stroke, no matter your age.
Cholesterol-Lowering Medicine Options Available to You
Before starting you on a cholesterol-lowering medication, your doctor may want to discuss your specific health needs, medical history, and family history, as well as concerns about side effects.
You might start taking a statin. Statins are the most commonly prescribed medicine to lower cholesterol. They reduce the amount of cholesterol your liver makes, while also helping remove some of that LDL that already exists in your bloodstream. While most people tolerate statins just fine, some people do experience some side effects, such as muscle soreness. And statins can raise some people's risk for developing type 2 diabetes. These risks might dissuade you from taking your statin, but you have other options. Be honest with your doctor about your cholesterol medication experience. You can work together to find an alternative that doesn't interfere with your quality of life while still helping reduce your cholesterol levels.
Other meds that might be an option for you include:
Bile acid binding resins, or bile acid sequestrants, which decrease LDL levels
Fibrates, which decrease triglycerides and may also increase HDL levels
Cholesterol absorption inhibitors, which decrease LDL and may slightly increase HDL
Niacin, a B vitamin that can raise HDL levels while lowering LDL and triglycerides
Injectable medications, or PCSK9 inhibitors, which decrease LDL and are typically used in people with hard-to-control high cholesterol or high cholesterol with a genetic component, a condition called familial hypercholesterolemia
In some circumstances, a doctor might even prescribe some medications together or in a combination, like a cholesterol absorption inhibitor and statin, or a combination statin and calcium channel blocker.
And new medications may be beneficial to you, too. Recently, the U.S. Food and Drug Administration (FDA) approved a new non-statin medication designed to lower LDL called Nexletol (bempedoic acid). It's a type of drug called an ATP citrate lyase inhibitor, and it's designed for people with familial hypercholesterolemia or atherosclerotic cardiovascular disease who aren't able to lower their LDL levels enough with high doses of statins.
To boil it all down: if your doctor determines that you would benefit from a medication to lower your cholesterol, you do have several options, and hopefully one will work for you. It might take a little trial and error to find the right one, but try not to get discouraged and give up on the medication if the first choice isn't the best choice.
Sticking With Lifestyle Changes
Even if you faithfully take your cholesterol medication as directed and wouldn't dream of skipping a dose, don't abandon your other efforts to lower your cholesterol. Eating a heart-healthy diet and logging regular exercise sessions each week should remain high on your to-do list. And if you smoke, quitting can also improve the health of your cardiovascular system. All of this effort can help you get those cholesterol levels within a desired range–and keep you healthier and living life to its fullest.
Was this helpful?