PHYSICIAN VOICES

Meet the Cardiologist: High Cholesterol

Was this helpful?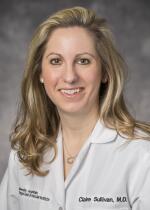 Dr. Claire Sullivan is a board-certified cardiologist with University Hospitals Harrington Heart & Vascular Institute in Cleveland, OH. In our "Meet the Specialist" series, we highlight the perspectives of various medical specialists on the types of patients they see and what they find rewarding and challenging in their daily practice.
When I was 14 years old, my father had a heart attack at home. Seeing that firsthand and witnessing his recovery led me towards my career in medicine, particularly my focus in preventive cardiology. I knew even as a teenager that I wanted to help other people avoid an episode like the one I saw my father go through. And one of the key ways to keep your heart healthy is to prevent and manage high cholesterol. During my third year of cardiology fellowship, I chose to do additional training and became certified within lipidology–the study of cholesterol. Today, I spend a lot of my time treating people with difficult-to-manage high cholesterol and people at a high risk of this problem. Sometimes, high cholesterol can be hereditary, so I frequently work with entire families, trying the best we can to reduce risk factors and keep everyone as healthy as possible. I'll see some patients with general cardiology concerns, as well, and every day is different.
Cardiology is the study of anything related to the heart–so as a cardiologist, I treat patients with heart disease, or those who are at risk of developing heart disease. The heart is a really interesting organ. I often tell patients it's like a car: you have the muscle and walls of the heart, just like the structure of a car. Then there's the electrical system to keep it running. And you also have the plumbing system–your arteries. All these things work together to keep your heart pumping blood so your body gets the oxygen and other nutrients it needs to function.
Cardiology is very intuitive in that a lot of systems are all intertwined. And what's exciting is that in the last few years, there's been a much heavier focus within cardiology on prevention. Cardiologists can treat patients with heart disease using many cool tools, like stents and pacemakers, and it's amazing to be able to offer them to patients. However, now there are increasing numbers of cardiologists working toward preventing people from even needing those devices. Instead of placing a seventh stent in someone, we want to prevent their first stent. A big part of this is managing cholesterol. High cholesterol over time can build up in your arteries and damage your heart, raising your risk of having a heart attack. Sometimes, if high cholesterol runs in their family, people are scared to learn more about their levels. But it's important to get your numbers checked no matter your family history, because the sooner you know, the sooner you can make changes.
Finding the Right Cardiologist
As a teenager, I was really inspired by my dad's relationships with his doctors. More than two decades later, he still sees the same cardiologist–a man who became a mentor to me as I pursued my cardiology training. He showed me how to build a wonderful bedside manner and how to interact with patients in difficult times. Later on, in medical school, I was influenced and supported by our dean, who was the first woman I'd seen in cardiology. She's a really impressive person and she played a big role in helping me realize this career path could happen for me.
Because of my relationships with my two mentors, as well as my relationships with my patients, I know how important it is for people to find a cardiologist they connect with. If you're struggling with high cholesterol, or know your family history raises your risk, it can help to see a cardiologist who, like me, is certified in lipidology. If your doctor is a member of the National Lipid Association, you'll know they're highly trained in treating cholesterol. There aren't a ton of us, though, so it's also important to focus on other qualities of your cardiologist. You want to feel comfortable with them and feel like you can have a long-term relationship. Treating cholesterol isn't usually a quick fix; people tend to see cardiologists for decades. That's why you want to develop a good relationship, make sure your questions are answered in ways you understand, and feel confident your physician is available to you and invested in your care.
I enjoy what I do so much that it honestly doesn't feel like a job most days. I love getting to help people and I take pride in establishing strong relationships with patients and their families. I find it extremely rewarding when I see someone's cholesterol coming down, or when we keep somebody out of the hospital for a couple months after they've had a particular hard go of it. It's really exciting and it's those small victories that keep me doing what I'm doing.
Was this helpful?