Understanding Severity and Treatment of Neutropenia
Was this helpful?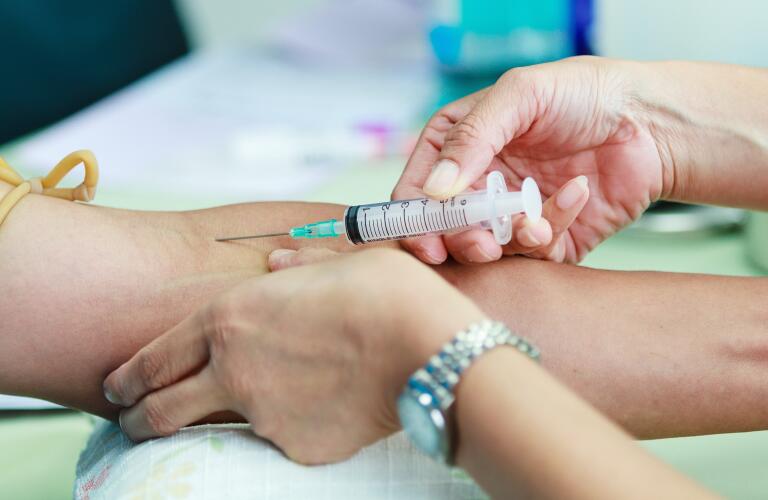 If you've been diagnosed with neutropenia, you've probably heard your doctor talk about your absolute neutrophil count (ANC). ANC is a way of measuring how many bacteria-fighting white blood cells are in your blood. By learning your ANC levels, you and your doctor can better understand your risk for infection. Here's what you need to know.
Neutrophils are a type of white blood cell that are responsible for destroying harmful bacteria in your body. Most healthy people have an ANC of approximately 1,500 to 7,000 per cubic millimeter (mm3) of blood. However, neutrophils can drop far below this healthy level. Some causes include a negative reaction to cancer treatment or certain viral infections. It can also occur due to congenital conditions. When levels of neutrophils drop below 1,500 per mm3 of blood, the condition is called neutropenia.
Doctors classify neutropenia into three basic levels: mild, moderate, and severe.
Mild neutropenia is diagnosed when ANC levels drop below the 1,500 per mm3 level but are still above 1,000 per mm3.

Moderate neutropenia is when ANC levels are between 500 per mm3 and 1,000 per mm3.

Severe neutropenia occurs when ANC levels drop below 500 per mm3.
Knowing your ANC is important. The lower the number is, the greater your risk for infection. This is important because developing an infection is much more serious when you have a weakened immune system. Your risk for infection also increases if your ANC stays low for three days or more. If you are diagnosed with neutropenia, your doctor will likely check your ANC levels regularly.
If you have neutropenia with fever, or are classified with moderate or severe neutropenia, your doctor may give you a white blood cell growth factor medication called a CSF, or colony-stimulating factor. This type of drug, which is typically injected, helps the body make more neutrophils. How much medication and how often it is administered depends on the severity of your condition. Commonly prescribed CSFs include filgrastim (Neupogen) or pegfilgrastim (Neulasta).
It's important to watch out for signs that you are developing an infection. An infection in people with neutropenia is considered a medical emergency.
Fever is one of the first signs of infection. Your doctor may ask that you check your temperature once a day to help detect an abnormal increase in temperature. Call your doctor right away if you have a temperature of 100.5° F or higher. For people with severe neutropenia, a fever may be the only sign of infection. That's because the body may not have enough neutrophils to show other signs that the body is fighting infection. Other symptoms of an infection to watch for include chills, pain, and redness, particularly around a cut or wound. If you have an infection, your doctor will begin antibiotic treatment immediately. You will then undergo some tests, such as blood tests or X-rays, to determine what kind of germ caused the infection and where the infection is located. Based on this information, your antibiotic may be changed or modified.
It's important that you partner with your doctor and be an active participant in your care. Always talk with your doctor if you have any questions or concerns. And take steps to prevent illness or infection whenever possible. You have the power to reduce your chance of illness and help your body recover.
The absolute neutrophil count measures how many bacteria-fighting white blood cells are in the blood.

Doctors classify neutropenia as mild, moderate, or severe based on the absolute neutrophil count.

People with neutropenia need to take steps to prevent infections, such as practicing good personal hygiene and avoiding people who are sick.

The symptoms of an infection include fever, chills, pain, and redness, particularly around a cut or wound.
Was this helpful?