Chemo Checklist: What to Bring to Your Chemotherapy Appointments
Was this helpful?
You can receive chemotherapy—or chemo—in a variety of settings. This includes outpatient clinics, doctors' offices, and even your home in some cases. Sometimes, it may be necessary to spend a night in the hospital to monitor your treatment. Whatever the setting, a chemo appointment can take some time.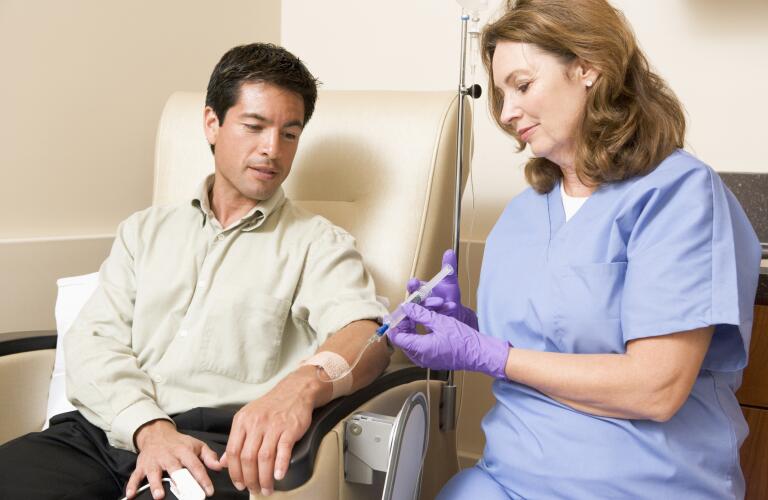 The total time for chemo appointments can range from an hour or less to several hours. Your appointment may or may not start with lab tests. If so, the staff needs those results before they can prepare your chemo. Your specific chemo regimen will determine how long your appointment lasts once your chemo is ready. Read on to learn some strategies to maximize your comfort and avoid boredom during your chemo treatment.
Chemo treatment centers typically have recliners for people receiving chemotherapy. Sometimes, centers or hospitals will also have hospital beds for people who need them, such as those at high risk of infection. Centers will also have blankets available, but you can always bring a favorite of your own plus a pillow or neck pillow. The infusion rooms may be cool and can feel even cooler once you start the IV fluids.
Dressing appropriately will also increase your comfort. Dress in comfortable, loose clothes and use layers to help you stay warm. You may need to roll up your sleeves for testing or treatment, so choose clothes that allow this. If you have a port, consider whether your clothing will allow easy access to it. Wear comfortable shoes that will give you stability after your treatment when you may be tired or weak.
Being away from home for several hours means you need to think about food and beverages. Some centers have access to a cafeteria or vending area. Keep in mind that the food choices may be limited. Most centers allow people to bring snacks and drinks of their own. They may even have a microwave or refrigerator available for patient use. Chemo centers will typically ask you to avoid bringing foods with strong smells. This could be difficult for other patients struggling with nausea and vomiting.
Most chemo centers allow people to have one friend or family member with them during treatment. This gives you comfort and helps pass the time. This person typically needs to be an adult. Remember that space is usually limited in the treatment areas. So stick to the one-person rule if your center has it.
Think About Entertainment
It's likely that your chemo treatment center will have TVs and magazines. Some may even have individual TVs for each recliner or station. If that's enough to keep you occupied, then you're in good shape. If not, find out what other resources might be available to you. Many centers have Wi-Fi for your laptop or tablet and portable DVD players. This is a great time to listen to a podcast. Just remember to bring your own headphones or earbuds.
You can also bring your own entertainment from home. Books, cards, games, and word or number puzzles can help pass the time. Also, think about an MP3 player, portable video gaming system, audiobooks, and streaming radio shows. Consider working on a craft project or hobby, such as sketching, knitting, beading, or jewelry making.
Your appointment time could be an opportunity to reduce stress. You could practice meditation or relaxation techniques, or even take a nap during your treatment. You could use the time to record your experiences and emotions in a journal or blog.
Check Off Your To-Do List
You can also de-stress by getting organized and caught up with writing to-do lists, paperwork, or balancing your checkbook. Then you won't need to worry about those tasks when you get home.
Talk with your doctor or oncology nurse before your first chemo treatment. Ask if there is anything else you should bring to your appointment. They may ask you to bring all of your medicines and supplements. They may also have other supplies they would like you to bring. After your first appointment, you may only need to bring the medicines you take to treat or prevent side effects.
Was this helpful?